What Rose McGowan Has Said About Dating Marilyn Manson
Rose McGowan has released a video in which she addressed the abuse allegations made by Evan Rachel Wood and four other women against their shared ex-boyfriend Marilyn Manson.
In an Instagram post, the Westworld actor, who dated Manson (real name Brian Warner) from 2007 to 2010, alleged that the singer "horrifically abused," and "brainwashed and manipulated [her] into submission." The singer denied these claims on his Instagram, calling them "horrible distortions of reality."
As Rose McGowan, who dated Manson from 1997 to 2001, was one of the leading figures speaking out against Harvey Weinstein and other Hollywood predators when abuse allegations against him hit headlines, many were waiting to see what she would say when her own ex-boyfriend was accused of abuse.
On February 1, 2021, McGowan released a video on her Twitter in which she addressed her own time with the singer and praised Wood and fellow accusers Ashley Walters, Sarah McNeilly, Ashley Morgan and a woman calling herself "Gabriella" for coming forward.
In this video, the Charmed actor said: "I am profoundly sad today and disgusted. But I am mostly proud. Proud of Evan Rachel Wood and the other who have come forward against Marilyn Manson my ex.
"When he was with me, he was not like that, but that has no bearing on whether he was like that with others before and after."
She also called out the companies who worked with Manson during his time with Wood, saying: "I am also here to say to the Hollywood cult leaders that have employed him and sanctioned him...You know you are accomplices."
This is far from the only time the actor has spoken about her high-profile relationship with the metal star. On Watch What Happens Live in 2015, for example, she compared their time together to the Al Pacino movie Scarface. Asked by Andy Cohen whether this meant that Manson was taking too much cocaine when they were together, she said: "It was me, it was me...Actually, I don't know. I plead the Fourth... I'm honest, always, I can't help it." [sic]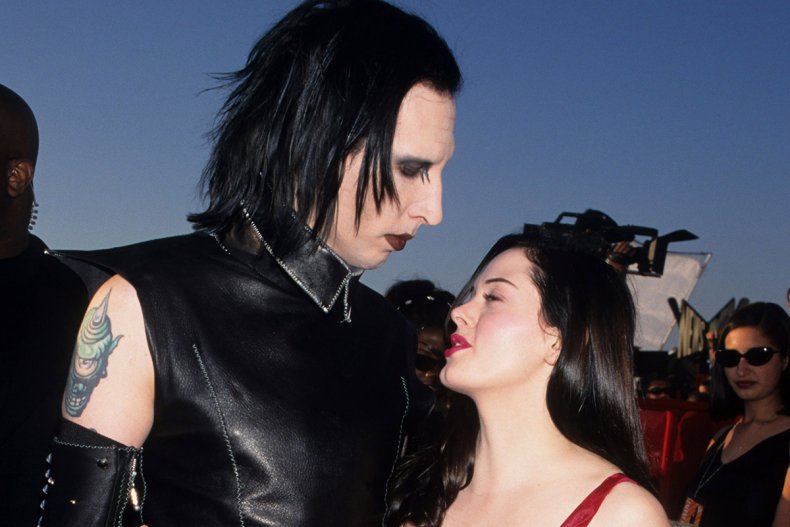 She then revealed that at the time she was talking, things were amicable with the singer, with McGowan saying: "There is great love, but our lifestyle difference is, unfortunately, even greater."
Previously, McGowan has spoken about how she felt the media's treatment of her when she was dating Manson was sexist.
She told Hunger Magazine: "When I was going out with Marilyn Manson, I got 'you're his muse' a lot and it sounded like intellectual property to me but it's like you're sitting there looking out a window with someone making their art because they are so inspired by you but that is not how it is. It's a mentally collaborative process just existing together as humans. To reduce someone to just a 'muse', I find that terminally sexist."
Manson, in contrast, drew controversy for his comments after the U.K.'s Channel 4 asked him about what he thought about McGowan's allegations against Weinstein.
After saying that he did not know about McGowan's alleged rape at the hands of the disgraced film producer when the pair were together, he made a comment that many saw as siding with the abusers rather than the victims. He said: "I can't turn on my phone every day without someone being accused of something.
"Maybe it's all men are bad, or all men can't do anything inappropriate. It makes you feel you can't even say... or if I meet her [motions to woman off camera] and if I look at her the wrong way, I'm going to be accused of something wrong. The world needs to balance itself out."
He ended these comments by adding: "I don't disagree when you're speaking about my ex-fiancee...I disagree with how she's handling it."