Marina Ovsyannikova Offered Asylum in France After Protest on Russian TV
A Russian journalist was offered asylum in France by President Emmanuel Macron on Tuesday after she protested the war on Ukraine on live state-controlled TV by holding up a poster behind the anchor.
Marina Ovsyannikova, an editor at Channel One television, held up a poster during the evening news reading "No War" on Monday. Macron said he was launching diplomatic efforts aiming to protect her, France 24 reported.
The Russian government has been cracking down on journalists and news organizations sharing information about the war against Ukraine. New legislation was passed in Russia prohibiting the spread of "fake news" and banning the words "invasion" or "war" to describe the conflict in Ukraine, which violating could result in a 15-year prison sentence.
Ovsyannikova burst onto camera during Russia's main evening newscast, Vremya, holding up a sign that said "Stop the war. Don't believe the propaganda. They are lying to you here," in Russian with "Russians against the war," in English along the bottom.
There are fears for what could happen to the journalist in light of the crackdown on free speech. Macron, who has been speaking with Russian President Vladimir Putin during the war, said he would bring up her situation when he talked with him next, France 24 reported.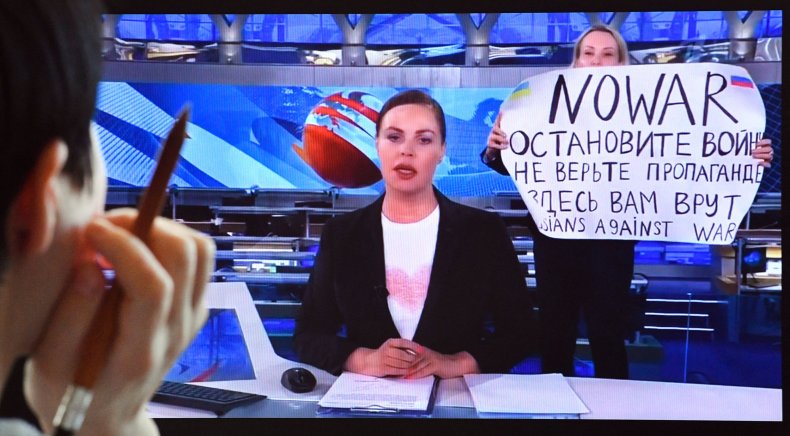 "We will launch diplomatic efforts aiming to offer (her) protection—either at the embassy but also protection through asylum," said Macron. "I will have the chance at my next talks with President Putin to propose this solution in a very direct and concrete manner."
Ovsyannikova managed to hold up the sign for a few seconds, which could have been seen by millions of people viewing the broadcast. The whereabouts of the journalist were unknown for several hours, but a picture of her sitting next to her lawyer, Anton Gashinsky, in what appeared to be a court in Moscow surfaced on Tuesday.
The journalist appeared in court on an administrative offense under protesting laws for organizing an action that disrupted public order, rather than under fake news laws, which carry a sentence of up to 15 years. Her current offense only carries a jail term of up to 10 days.
The BBC reported Ovsyannikova was fined 30,000 rubles, the equivalent of $286, for her offense. She told reporters outside the courthouse, "It was my own anti-war decision. I made this decision by myself because I don't like Russia starting this invasion. I think it was really terrible."
Ukrainian President Volodymyr Zelensky praised the journalist for her actions during the live broadcast saying, "I am grateful to those Russians who do not stop trying to tell the truth and specifically to the lady who entered the studio of Channel One with a poster against the war."
Meanwhile, prominent Russian news anchor Lilia Gildeyeva quit her job at the popular Russian news station NTV and fled the country. She left before submitting her resignation letter over fears they would not let her leave, she told blogger Ilya Varlamov.
Russia's government controls the two leading news channels, Russia-1 and Channel One. NTV is the third most popular channel in the country but it is technically a commercial station.
Update 03/15/22, 3:30 p.m. ET: This story was updated with a comment Ovsyannikova made outside of the courthouse.
Update 03/15/22, 1:08 p.m. ET: This story was updated with more information.
Update 03/15/22, 12:43 p.m. ET: This story was updated with additional information and background.