What Marine Le Pen Has Said About Donald Trump
Far-right French presidential candidate Marine Le Pen has often been compared to Donald Trump.
She celebrated Trump's election victory in 2016, viewing it—along with Britain's shock vote to leave the European Union—as a sign that she could ride a wave of nationalist sentiment to become France's leader months later.
She was ultimately defeated in 2017 by pro-EU centrist Emmanuel Macron.
But she is again facing off against Macron again in the presidential runoff election on April 24.
This time around, Le Pen has softened her Trump-like rhetoric in her bid to unseat the incumbent.
But what has she said about Trump over the years?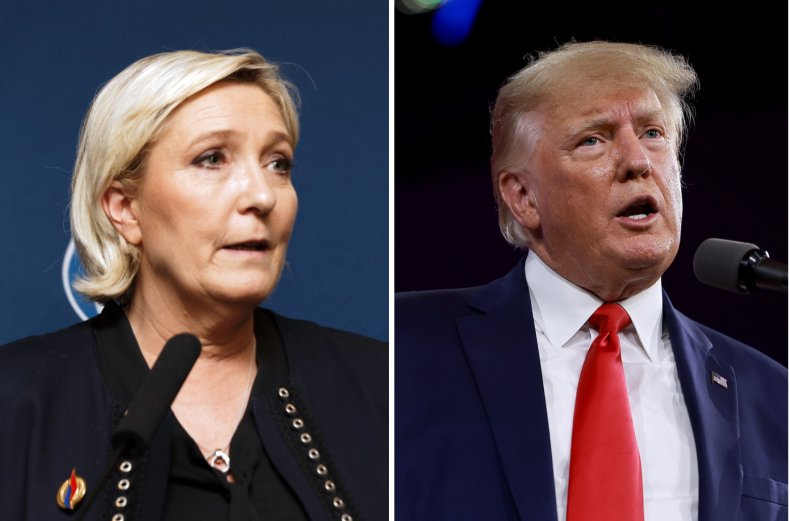 Le Pen endorsed Trump for president months before the 2016 election.
"Between him and Hillary Clinton, obviously I would choose Donald Trump," she said. "What appeals to Americans is that he is a man liberated from Wall Street, from markets and from financial lobbies and even from his own party."
She was jubilant at a press conference the morning after the election, saying Trump and Brexit were "democratic choices that bury the old order and stepping stones to building tomorrow's world."
She echoed the sentiment to the BBC, calling Trump's victory "an additional stone in the building of a new world, destined to replace the old one."
Asked if Trump's victory made it likelier that she could be elected, she said he had "made possible what had previously been presented as impossible."
She repeated that sentiment in a CNN interview, saying his triumph was "a sign of hope for those who cannot bear wild globalization. They cannot bear the political life led by the elites."
In February 2017, Le Pen lauded Trump's plans to scrap the North American Free Trade Agreement and his "rupture with total free trade imposed on the world."
She told The Associated Press that she "only has reason to rejoice" in Trump's actions.
"It's now the world of [Vladimir] Putin, the world of Donald Trump," she told reporters after meeting with the Russian president in Moscow in March 2017.
Days later, she said in an interview with the BBC's Newsnight program: "The policies I represent are the policies represented by Mr Trump. They're represented by Mr. Putin. [...]"
But the following month saw her issue a rare rebuke of Trump for changing his stance about NATO being "obsolete."
Trump's decision to order a missile strike on Syria was also criticized by Le Pen.
"I am a little surprised because Trump had said repeatedly that he didn't intend the United States to be the world's policeman any longer and that is exactly what he did yesterday," Le Pen told France 2 television in April 2017.
She expressed outrage after Trump was suspended from Twitter following the January 6, 2021, riot at the U.S. Capitol.
"The suspension of Trump's account, the purge of the digital giants against his supporters, should outrage any citizen committed to democracy," she tweeted.
"Where will this control of any dissenting opinion stop? Who, tomorrow, will be digitally erased without the possibility of defending themselves?"