Marine Le Pen Warns France Could See Direct Conflict With Russia
Marine Le Pen, the leader of France's far-right National Rally party, warned on Wednesday the country could see a direct conflict with Russia by delivering weapons to Ukraine.
During a presidential debate against incumbent President Emmanuel Macron, Le Pen said, "I sounded the alert many times, but we need to be careful delivering weapons to Ukraine, could turn France [into a] co-belligerent. That is the concern."
Le Pen's comments come amid an ongoing war between Ukraine and Russia, with numerous Western countries, including France, sending military weapons to Ukraine. To date, France has sent $109 million worth of weapons directly to Ukraine, French government spokesman Gabriel Attal previously said. France has also paved the way for over 50,000 Ukrainian refugees to stay in the nation.
Le Pen, who previously traveled to Russia to meet with President Vladimir Putin has sought to distance any alleged ties to the country and its leader in recent weeks. She has said France should "give Ukrainian refugees a decent welcome," and expressed solidarity for Ukrainian refugees, Politico reported. On Monday, she also criticized Russia's military advances in Donbas, and wrote on Twitter that, "We must support all possible diplomatic efforts to reach a ceasefire and impose peace on Russia so that Ukraine regains its full sovereignty."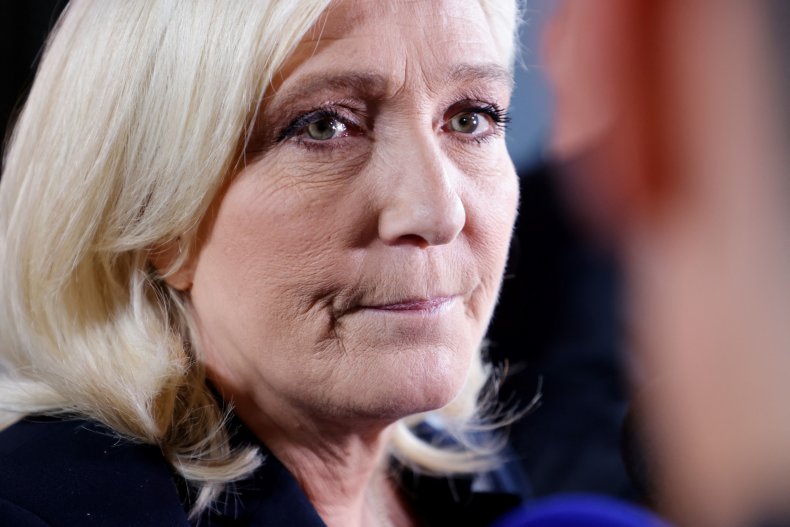 During the debate, Le Pen followed the same talking points in support of Ukraine saying she supports sending humanitarian and other aid and has "absolute compassion" for Ukrainians.
She also stated she agrees with sanctions imposed against Russia, except for the ban on the nation's oil and gas.
Her opposition, Le Pen said, is because she doesn't believe sanctioning imports of gas and oil "will hurt Russia, but I do believe it will hurt the French people very much. The consequences will be cataclysmic, not only on individuals but also on enterprises."
Prior to the debate, Le Pen made similar comments about her opposition to sending weapons directly to Ukraine.
"I'm more reserved about direct arms deliveries. Why? Because ... the line is thin between aid and becoming a co-belligerent," Le Pen said, according to the Associated Press.
Le Pen added that she is concerned that the "escalation of this conflict that could bring a whole number of countries into a military commitment."
The debate between the two candidates was held four days before they meet in an April 24 runoff election. Following the first round of the French presidential elections last week, Macron received 27.8 percent of the votes and Le Pen 23.1 percent.
Oddsmakers are predicting that Macron will be re-elected as France's president in the runoff. According to Oddschecker, which compiles betting odds from numerous sources, Macron has 1-12 odds to win the presidency, compared to 7-1 odds for Le Pen.