Pro-Putin Marine Le Pen Looks to Block Dangerous Russia, China Alliance
French far-right presidential candidate Marine Le Pen recently said that she is opposed to an alliance between Russia and China.
Le Pen, who has previously expressed her support for Russian President Vladimir Putin, recently spoke with French public radio about the ongoing war in Ukraine and how she was concerned about a definitive alliance between China and Russia.
"Imagine ... if we let the first producer of raw materials in the world — which is Russia — [create an alliance] with the first factory of the world — which is China — to let them perhaps constitute the first military power of the world. I believe that it's potentially a great danger," Le Pen said during the interview, according to Politico Europe. "It will be necessary diplomatically, when the war [in Ukraine] is over, when a peace treaty has been signed, to try to avoid this tie-up which risks being the largest danger of the 21st century for us."
Le Pen's comments come just ahead of Sunday's French presidential runoff election, where she will face incumbent Emmanuel Macron. Le Pen previously lost to Macron in the 2017 French presidential elections.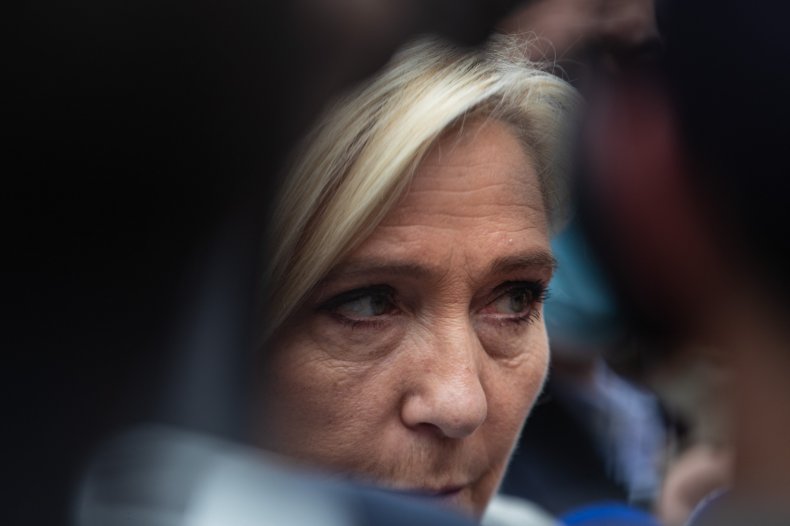 Amid Russia's ongoing war with Ukraine, Le Pen has attempted to distance herself from Russia, after traveling to meet with Putin in 2017 and receiving a loan from a Russian bank in 2014, Reuters previously reported.
"I have expressed my solidarity for the Ukrainian people several times, and have said we should give Ukrainian refugees a decent welcome," Le Pen said this year, according to Politico Europe.
On Monday, she also condemned Russia's military actions in Donbas, writing on Twitter that "We must support all possible diplomatic efforts to reach a ceasefire and impose peace on Russia so that Ukraine regains its full sovereignty."
Earlier this week, the Associated Press reported that the European Union's fraud agency recently accused Le Pen of abusing public funds while she was a member of parliament. According to the Associated Press, Le Pen has since disputed the accusations calling it "foul play by the European Union a few days before the second round."
Newsweek previously spoke with foreign policy experts about the current relationship between Russia and China during the ongoing war in Ukraine. China has yet to take a concrete stance on the war and instead has continued to call for peace between both sides.
Former U.S. Ambassador to India and senior fellow for U.S. foreign policy at the Council on Foreign Relations, Robert Blackwill told Newsweek that Russia's invasion of Ukraine challenges China's "core principles of the sanctity and sovereignty and territorial integrity."
Newsweek reached out to Le Pen's campaign and the ministry of foreign affairs in both China and Russia.