The Marjorie Taylor Greene, Alexandria Ocasio-Cortez Confrontation Explained
Rep. Marjorie Taylor Greene (R-GA) called Rep. Alexandria Ocasio-Cortez (D-NY) a "terrorist sympathizer" during a confrontation yesterday. Greene shouted at Ocasio-Cortez outside the House chamber, according to The Washington Post.
Two Washington Post reporters said that Ocasio-Cortez left the House chamber ahead of Greene on Wednesday afternoon. Greene reportedly shouted "Hey Alexandria" multiple times to get her attention.
According to The Post, Greene asked Ocasio-Cortez why she supports Antifa and Black Lives Matter, claiming they are terrorist groups. Greene said: "You don't care about the American people. Why do you support terrorists and Antifa?"
The Post reported that Ocasio-Cortez walked away from the confrontation, turning around once to raise her hands in apparent exasperation.
Greene later challenged Ocasio-Cortez on Twitter, writing: "You chickened out bc you are too scared to debate me about your Socialist Green New Deal. You are also a hate-America terrorist sympathizer.
"Members of Congress do NOT support terrorism & shouldn't be afraid to debate their legislation."
Has Alexandria Ocasio-Cortez Replied?
Alexandria Ocasio-Cortez did not respond to the comment. According to The Post, she turned around once and threw her hands in the air.
After Greene accused her of being a "terrorist sympathizer," Ocasio-Cortez's office called on top lawmakers to make sure that Congress remains "a safe, civil place" for members and staff.
Her spokeswoman Lauren Hitt said in a statement The Post: "We hope leadership and the Sergeant at Arms will take real steps to make Congress a safe, civil place for all members and staff — especially as many offices are discussing reopening.
"One member has already been forced to relocate her office due to Congresswoman Greene's attacks."
Newsweek has contacted the representatives of Marjorie Taylor Greene and Alexandria Ocasio-Cortez for comment.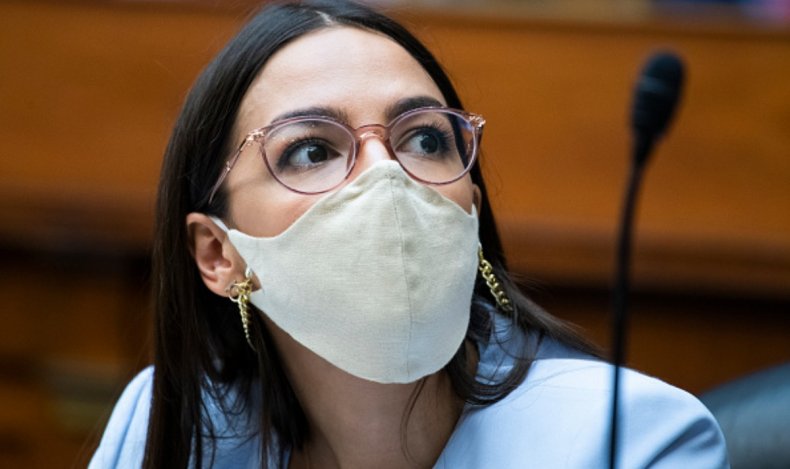 Previous Ocasio-Cortez and Green Confrontation
Greene had previously called on Ocasio-Cortez to debate with her about the "Green New Deal."
Last month, she tweeted a photo of them on the House floor, writing: "I'm glad I ran into you today @AOC to plan our debate about the Green New Deal. After I finish reading all 14 pages, like we agreed, I'll schedule time for our debate."
Republicans have said that policies such as the Green New Deal would make countries depend on nations such as China and Russia. But Ocasio-Cortez hit back saying America should not have to choose between saving the planet and the economy.
She said: "We decided to come together in sweeping legislation that not only rejects that notion, but creates a plan for 20 million union jobs in the United States of America to rebuild our infrastructure, to restore public housing, to make sure that we expand our access not only to EV [electric vehicles] and EV infrastructure, but mass transit."