Marjorie Taylor Greene Asks Twitter Followers to Help With $700K Legal Fees
GOP Representative Marjorie Taylor Greene of Georgia addressed followers from her reinstated personal Twitter account Monday after being banned for spreading false information about COVID-19 in January.
Greene hosted a live video to discuss her banishment, reading from printed-off sheets of her tweets from early this year that repeatedly violated Twitter's COVID misinformation policies. The last tweet Greene posted before being suspended included a graph that presented false statistics about deaths related to COVID vaccines.
She told her 525,700 followers during the video that "free speech is dead. And I know that sounds like something interesting to say, especially the very day that I get my personal Twitter account back. But the reality is I should have never lost it in the first place."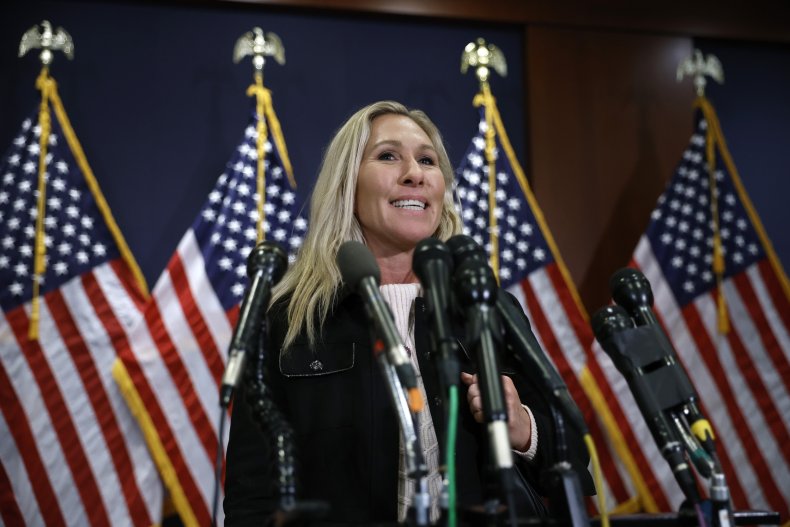 Toward the end of her hourlong address, Greene said that beyond losing access to Twitter, her free speech was also "attacked" this year after a group of Georgia voters tried to disqualify her from the ballot due to comments she made during the January 6 attack on the U.S. Capitol.
Greene went on to claim that she "couldn't defend myself and raise money for attorney fees" because she did not have access to her private Twitter account.
"My attorney fees were approximately around $700,000," Greene said. "So if any of you out there want to help me pay my attorney fees, you can go to MTGforAmerica.com."
Greene added that she beat the "arrogant jerks" who challenged her in court "handily."
In May, a judge ruled that Greene's statements—which she has denied or claimed to not recall making—should not disqualify her from the ballot. The decision was also upheld by Georgia Secretary of State Brad Raffensperger.
Greene, who has also spread false information about the 2020 election, never lost access to her congressional account even after her personal account was banned. The congresswoman told followers, however, that her congressional page is used to share "legislation and policy ideas."
"This is my personal account, and it's the place that I can tell the truth," Greene said. "And it's the place that I have, well at least I'm told I have my free speech. Although I do believe free speech is dead in America because so many people's speech has been violated."
Several accounts that were previously banned for breaking the platform's content rules have been reinstated in the past week, due to changes implemented by Twitter's new CEO Elon Musk. Most notably, former President Donald Trump's account was restored following a poll on Musk's page. Trump has yet to utilize his unlocked account.
Rapper Kanye West, who changed his name to Ye in 2021, has also been allowed back on Twitter.
Newsweek has reached out to Twitter's communications team for comment.