Marjorie Taylor Greene Attacks Ilhan Omar, 'Jihad Squad' After Boebert Apology
Representative Marjorie Taylor Greene, a Georgia Republican, posted an Islamophobic tweet attacking Representative Ilhan Omar, a Minnesota Democrat, saying people should "never apologize" to her and the group of progressive lawmakers Greene has dubbed the "Jihad Squad."
The attack from Greene comes after fellow GOP Representative Lauren Boebert of Colorado shared a fake story with constituents about getting into an elevator with Omar at the Capitol—comparing the Muslim congresswoman to a suicide bomber. After strong backlash, Boebert issued an apology to the Muslim community.
But Greene appears to be opposed to her Republican colleague's response.
"Democrats want us censored, shut down, and imprisoned. Never apologize to Islamic terrorist sympathizers, communists, or those who fund murder with our tax dollars," the far-right congresswoman wrote on Twitter.
"@IlhanMN and the Jihad Squad are all three and are undeserving of an apology."
Greene's post retweeted Arthur Schwartz, who argued that "Boebert was wrong" and claimed that Omar "just wants to use your money to pay" terrorists.
Boebert apologized to the Muslim community on Friday after a video of her speaking at an event drew substantial backlash. In the clip, Boebert shares a story about getting into an elevator with Omar.
She says: "I look to my left, and there she is: Ilhan Omar. And I said, 'Well, she doesn't have a backpack. We should be fine.'"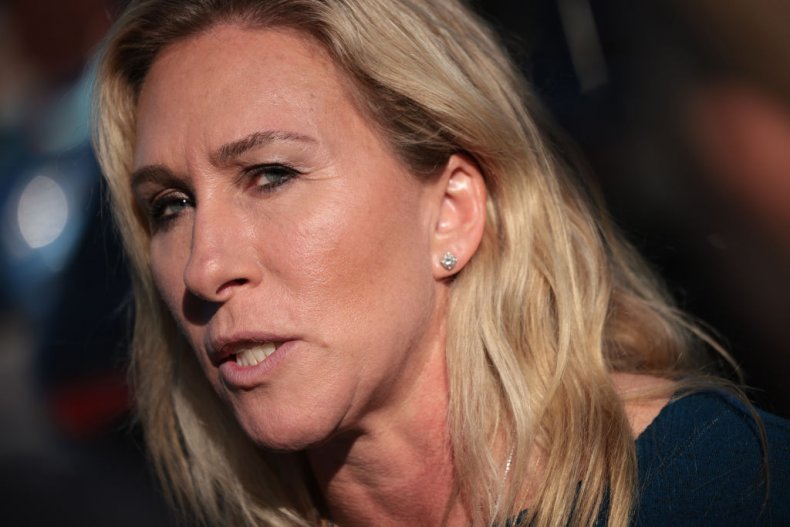 Omar quickly responded, asserting that the story was not true.
"Fact, this buffoon looks down when she sees me at the Capitol, this whole story is made up. Sad she thinks bigotry gets her clout," the Minnesota Democrat tweeted. "Anti-Muslim bigotry isn't funny & shouldn't be normalized. Congress can't be a place where hateful and dangerous Muslims tropes get no condemnation."
Boebert later issued what many saw as a half-hearted apology.
"I apologize to anyone in the Muslim community I offended with my comment about Rep. Omar. I have reached out to her office to speak with her directly. There are plenty of policy differences to focus on without this unnecessary distraction," she wrote.
Omar then demanded House leaders take action against her Republican colleague.
"Saying I am a suicide bomber is no laughing matter. @GOPLeader and @SpeakerPelosi need to take appropriate action, normalizing this bigotry not only endangers my life but the lives of all Muslims. Anti-Muslim bigotry has no place in Congress," the congresswoman wrote.
Some commentators also slammed Boebert's apology, saying it didn't go far enough.
"Lauren Boebert, you know, she tweeted out sort of this half-hearted apology saying, to anyone in the Muslim community I offended with my comment about Representative Omar. We're not seeing an apology to Congresswoman Omar, though. I mean, that is what an apology is. You apologize to the person you offended," CNN's Jim Acosta said during a segment about Boebert's remarks.
MSNBC's Mehdi Hasan ripped Boebert's apology as well.
"'I apologize to anyone offended' is a classic non-apology apology. Also, no actual apology here from Boebert to her Congressional colleague for suggesting she might be a suicide bomber," Hasan tweeted.
Democratic leaders condemned Boebert's remarks, while many fellow Democratic lawmakers—and some Republicans—blasted the GOP congresswoman's comments.
"Boebert is TRASH," tweeted Representative Adam Kinzinger, an Illinois Republican who has been staunchly critical of former President Donald Trump and the far-right faction of the House GOP.
Representative Rashida Tlaib, a Michigan Democrat who is also Muslim, defended Omar. Tlaib warned that Boebert's remarks will motivate people to commit hate crimes against Muslims.
"These pathetic racist lies will not only endanger the life of @IlhanMN, but will increase hate crimes towards Muslims. The continued silence & inaction towards this hate-filled colleague and others is enabling violence. It must stop," she wrote on Twitter.
Newsweek reached out to Omar's press office for further comment but did not immediately receive a response.
Omar, along with Tlaib, was one of the first two Muslim women ever elected to the U.S. Congress in 2018. The Minnesota Democrat, who came to the U.S. as a Somalian refugee in 1995, is also the first hijab-wearing Muslim woman in Congress.