Marjorie Taylor Greene Calls Congress Metal Detectors the 'Real Voter Suppression'
Republican Georgia Representative Marjorie Taylor Greene has said that the metal detectors installed in the Capitol after the January 6 insurrection are a form of "voter suppression."
Greene made her comment in a Tuesday House speech when voicing opposition to the For the People Act, a voting reform bill also known as HR 1. One of the bill's aims is to reduce long waiting lines for voters during federal elections. Some voters during the 2020 election had to wait in line for 10 hours before casting a ballot.
Some voting advocates have called long lines a form of voter suppression that depresses voter turnout and participation during elections.
"While we're talking about voter suppression and long lines, I'd like to point out that there's real voter suppression that happens right here in Congress," Greene began.
"Many members of Congress have to stand in long lines to enter the chamber going through metal detectors, emptying our pockets and being treated very disrespectfully," she continued. "So that is real voter suppression and it's a shame that it happens right here on the House floor."
It seems as if Greene was being sarcastic because she then said that standing in a line to vote is not a form of voter suppression. She compared it to standing in line at a grocery store.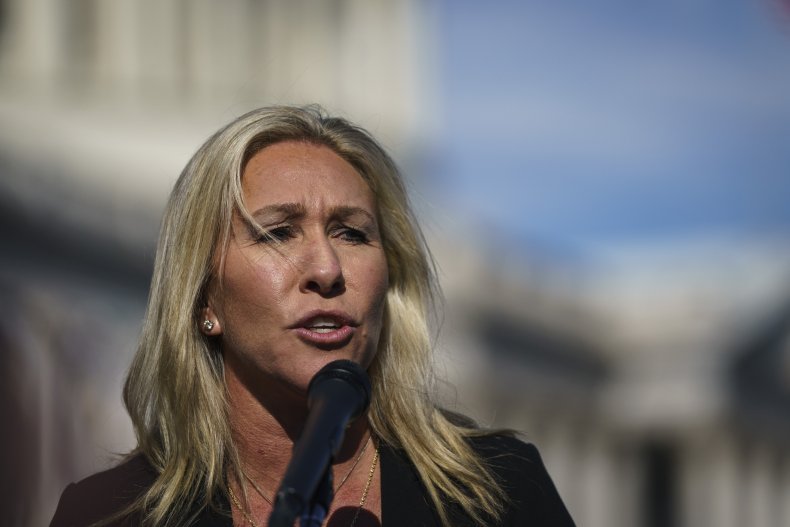 Long lines are sometimes considered a form of voter suppression because they require voters to stand for hours, sometimes in cold autumn weather or despite physical pain. Since Election Day isn't a federal holiday, a long line can cause voters to potentially miss work or other important obligations. Voting reform advocates worry that voters may leave a line that is too long or not vote at all if the wait at a polling station is too long.
Communities whose populations are becoming poorer or less racially white often have longer voting lines, according to Waiting to Vote, a June 2020 report published by the Brennan Center for Justice at New York University Law School.
Long lines are often proof that local government officials didn't properly prepare for large numbers of voters, according to Myrna Pérez, director of the Brennan Center's Voting Rights and Elections Program. Pérez is one of the report's authors.
"The problem may have been they didn't plan right for enough people showing up, they didn't make sure that they had enough voting machines, they miscalculated how many polling locations they needed, they miscalculated how many people voting by mail were going to turn it in versus showing up to vote on Election Day, or they didn't have their poll workers trained to move quickly," Pérez said in an October 2020 interview with Vox.
Greene's Tuesday comments come at a time when Republican Senators Minority Leader Mitch McConnell of Kentucky and Ted Cruz of Texas have both voiced support for lawsuits, soon to be heard at the Supreme Court, that could weaken Section II of the 1965 Voting Rights Act.
Section II prevents states and municipalities from changing voting laws if those changes would make it more difficult for people of color to vote.
Regarding the metal detectors at the Capitol, they were first installed around January 12, barely a week after the January 6 insurrection at the Capitol.
After they were installed, Republicans began criticizing the detectors almost immediately. Republican representatives refused to take part in the new security screenings, were outspoken in denouncing them or demanded exemptions from them. In response, Democratic House Speaker Nancy Pelosi began fining House members thousands of dollars if they refused to pass through them.
Democratic New York Representative Alexandria Ocasio-Cortez said that she and other House colleagues felt the metal detectors were necessary. Ocasio-Cortez specifically cited a September 2020 Facebook post published by Greene to illustrate why.
In Greene's post, she shared an image of herself holding a gun next to a picture of the four Democratic congresswomen of color, who made up the House's progressive group known as "the Squad."
Facebook removed Greene's post for violating its policy against violent threats after "Squad" member Ilhan Omar of Minnesota tweeted, "Posting a photo with an assault rifle next to the faces of three women of color is not advertising. It's incitement. There are already death threats in response to this post."
Newsweek contacted Greene's office for comment.