Marjorie Taylor Greene Calls Katko a 'Traitor' who Must be Expelled From Security Committee
Republican Georgia Representative Marjorie Taylor Greene has called Republican New York Representative John Katko a "traitor" for his vote last week in support of Democratic President Joe Biden's bipartisan infrastructure bill. She has also called for Katko's expulsion from the House Homeland Security Committee.
"At the House GOP Conference meeting this morning, there was a motion to remove Republican traitor Congressman Katko from his ranking position on Homeland Security Committee," Greene wrote in a tweet published Tuesday afternoon.
"It was moved to the Steering Committee, where Katko is a participating member," her tweet continued. "This is why we fail."
The congressional meeting that Greene referred to occurred after Republican North Carolina Representative Dan Bishop sought to remove Katko from his seat as the top Republican on the committee, The Hill reported.
Republican House Minority Leader Kevin McCarthy of California reportedly referred Bishop's motion to the Republican Steering Committee on which Katko sits.
The 31-member committee can either suggest that the full Republican conference vote to remove Katko or ignore the motion altogether, the aforementioned publication reported.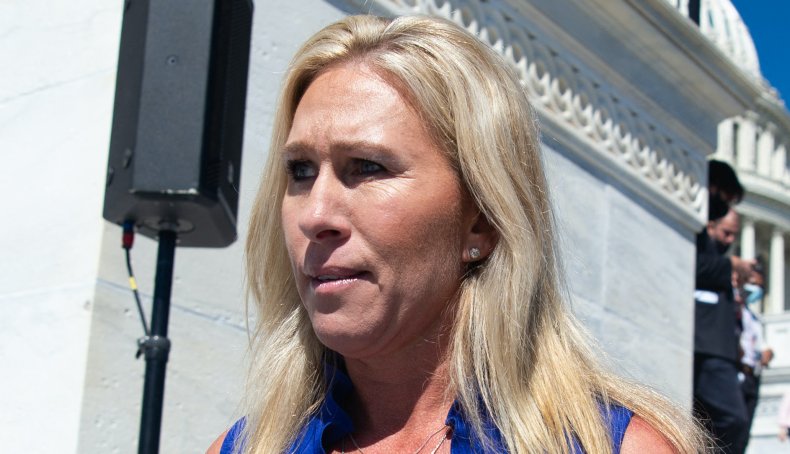 Katko was one of 13 House Republicans who voted in support of the $1.2 trillion bipartisan infrastructure bill on November 5. The bill had already passed in the Senate with some Republican support in August.
Hard-right Republicans said those who voted for the bill should be removed from the Republican Party for helping Democrats pass President Biden's agenda. Some of the Republicans who voted for the bill have since received death threats.
After the November 5 House vote on the bill, Greene tweeted out the office phone numbers of the 13 House Republicans who supported it.
Greene tweeted on November 6, "These are the 13 'Republicans' who handed over their voting cards to [House Speaker] Nancy Pelosi to pass Joe Biden's Communist takeover of America via so-called infrastructure."
She was one of several Republicans to publicly call out Republicans who supported the bill. Republican Colorado Representative Lauren Boebert referred to the 13 as Republicans In Name Only (RINOs). Former President Donald Trump wrote that the Republicans who supported the bill "just don't get it!"
In early February, the Democratic-led House voted to strip Greene of all her committee seats due to her past social media endorsements of extremist conspiracy theories.
In Greene's past social media comments, she has advocated for violence against House Speaker Nancy Pelosi and former President Barack Obama, said that an airplane never hit the Pentagon during the September 11 terrorist attacks, alleged that a space laser started the California wildfires to benefit a Jewish bank and also accused former Secretary of State Hillary Clinton of slicing off a child's face and wearing it as well as many other conspiracy theories.
At the time, Greene blamed "cancel culture" for encouraging the public uproar over her social media posts.
Newsweek contacted Greene and Katko for comment.