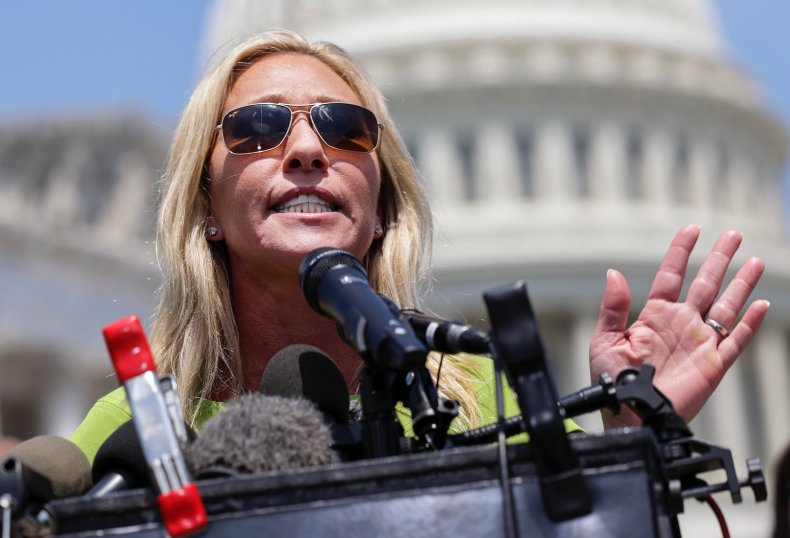 Republican Representative Marjorie Taylor Greene of Georgia said she may hold her "own" January 6 hearings if the House committee does not allow arguments against testimony regarding former President Donald Trump's behavior on the day the U.S. Capitol was attacked.
Cassidy Hutchinson, who worked as an aide to former White House Chief of Staff Mark Meadows, testified on Tuesday that Trump attempted to lunge at the steering wheel of a limo to take him to the Capitol on January 6. While responding to a tweet suggesting that the Secret Service agents involved denied the claim from NBC's chief White House correspondent Peter Alexander, Greene said that she would take matters into her own hands if the agents did not publicly testify before the House committee.
"If the @January6thCmte won't allow these men to testify on television, broadcasted on every major network, I'm going to start holding my own J6 committee hearings," Greene tweeted. "I might just do it anyways."
Greene's tweet was in response to Alexander tweeting that he had heard Bobby Engel, then the lead agent of Trump's Secret Service security detail, and the agent driving the vehicle were both "prepared to testify under oath that neither man was assaulted and that Mr. Trump never lunged for the steering wheel."
During her testimony on Tuesday, Hutchinson said that she learned of the purported incident during a conversation with Tony Ornato, the assistant director of the U.S. Secret Service Office of Training.
Hutchinson said that Ornato told her that Trump reacted strongly after he learned that the Secret Service was not taking him to the Capitol just after his January 6 speech at the Ellipse. The former president allegedly responded by telling Engel "something to the effect of, 'I'm the effing president, take me up to the Capitol now.'"
"The President reached up towards the front of the vehicle to grab at the steering wheel" after Engel allegedly refused his demand, according to Hutchinson's account of Ornato's remarks.
"Mr. Engel grabbed his arm and said, 'sir, you need to take your hand off the steering wheel. We're going back to the West Wing. We're not going to the Capitol,'" said Hutchinson. "[Trump] used his free hand to lunge towards Bobby Engel."
The alleged conversation between Hutchinson and Ornato took place shortly before a group of pro-Trump rioters stormed the Capitol in a violent attempt to stop Congress from certifying President Joe Biden's 2020 election win.
Trump responded to the claim by accusing Hutchinson of spreading a "fake" story in a post to his Truth Social network.
"Her fake story that I tried to grab the steering wheel of the White House Limousine in order to steer it to the Capitol Building is 'sick' and fraudulent," wrote Trump. "Wouldn't even have been possible to do such a ridiculous thing."
While it is unclear whether the House committee has any intention of inviting Engel to testify on the alleged incident at a later hearing, a Secret Service spokesperson said in a statement obtained by Newsweek that the agency "has been cooperating with the Select Committee since its inception in spring 2021, and will continue to do so, including by responding on the record to the Committee regarding the new allegations surfaced in today's testimony."
Newsweek reached out to Greene's office for comment.
Update 6/28/22, 11:53 p.m. ET: This story has been updated with additional information and background.