Marjorie Taylor Greene Speaks Out Against Georgia's Anti-Transgender Bill
Georgia Representative Marjorie Taylor Greene has called her state's transgender bill "deeply flawed"—because she doesn't think it goes far enough.
In a Thursday tweet, Greene described the language of SB 140 as "vague," said it does not address puberty blockers and provides that doctors can perform gender reassignment surgery on children if deemed "medically necessary." She called this a "dangerous loophole."
The Republican congresswoman's statement goes against the grain of GOP attempts in many states across the U.S. to push anti-transgender legislation. Proponents argue that they are doing so over concerns minors are being harmed by gender-affirming procedures, while opponents say they are limiting transgender rights.
The bill would outlaw hormone replacement therapy—which alters certain physical traits to appear more aligned with the person's gender identity—as well as banning gender reassignment surgery, which medical organizations such as the American Academy of Pediatrics believe limits the number of suicides among children with gender dysphoria.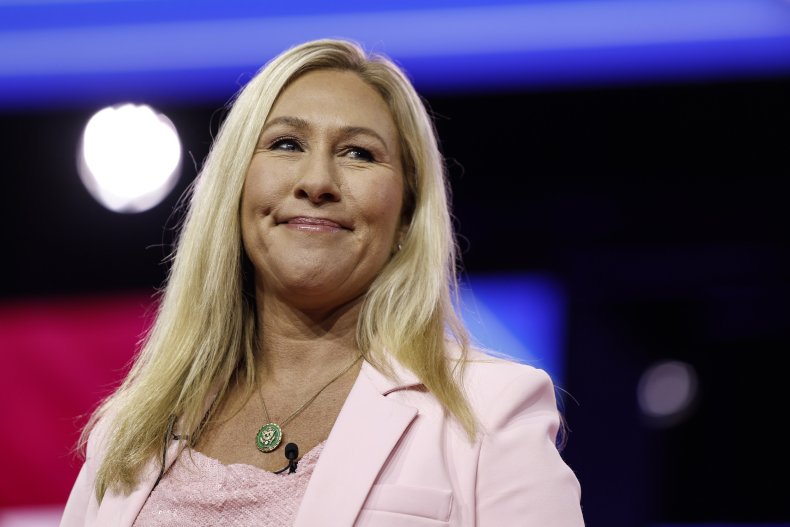 SB 140 passed a vote in the state's House of Representatives on Thursday along party lines, however, an amendment allowed doctors to be held "administratively accountable" with the medical board for violations of the proposed law, but disallowed civil or criminal charges. It will now be passed back to the state Senate to vote on the new version.
Leonardo Hinnant, an 18-year-old transgender man, told a House committee on Thursday that he could not "imagine the pain and anguish I would have had to endure if I couldn't medically transition until 18," according to the Georgia Recorder. "If this bill passes, transgender kids will die," he added.
Carden Summers, a state senator who sponsored the bill, told Axios he did not believe it would increase suicides among transgender children, adding: "I hope and pray that's not the case."
"While I support efforts in the Georgia legislature to end the horrific practice of genital mutilation of children proclaimed by the left as 'gender affirming care,'" Greene wrote, "the current bill, SB 140, is deeply flawed and could have many unintended consequences."
"If not amended in the [state] Senate, this bill will set Georgia far behind states like Alabama, Tennessee, and Mississippi who have passed MUCH stronger laws to protect the innocence of children," she added.
Greene argued that the language of the bill "could make it easily thrown out in the courts" and could be "cited as a precedent" in challenges to other states' anti-transgender laws.
The congresswoman criticized the bill for not addressing puberty blockers, which suppress hormones to inhibit the body's development, "at all" and for giving an avenue to be "exploited by profiteering doctors who are ready to cut off the breasts of girls and castrate boys."
"This means any doctor who is ready to put a child under the knife and perform permanent life-altering surgery simply has to claim it was 'necessary' to complete the barbaric procedure," she said.
Summers told Newsweek: "I'm sure we all can read anything into bills that may or may not be the actual bill or the intent. We tried to craft a bill that gave some latitude to those who need help. I also hope everyone understands that I believe no child under 18 should have these irreversible surgeries.
"Congresswoman Green is correct this bill could wind up in the courts. However, if this does wind up in court, I hope the Judges will protect the young."
Cases of gender dysphoria—distress caused by a difference between a person's gender and their biological sex—among children have seen a massive uptick in recent years, according to data from Reuters.
It found that in 2021, around 42,000 children across the United States had received a diagnosis—three times the amount in 2017.
According to a 2022 survey by The Trevor Project, an LGBTQ suicide prevention organization, nearly 1 in 5 young people identified as transgender or non-binary have attempted suicide. A 2020 study found 40 percent of transgender individuals had attempted suicide, with rates highest amongst youths.
While some studies suggest cases of suicide among transgender people are linked to feelings of unhappiness with their physical appearance, others have indicated the rise in young people exhibiting gender dysphoria may be in part a product of wider mental health issues.
SB 140 is one of several pieces of state legislation being considered to limit medical interventions for young transgender individuals.
In February, transgender rights activists occupied the lobby of the Oklahoma state capitol building to protest two bills that seek to ban gender reassignment surgery for those under the age of 26 and prohibit those aged under 18 from undergoing medical treatment for gender reassignment.
Update 3/17/23, 3:04 p.m. ET: This story was updated with comment from Carden Summers.