'This Isn't Real': Holly Hazmat Slams Marjorie Taylor Greene Drag Retweet
A drag artist has received death threats after Rep. Marjorie Taylor Greene retweeted a photo of them in a revealing outfit and wrongly claimed they wore it to a family-friendly event.
Holly Hazmat, a Chicago-based drag performer headlined the Skokie, Illinois annual pride event over the weekend but started receiving negative attention on Twitter after the conservative account Libs of TikTok tweeted a photo of Hazmat at another event and said they would be performing at the family-friendly one.
"llinois Park is having a 'family-friendly' pride event featuring a drag performance by this drag queen. @SkokieParks receives millions in funding," the account tweeted.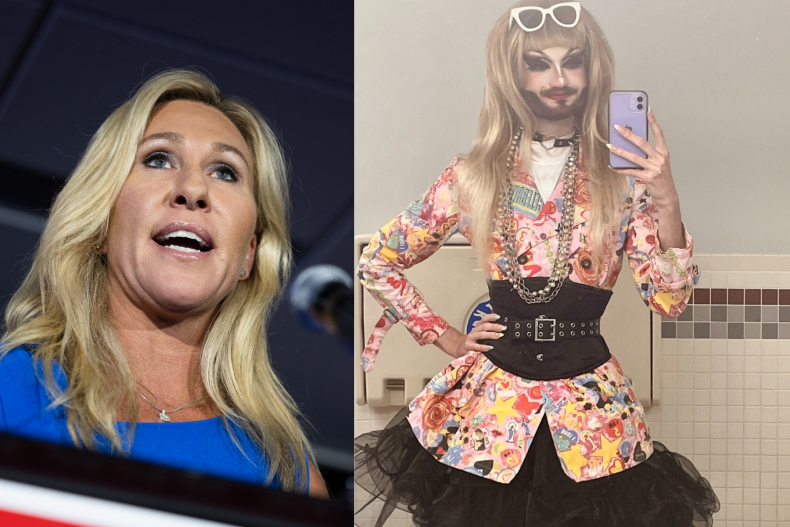 The photo used by Libs of TikTok showed Hazmat in a revealing outfit and suggested that the performer would be wearing it in front of children.
Libs of TikTok is influential among American conservatives and known for spreading anti-LGBTQ+ sentiment on the platform.
The tweet was subsequently shared by Greene who added: "This should be illegal."
Hazmat responded to say: "This isn't real. You have got to be joking me. @RepMTG @libsoftiktok this is not how I dress for all ages shows."
The performer told Newsweek that they have been inundated with death threats because of the popularity of Greene's tweet and that the photo shared was misleading and not what they wore to the family-friendly event.
"The past few days have been quite the whirlwind," Hazmat told Newsweek.
"On June 26 I was a drag headliner out in Skokie, Illinois for their annual pride event in Oakton Park. Small, little family-friendly event."
Before the event on the morning of June 26, Hazmat said they were woken up by mass notifications via Twitter and saw Greene's tweet.
"A large entity that spreads mass miscommunication and is very well known for inspiring the 'Don't Say Gay' law and 'grooming' rhetoric, Libs of TikTok chose the most scandalous photograph they could find of me on my Instagram from a 21+ event trying to make it seem as though this is what I would present to an all-ages, family-friendly event," Hazmat said.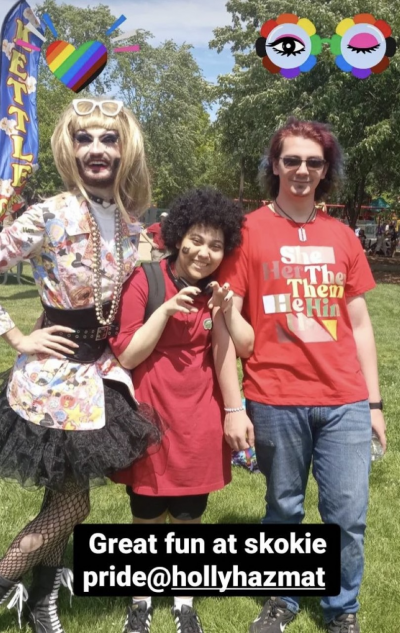 "Rep. Marjorie Taylor Greene saw this post and retweeted quoting 'This should be illegal.' Obviously, this caused major uproar in the twittersphere. MTG's post now has surpassed over 10k likes and thousands of comments/retweets."
Following the posts by Libs of TikTok and Greene, Hazmat has been "bombarded by MASS death threats, hate comments, and name calling. I even had an individual online post a video stating he was on his way to the event to 'expose this madness.'"
However, they still went to the event as planned and said their safety was ensured by the security present.
"I wasn't going to let Rep. Marjorie Taylor or anyone diminish my PRIDE," Hazmat said.
"I still went to the event, the security team all had my back, and we had a FUN and FABULOUS time.
"The Chicago drag community came together and protected me the ENTIRE day. So many words of love and affirmation it really made a performer's heart so warm.
"Thought I would share and get the word out there that no matter what anyone says to you, NEVER let anyone diminish the light you have inside of you! It's so much more important to be PROUD of you, express what you have to offer the world, and live FIERCELY."
Newsweek has contacted Greene and Libs of TikTok for comment.
Previously, Greene lashed out against the "indoctrination" of children attending drag shows, arguing that it "needs to be illegal."
Earlier this month, Greene baselessly claimed that she believes straight people face extinction within 150 years.
"Probably in about four or five generations, no one will be straight anymore," Greene said during a livestream broadcast on social media. "Everyone will be either gay or trans or nonconforming or whatever the list of 50 or 60 different options there are."