Republican Representative Marjorie Taylor Greene listed the Oversight, Judiciary, and Foreign Affairs as the top three committees she wants to serve on in case the GOP takes over the majority of Congress in the upcoming midterm elections.
"I'd be honored to serve on Oversight to hold the Democrats accountable for abusing their power, Judiciary to push through my articles of impeachment on Joe Biden, and Foreign Affairs to put America First and China Last and stop the never-ending wars pushed by globalist neocons," she said in an interview that was published by the Rome News-Tribune Sunday.
The Georgia congresswoman called the current Congress committees "useless" because the GOP serves as the minority and that House Speaker Nancy Pelosi is ruling Congress "with an iron fist," adding that "GOP bills and amendments don't see the light of day."
In February 2021, the House of Representatives voted to remove Greene from her assignments on the Budget panel and the Education and Labor Committee due to her history of controversial comments that included conspiracy theories and her alleged support of violence against Democrats prior to taking office, according to NPR.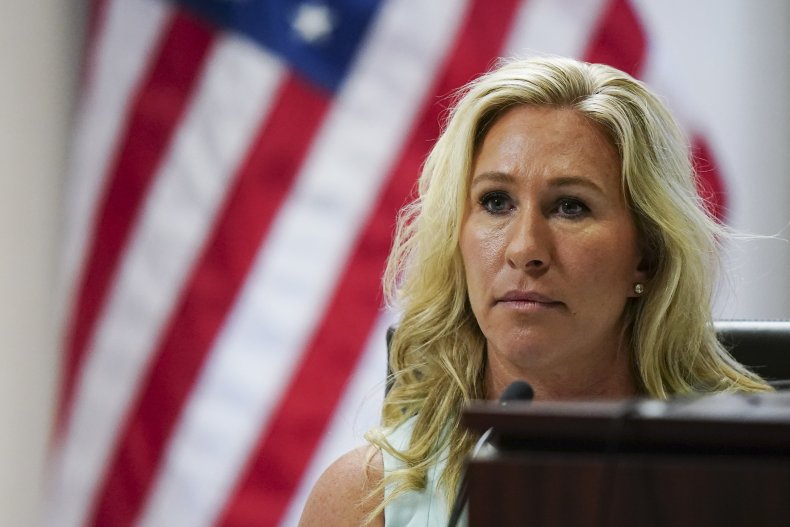 The vote came after the House Rules Committee advanced a resolution that was pushed forward by Democratic Representative Debbie Wasserman Schultz to remove Greene from the committee she was serving on. The vote was 230-199 and included 11 Republicans who supported the decision.
"Just after I was sworn in, Democrats recognized me as the biggest threat to their Communist agenda in Congress and made me their No. 1 target. They kicked me off of committees because I'm just like you, a proud American tired of business as usual in the Swamp," Greene told the Rome News-Tribune.
On Friday, she testified in an administrative hearing in Atlanta in an effort to challenge legal arguments alleging her participation in the January 6, 2021 Capitol riot disqualifies her from office.
The congresswoman was asked during the hearing about her past social media posts that led up to the riot, but she said that she doesn't recall key details.
Greene, who was under oath during the hearing, repeatedly answered "I don't know" to the questions she was asked, which critics deemed as an indication of being dishonest. Her answers prompted her Democratic challenger Marcus Flowers to call her "Perjury Taylor Greene."
In another instance during the hearing, she was asked whether she called Pelosi a "traitor" to the country.
"Did you say, referring to speaker Pelosi, 'She's a traitor to our country. She's guilty of treason. She took an oath to protect the American citizens. She gives aid and comfort to our enemies who illegally invade our land,'" asked lawyer Ron Fein, who is representing the group of Georgia voters challenging her eligibility to run for reelection.
"I said...this is what I was telling you...[Pelosi] doesn't uphold our laws," Greene responded.
The congresswoman launched a White House petition in January 2019 to impeach Pelosi for "crimes of treason for her policies that are serving illegals and not United States citizens," according to CNN. She even suggested in a video posted on Facebook, before she was temporarily banned from the platform earlier this year, that Pelosi could be executed for "treason."
Newsweek reached out to Greene's media representative for comment.