Marjorie Taylor Greene has tweeted about the need to increase voter turnout for the Republican Party "by every means possible", including by postal ballots, after claiming for years that mail-in voting is rife with fraud.
In a post on her Twitter account on Sunday, the Georgia Republican wrote: "In order to overcome stolen elections, Republicans must increase voter turn out and vote by every means possible. Register more voters, harvest ballots, mail-in, vote early, and encourage voters to vote."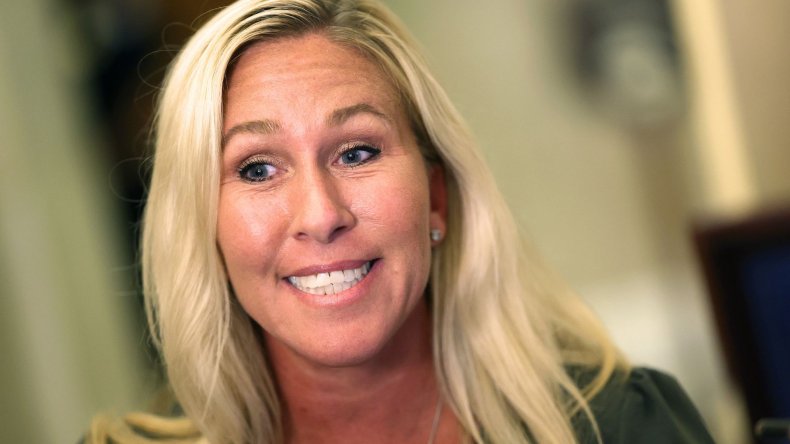 Greene added: "We can't make real changes without full control. We need the White House."
Greene's statement shows that the MAGA Republican continues to stand by former President Donald Trump's false claims that the 2020 presidential election was rigged and stolen from him, despite the fact that his theory has long been debunked.
For years following the 2020 election, Greene continued spreading misinformation about the race. She said Trump won Georgia and that "there was blatant, outright fraud" involved in his defeat.
But her post also shows that Greene might be abandoning Trump's traditional harsh stance against mail-in voting, as other Republicans have done in recent months.
For years following the 2020 election, mail-in ballots have been a particularly contentious subject for Republicans—especially Trump loyalists such as Greene. They have accused the early voting system of being easily corrupted.
Trump has been leading the war on mail-in ballots. In November, in the immediate aftermath of the midterm elections, the former president wrote on his social media platform Truth Social: "REMEMBER, YOU CAN NEVER HAVE FAIR & FREE ELECTIONS WITH MAIL-IN BALLOTS. NEVER, NEVER, NEVER. WON'T AND CAN'T HAPPEN!!!"
But following the worse-than-expected results of the November midterms for Republicans, who lost the Senate run-off in Georgia and failed to flip the upper chamber, some have started to call for a more-moderate approach to mail-in ballots—including Trump.
Since the midterms, strategists have advised the GOP to reverse its stance on early and mail-in voting. They added the Republicans should use the system to their advantage, as Democrats are already doing.
"What we do need is our voters need to vote early," Republican National Committee's (RNC) Chair Ronna McDaniel said during an interview on Fox News last December. "I have said this over and over again. There were many in 2020 saying, 'Don't vote by mail, don't vote early.' And we have to stop that."
During a Conservative Political Action Conference (CPAC) in Maryland from February 27 to March 2, Trump told the audience it was time to "change our thinking" on early and mail-in voting.
As well as Trump, even some of the mail-in ballots' most ardent critics, like Greene, have started saying that Republicans need to beat "Democrats at their own game," like the former president said, if they hope to win big in 2024.
"Some Republicans are beginning to understand that if early and mail-in voting are going to become increasingly common anyway, then strategically it makes little sense to put themselves at a disadvantage by pillorying it," Thomas Gift, associate professor of political science in the School of Public Policy at University College London, told Newsweek. "That only risks depressing votes among conservative constituents likely to vote for them."
"There is also growing empirical evidence that such reforms don't always provide a clear-cut benefit for Democrats, despite conventional wisdom pointing to the contrary," he added. "A recent analysis by scholars at Stanford, for example, found that the surge of mail-in ballots during COVID-19 wasn't responsible for record turnout in 2020, and that there's little evidence demonstrating that Democrats gained an upper hand over Republicans as a result of more generous rules for voting by mail."
Newsweek has contacted Greene's spokesperson by email for comment.
Update 6/5/2023 6:20 a.m. ET: This article was updated to include a comment from Thomas Gift.