Marjorie Taylor Greene Says 'Fascist' NBA 'Let Magic Johnson Play With HIV' Amid Irving Ban
GOP Representative Marjorie Taylor Greene of Georgia on Thursday criticized the Brooklyn Nets' decision to keep Kyrie Irving from playing because of his COVID-19 vaccination status.
"The fascist NBA won't let Kyrie Irving play for refusing a vaccine," Greene wrote on Twitter. "But yet they still let Magic Johnson play with HIV."
Earlier this week, Irving was prevented from playing with the Nets for refusing a COVID vaccine, which is required under New York City's mandate to fully participate in the regular season.
"When the dictator Biden tells companies to fire your unvaccinated employees, yeah, the employee vax rate goes up to nearly 100 percent. There's a term for that: corporate Communism," she told Newsweek on Thursday. "It's the government pushing communist tactics through the corporations. Another term would be discrimination."
Greene's Twitter remarks on Thursday sparked mixed reactions on social media with some people questioning her knowledge of HIV transmission, while others lauded her view of the ban.
"HIV is not spread by respiratory droplets," one person wrote, while a Republican congressional candidate in Florida, Lavern Spicer, said that the NBA only cares about the vaccine.
"Covid is airborne and responsible for the death of 700,000 in the US alone; it's not rocket science. You catch HIV through unprotected sex and IV drug use," another person wrote on Twitter.
Players for the New York Knicks, Nets, and Golden State Warriors were given until September 13 to receive at least one dose of the Pfizer or Moderna vaccine, or the single Johnson & Johnson shot. Players on the Warriors were given until October 13 to be fully vaccinated against the virus.
Members of those markets were required to comply with the public ordinances that were enacted in New York and San Francisco that ban unvaccinated people from entering indoor settings, including barring players from using practice facilities.
Greene has long pushed back against the COVID vaccine. In September, she expressed her strong stance against the shots prior to President Joe Biden's announcement of an executive order requiring federal employees to be vaccinated.
"We don't take orders from Fascist in my office," Greene wrote on Twitter at the time. "Remember the Nuremberg Code Joe?"
Greene told Newsweek in September that she knows many people, including her Jewish supporters, who are concerned about the "fascist-style" COVID vaccine mandates that Biden and Democrats are "forcing" on Americans.
"Mandates aren't necessary when we have such effective treatment options. The federal government should do everything in its power to make these treatments readily available to the general public," she said. "I support freedom and people's right to make medical decisions over their own bodies."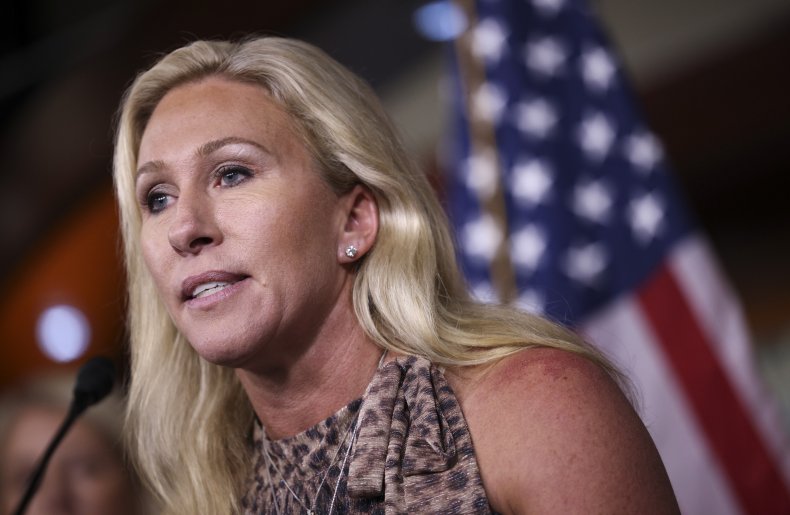 In August, Greene's Twitter account was temporarily suspended after she wrote that COVID vaccines are failing.
"These vaccines are failing and do not reduce the spread of the virus and neither do masks," Greene wrote on the social media platform. "There are too many reports of infection and spread of COVID-19 among vaccinated people."
In response, Twitter added a disclaimer on her tweet informing users on the platform that her post was "misleading." Users were also unable to reply, like or share her tweet.
A Twitter spokesperson told Newsweek in August that her account was placed on a "read-only" mode for a week because of her "repeated violations" of the platform's user policies.
Update 10/15/21, 9:25 a.m. ET: This story was updated to include comments from Marjorie Taylor Greene.