Republican Georgia Representative Marjorie Taylor Greene has said that Republican House Minority Leader Kevin McCarthy told her that she will regain committee assignments if Republicans win back the House in the 2022 midterm elections.
"Of course I've had conversations about that, and I'm guaranteed to get committees, and there's no reason why I shouldn't have them," Greene told reporters outside the Capitol on Wednesday. "I've been told by Kevin McCarthy, I've been told by Steve Scalise, I've been told by everyone."
"Of course I'm getting committee assignments back, and I'll get better ones than I had in the first place," she continued.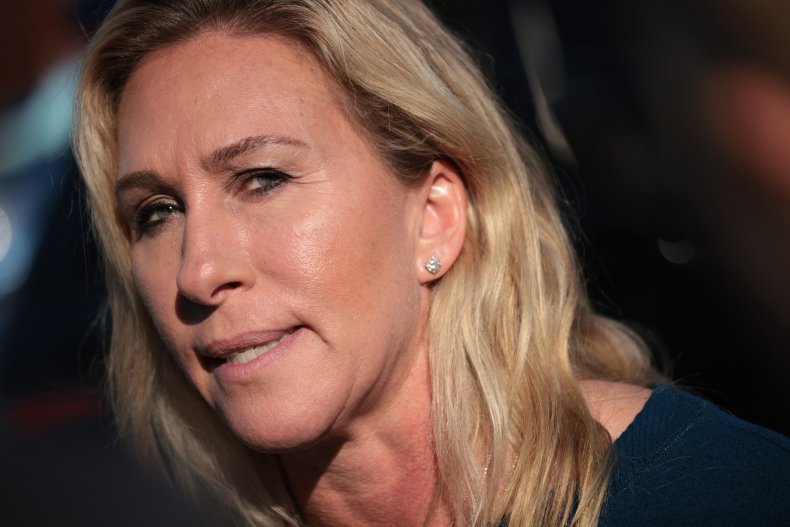 In early February, the Democratic-led House voted to strip Greene of all her committee seats due to her past social media endorsements of extremist conspiracy theories. Every Democratic House member and 11 Republican members voted in favor of unseating her from committees.
In Greene's past social media comments, she has advocated for violence against House Speaker Nancy Pelosi and former President Barack Obama, said that an airplane never hit the Pentagon during the September 11 terrorist attacks, alleged that a space laser started the California wildfires to benefit a Jewish bank and also accused former Secretary of State Hillary Clinton of slicing off a child's face and wearing it as well as many other conspiracy theories.
At the time, Greene blamed "cancel culture" for encouraging the public uproar over her social media posts.
After being stripped of her committee assignments, Greene said her removal freed her to build a political network supporting Republican former President Donald Trump and to push congressional Republicans further rightward, The Washington Post reported.
"Going forward, I've been freed," she said. "I have a lot of free time on my hands, which means I can talk to a whole lot more people all over this country and . . . make connections and build a huge amount of support."
"I'm going to be holding the Republican Party accountable and pushing them to the right," Greene added.
As for McCarthy's alleged promise to Greene, several signs suggest that Republicans could perform well in the 2022 midterm elections.
The party in control of the White House often suffers midterm losses, and Democratic President Joe Biden's favorability rating is at its lowest point. Republicans also recently won Virginia's gubernatorial election, a race considered a bellwether for voter sentiment in midterms.
If Republicans do regain House majority, McCarthy will have to balance the desires of his party's far-right and moderate factions.
For example, Greene has pushed to strip committee assignments from 13 Republicans who voted last week in support of Biden's bipartisan infrastructure bill. Greene has called those Republicans "traitors." However, the 13 Republicans have defended their votes as beneficial to their constituents.
Newsweek contacted Greene's office for comment.