Marjorie Taylor Greene Says Republicans 'Stupid' to Not Invite Trump to GOP Retreat
Republican Georgia Representative Marjorie Taylor Greene has said that it was "stupid" for Republican leaders not to invite former President Donald Trump to a GOP congressional retreat.
Republicans met in central Florida this week for the retreat, during which attendees will discuss strategizing the party's policies leading into the 2022 midterm elections. Topics include jobs, domestic security, how to deal with media, "big tech censorship", China, the "future of America freedoms" and vulnerable Democrats to target in the midterms, according to Politico.
"Remember when Republicans lost the House in 2018 because a bunch of them distanced themselves from President Trump?" Greene wrote in a tweet published Monday afternoon. "Not inviting President Trump to the GOP retreat is the same stupid behavior. Funny how they don't understand a record # of votes and support of any R President."
Former Republican presidents have addressed congressional members at past retreats, but GOP leaders didn't invite Trump to speak at this year's retreat, even though he lives in Florida. Congressional Republicans have disagreed about whether the party should embrace Trump or move on from him.
Greene and GOP Florida Representative Matt Gaetz remain two of Trump's most ardent congressional supporters. The two have echoed Trump's baseless claim that widespread fraud "stole" the 2020 election from him. They have also praised Trump's fighting style against Democrats and the mainstream media, as well as his popularity amongst the GOP's voter base. They even aligned with Trump's political philosophy and his anti-immigrant stance in a now-defunct "America First" caucus.
But other congressional Republicans—such as Wyoming Representative Liz Cheney and Illinois Representative Adam Kinzinger—reject Trump. Cheney has said that Trump shouldn't be playing a role in the party's future. She blamed the January 6 insurrection on Trump's election fraud claims and called him an "existential threat" to the party. Kinzinger has called Trump's combative, attention-grabbing media style "desperate" and a distraction from the party's national legislative agenda.
Regardless, Trump seems likely to remain active in Republican politics.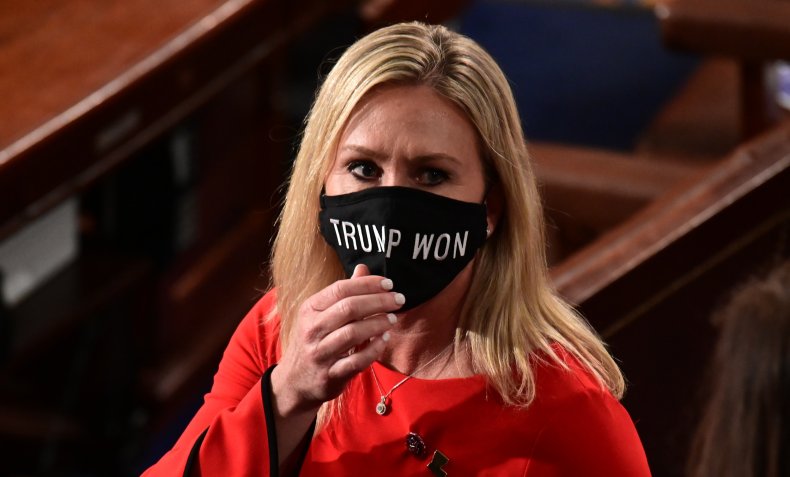 "[Trump has] already proven that he wants to have a major say or keep control of the party, and he's already shown every sign that he's going to primary everybody that has not been supportive of him. He complicates everything so much," Fred Zeidman, a veteran Republican fund-raiser in Texas, told The New York Times.
A February CNBC poll found that 74 percent of Republicans want Trump to stay active in some way in politics and 48 percent want him to remain head of the Republican Party. The online poll of 1,000 Americans nationwide had a margin of error of plus or minus 3.5 percent.
However, Trump's continued presence could also turn some voters off to the Republican national brand.
Thousands of Republican voters distanced themselves from the party following the January 6 insurrection on the Capitol. An early April Gallup poll found that a plurality of American voters—49 percent—now identify as Democratic. Only 40 percent identify as Republican. The telephone poll of 3,960 adults had a margin of error of plus or minus two percentage points.
"[GOP] support is kind of disappearing. They're hemorrhaging supporters," Gallup senior editor Jeff Jones told U.S. News.
Michael McDonald, a University of Florida political science professor, told the publication that voters were dropping their GOP affiliations to "make a personal statement" about their disapproval of the party's embrace of Trump and his ethos.
Newsweek contacted Greene's office for comment.