Marjorie Taylor Greene Slammed As 'Somewhere Between Deranged and Demented' by ADL CEO
The CEO of the Anti-Defamation League has slammed Rep. Marjorie Taylor Greene (R-GA) as someone who is "somewhere between deranged and demented" after she doubled down on her comments comparing mask mandates to the Holocaust.
Jonathan Greenblatt made the comments during an appearance on CNN's The Situation Room on Monday to discuss the recent spike in antisemitic attacks in the U.S. coinciding with this month's escalation in violence in the Israeli-Palestinian conflict.
Host Wolf Blitzer asked Greenblatt about the lack of condemnation of Greene by the House Republican leadership after she prompted an outcry by comparing mask requirements on the House floor to the Holocaust.
"You know, we can look back at a time in history where people were told to wear a gold star, and they were definitely treated like second-class citizens, so much so that they were put in trains and taken to gas chambers in Nazi Germany, and this is exactly the type of abuse that Nancy Pelosi is talking about," Greene said in an interview last Thursday.
The congresswoman said she stood by the comments the following day, telling a reporter that "any rational Jewish person" would also oppose "overbearing" mask mandates.
"Look, we know Marjorie Taylor Greene clocks in, Wolf, somewhere between deranged and demented, right?" Greenblatt said. "This is a woman who thinks there are Jewish space lasers starting forest fires. She's a QAnon enthusiast. She is offensive in almost everything that she does."
Greene's spokesman Nick Dyer responded to Greenblatt's comments, telling Newsweek: "The people of Northwest Georgia aren't interested in the opinions of a radical leftist."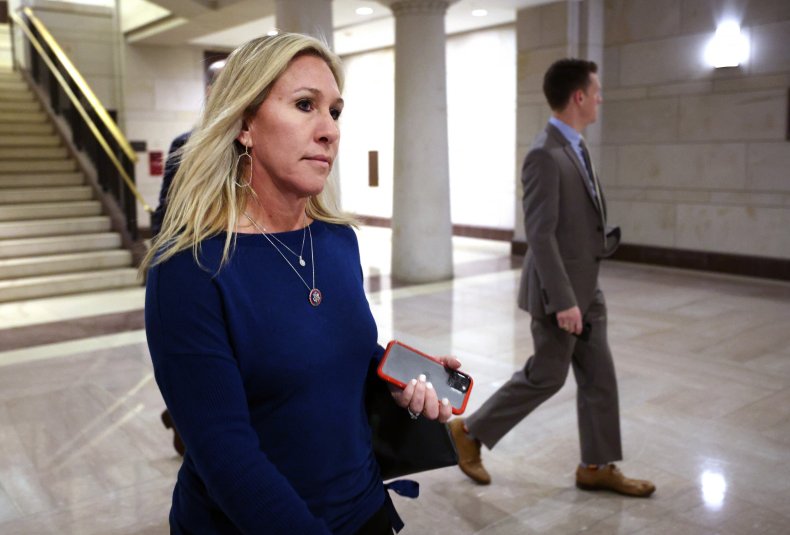 Greenblatt went on to say that it was crucial for leaders to speak out as assaults against Jews increase in the country.
"Leaders need to lead, whether they're members of Congress, who need to say clearly that, when you attack Jewish people because you're angry about the Middle East, that isn't activism; it's antisemitism," he said.
He called on members of Congress from both parties to "clearly, cogently say antisemitism unacceptable" and for social media companies to "take down these horrible hashtags, pull down these disgusting TikTok videos and Instagram memes."
Greenblatt compared the wave of antisemitic attacks in the U.S. to the rise in attacks on Asian Americans during the coronavirus pandemic.
"We need to call it out in the media," Greenblatt said. "Number two, leaders need to lead and push back on this kind of hate.
"And then, number three, the Jewish community needs to see solidarity from other groups, right? Attacks against the Jewish community aren't just attacks against us. They're attacks against America. They're attacks against the pluralism and tolerance that we all cherish.
"So, I think, if you stand up for anti-Black racism, if you stand up against anti-Asian hate, you need to stand up against violent antisemitism, now and forever."
The ADL has been contacted for comment.
Update 5/25/21 9:00 a.m. ET: This article has been updated with a comment from Marjorie Taylor Greene's spokesman.