Marjorie Taylor Greene Breaks With Donald Trump Over Protest Calls
Georgia Congresswoman Marjorie Taylor Greene has dismissed Donald Trump's calls for protests to break out should he be arrested in connection with an investigation into hush money payments he allegedly arranged in 2016.
Greene, a staunch supporter of the former president, said that there doesn't need to be any action against the Manhattan District Attorney's Office or the "communist" Democrats should Trump become the first U.S. president to be indicted as people will let their feelings known in the 2024 election instead.
Trump said that he is set to be arrested on Tuesday as part of an inquiry into $130,000 paid to adult film star Stormy Daniels to keep an alleged affair between the pair a secret ahead of the 2016 Election.
There is no other indication, either from Trump's team or the Manhattan D.A.'s office, that such a decision about a possible historic indictment will be announced on Tuesday. But some critics fear Trump may be inciting his supporters to cause problems should he be arrested, with comparisons made between Trump's Truth Social posts published yesterday and the speech he gave on January 6 prior to the Capitol riot.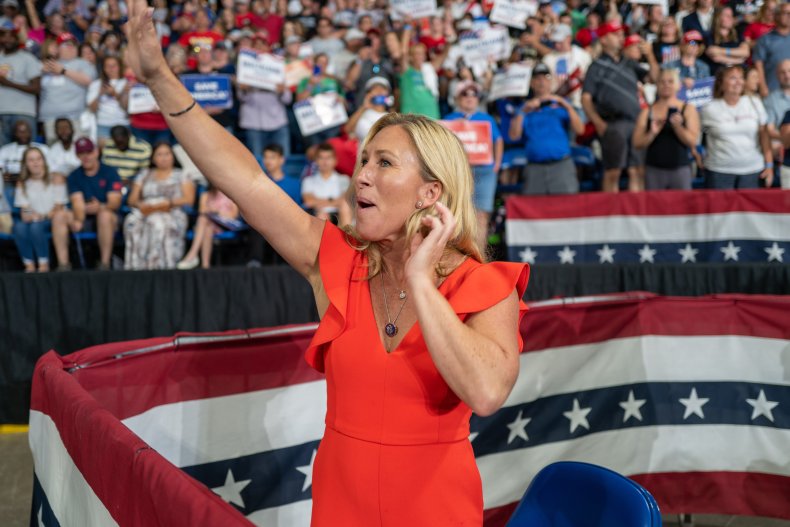 "We don't need to protest about the Communists Democrat's planning to arrest Pres Trump and the political weaponization of our government and election interference," Greene tweeted.
"These idiots are sealing their own fate in 2024 because the silent majority has two feelings right now about the current regime.
"Fear and anger. That is the most powerful combination when election time comes. And the Democrats are driving that force with their own corrupt actions."
Trump has twice called for protests to break out should he be charged in connection with the Daniels hush money probe. Investigators are looking into whether the payment, which Trump allegedly ordered his lawyer Michael Cohen to make, could amount to a campaign violation as it was paid prior to the 2016 election.
Prosecutors are also looking into whether any company records were falsified when Cohen was reimbursed for the money, which was listed as legal fees.
In a Truth Social post on Saturday, Trump alleged there had been "illegal" leaks coming out of the Manhattan D.A.'s office about the inquiry while indicating that the "FAR & AWAY LEADING REPUBLICAN CANDIDATE & FORMER PRESIDENT OF THE UNITED STATES OF AMERICA, WILL BE ARRESTED ON TUESDAY OF NEXT WEEK. PROTEST, TAKE OUR NATION BACK!"
Trump later doubled down - again in full capitals - on his calls on people to protest should he be arrested.
"IT'S TIME!!! WE ARE A NATION IN STEEP DECLINE, BEING LED INTO WORLD WAR III BY A CROOKED POLITICIAN WHO DOESN'T EVEN KNOW HE'S ALIVE, BUT WHO IS SURROUNDED BY EVIL & SINISTER PEOPLE WHO, BASED ON THEIR ACTIONS ON DEFUNDING THE POLICE, DESTROYING OUR MILITARY, OPEN BORDERS, NO VOTER I.D., INFLATION, RAISING TAXES, & MUCH MORE, CAN ONLY HATE OUR NOW FAILING USA. WE JUST CAN'T ALLOW THIS ANYMORE," Trump wrote.
"THEY'RE KILLING OUR NATION AS WE SIT BACK & WATCH. WE MUST SAVE AMERICA!PROTEST, PROTEST, PROTEST!!!"
Former Democratic House Speaker Nancy Pelosi was one of those who criticized Trump for his inflammatory rhetoric.
"Whatever the Grand Jury decides, its consideration makes clear: no one is above the law, not even a former President of the United States," Pelosi tweeted.
"The former president's announcement this morning is reckless: doing so to keep himself in the news & to foment unrest among his supporters.
"He cannot hide from his violations of the law, disrespect for our elections and incitements to violence. Rightfully, our legal system will decide how to hold him accountable," she added.
Trump's office has been contacted for comment via email.