Marjorie Taylor Greene's Christian Nationalism Criticized by Faith Leader
A progressive Christian campaigner has savaged Representative Marjorie Taylor Greene's call for conservatives to embrace being called "Christian nationalists".
Writing for The Daily Beast the Rev. Nathan Empsall branded Christian nationalism "unchristian and unpatriotic," adding the movement's leaders are "America's false prophets" that "Jesus warned us about." Empsall's website says that his ministry is focused on "social, environmental, economic, and racial justice."
It comes after Greene said in July that the Christian nationalist label is "actually a good thing," during an appearance before the Turning Point USA Student Action Summit in Tampa, Florida.
The Georgia politician doubled down on her argument in a subsequent radio interview, when she said: "We need to be the party of nationalism. I'm a Christian, and I say it proudly—we should be Christian nationalists."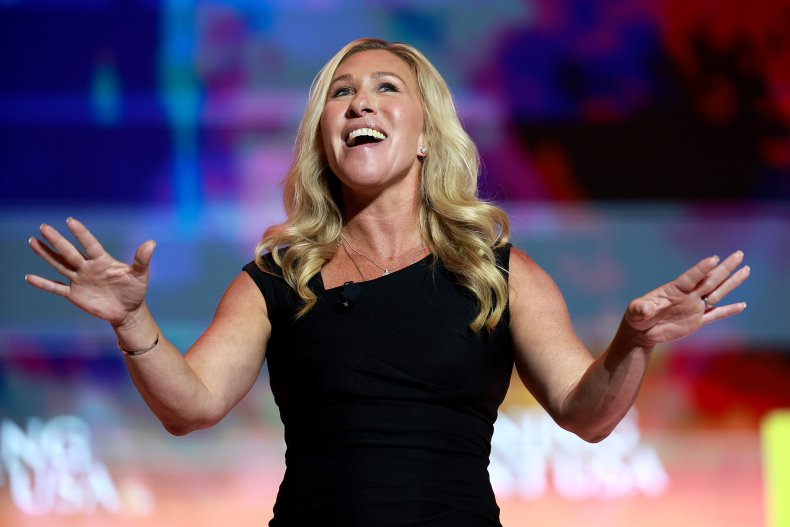 Empsall is Executive Director of Faithful America, a group founded in 2004, which says it is "organizing the faithful to challenge Christian nationalism and white supremacy."
In his piece Empsall wrote: "As a pastor, if there's one thing I understand, it's that Christian nationalism is unchristian and unpatriotic.
"The clear goal of Christian nationalism is to seize power only for its mostly white evangelical and conservative Catholic followers, no matter who else gets hurt or how many elections have to be overturned.
"This is the unholy force that incited the failed coup of Jan. 6, 2021, brought us the recent spate of theocratic Supreme Court opinions, and has inspired multiple wave upon wave of dangerous misinformation about elections, climate change, and COVID-19—all in direct contrast to Jesus' teachings of love, truth, and the common good."
Empsall added Christian nationalists were aiming to turn America into a "theocracy" where minorities would face persecution.
He said: "Each explicit declaration of Christian nationalism is a blatant attempt to pull the wool over people's eyes and make the anti-democracy extremist ideology seem safe and more palatable, distracting us from the right's project of seizing power to remake America into a theocracy in their image—a nation where the LGBTQ community, people of color, and non-Christians all lose rights while evangelicals and conservative Catholics are put permanently in charge.
"They are America's false prophets. And Jesus warned us about them."
Christian nationalism, which broadly encompasses the view that the American nation is defined by Christianity and this must be protected, has a long history in U.S. politics.
However, this has to be incorporated within the constraints of the First Amendment, which states: "Congress shall make no law respecting an establishment of religion, or prohibiting the free exercise thereof."
Taylor Greene was elected to represent Georgia's 14th congressional district in 2020 after the Republican incumbent retired.
She became a high profile supporter of former president Donald Trump's attempts to overturn the 2020 presidential election results, arguing the vote had been rigged.
Claims of fraud, which continue to be pushed by Trump, have been widely dismissed by independent election experts.
Greene said election results in her home state of Georgia should be decertified.
On Sunday John Oliver called the outspoken Republican a "danger to children" on his HBO show Last Week Tonight, following comments she made about monkeypox.
Speaking to reporter Allison Royal at the Turning Point USA Student Action Summit, Greene said: "Of course, monkeypox is a threat to some people in our population, but we know what causes it. It's basically a sexually transmitted disease, so it doesn't affect most of the population.
"People just have to laugh at it, mock it, and reject it…It's another scam."
Newsweek has contacted Marjorie Taylor Greene for comment.
Update on 08/09/22 at 07.40 a.m. ET with additional information