Marjorie Taylor Greene's 'National Divorce' Idea Too Much for Steve Bannon
Steve Bannon has savaged Marjorie Taylor Greene's proposal for a "national divorce" between Republican and Democrat states, comparing it to spitting on the graves of civil war veterans at Arlington National Cemetery.
A clip of Bannon responding to the House Republican's suggestion was posted on Twitter by Grace Chong, who works for his War Room podcast.
The footage begins with Chelle, a social media commentator who describes herself as a "Hispanic conservative," saying she's heard Greene "talking about splitting up the red states from the blue states."
Bannon, who briefly worked as Donald Trump's chief White House strategist, replied: "If there's anything that I am one million percent opposed to its this entire concept."
He said: "We're at war right now. We're at war with the administrative state, the secular paganism of the Gaia movement, the climate change movement, we're being sucked into a third world war on the Eurasian landmass...
"We have never had a bigger inflection point in all of human history. We don't have the time, or luxury, for sideshows.
"This country is not going to split. You might as well go over to Arlington National Cemetery, go over to the section of the veterans at Gettysburg, and spit on their graves as to even mention that this country would be split apart."
Greene outlined her "national divorce" proposal in more depth on Tuesday arguing the federal government should be stripped of much of its power, which would then be devolved to the state level. The central government would still be responsible for "national security," but education, law enforcement and environmental regulations would almost entirely become the responsibility of the individual states.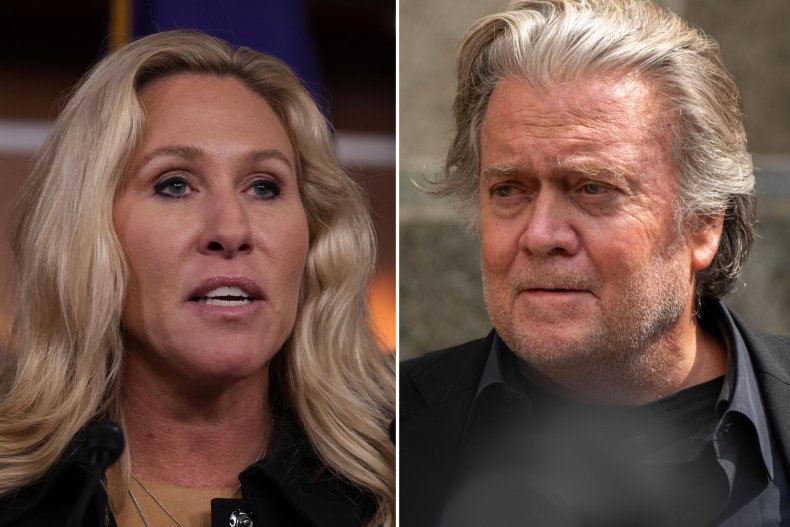 Summarizing her views Greene wrote: "The left and right should consider a national divorce, not a civil war but a legal agreement to separate our ideological and political disagreements by states while maintaining our legal union."
She added: "I'll speak for the right and say, we are absolutely disgusted and fed up with the left cramming and forcing their ways on us and our children with no respect for our religion/faith, traditional values, and economic & government policy beliefs."
Bannon isn't the first prominent right-wing figure to have rejected Greene's proposal, with Fox News host Laura Ingraham having told her audience: "The last thing we need is an American breakup of any sort."
However, Greene's idea was seemingly endorsed by Fox News host Sean Hannity, who pointed out how far apart Democrats and Republicans are on key issues. He said: "I don't see middle ground on a lot of these issues. So what is the other answer if it's not a divorce?"
Greene also caused controversy by suggesting Democrats moving to Republican states shouldn't be able to vote for five years during a discussion with Turning Point founder Charlie Kirk.
Rachel Fiset, a criminal defense attorney and co-founder of law firm Zweiback, Fiset & Zalduendo LLP, told Newsweek this would be "unconstitutional" and branded it "an assault on democracy."
Newsweek has contacted Marjorie Taylor Green for comment.