Mark Hamill Compares Biden to Luke Skywalker: 'The Force is Strong With Joe'
Mark Hamill, a fervent Democrat, has likened Joe Biden to his iconic Star Wars' character Luke Skywalker in a light-hearted meme.
The legendary actor shared a photo of the Democratic nominee's likeness in place of his own from the original sci-fi film franchise.
Complete with helmet and goggles, Biden is seated in the Jedi's place inside an X-wing fighter from the movies.
The comparison comes after Hamill responded to a tweet posted by author Malcolm Nance about a Politico article titled: "How Biden destroyed Trump's TV ad 'death star.'"
The piece explores how the Biden campaign is spending nearly $400,000 for three TV spots during the Arizona Cardinals versus Dallas Cowboys on Monday night.
Hamill tweeted: "Your wish is my command @MalcolmNance, and thanks for fighting the good fight! #TheForceIsSTRONGWithJoe."
Trump's reelection campaign has long been likened to the Death Star. Back in May, advisor to the Republican's bid, Brad Parscale, tweeted that the Trump re-election campaign had constructed a "Death Star."
The Death Star in Star Wars is of course the fictional space station capable of destroying planets with a huge laser.
"I didn't give our campaign the name, Death Star, the media did," Parscale wrote. "However, I am happy to use the analogy. The fact is, we haven't used it yet. Laugh all you want, we will take the win!"
It seems if the Trump ad campaign is to be likened to a giant planet exploding weapon, then Hamill wants to see Biden compared to the Jedi who famously destroys it.
Many Twitter users have responded with Star Wars puns (Joe-Bi Wan Kenobi?) and gifs of the Death Star exploding.
Hamill has been an increasingly vocal anti-Trump advocate on Twitter in the lead up to election day on November 3.
The 69-year-old teamed up with Biden back in June for an online fundraiser dubbed a "Virtual Conversation About Hope And Democracy."
Following Trump's televised Town Hall event last week, Hamill called Trump "unhinged" and "conspiracy-minded," writing: "She says watching @JoeBiden feels like she's watching Mr. Rogers* as if being intelligent, thoughtful, decent & inclusive is a BAD thing. I like presidents who aren't unhinged, conspiracy-minded, white-nationalist fans. *misspells his name, of course."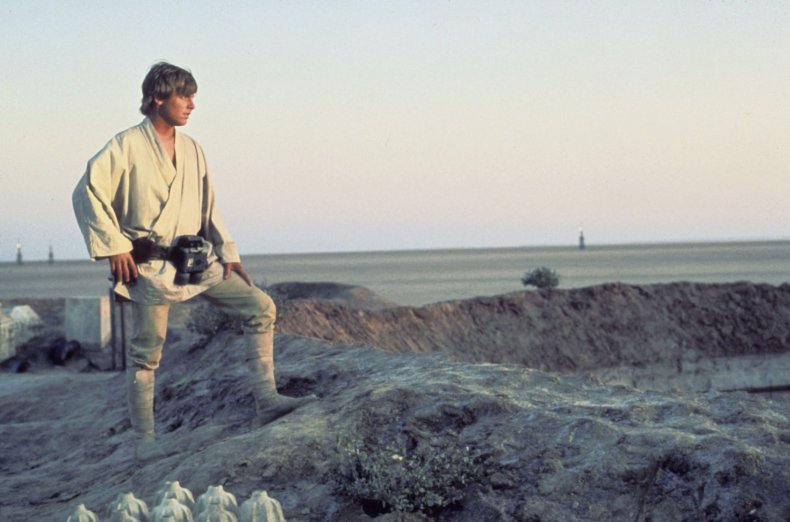 He also condemned Mitch McConnell for "gleefully" laughing when questioned about the government's COVID response in a debate with Democratic challenger Amy McGrath last week, calling the politician "pure evil."
"McConnell's gleeful laugh when McGrath talks about his failures on COVID is... what pure evil looks like. #Chilling," Hamill tweeted.