Sen. Marsha Blackburn hit back at criticism of her questioning of Supreme Court nominee Ketanji Brown Jackson.
The Tennessee Republican was accused of racism after she used her opening statement during Monday's Supreme Court confirmation hearing to attack Jackson, the first Black woman nominated to the nation's highest court, and questioned whether she had a "personal hidden agenda" to incorporate critical race theory into the legal system.
In a tweet on Tuesday, Blackburn said: "The left is doing everything in their power to shut down the tough questions that don't fit their narrative. It's pathetic, and Americans deserve better."
She included a clip from an appearance on Fox Business where she insisted she was asking questions that her constituents want the answers to.
"So to come out against what I've questioned her on, I'm doing my job," she said in the clip.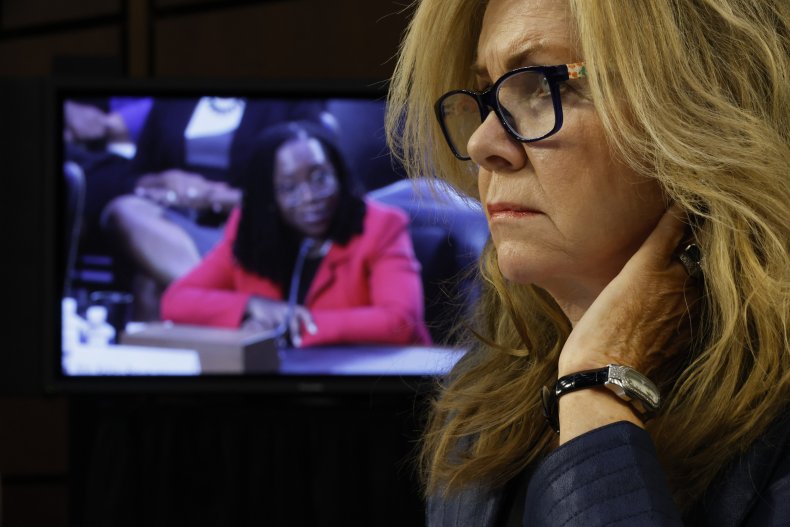 "And look, the liberal media isn't happy. It doesn't fit their narrative. They don't want her to be questioned about [critical race theory] or about court-packing. They don't want her to be questioned about where she stands on Gitmo detainees or soft on crime and I'm questioning her about the things that Tennesseeans have said this is what we want to know."
Blackburn went on to say the confirmation hearings were the "one shot" that Americans have to find out about Jackson's world view. "What are her filters? How does she approach things? How does she judge character? How does that play into how she makes decisions?" she said.
"Does she rely on the Constitution, or does she go to precedent first? Does she rely on current events or does she go to the rule of law? Those are answers that Tennesseeans and I think a lot of Americans want, we're trying to get them but we're hearing this, that opportunity, the day one round of questioning, might not be given to us tonight."
Blackburn, the sole Republican woman on the Senate Judiciary Committee, did go on to question Jackson on Tuesday evening, pressing her on culture war issues including abortion, transgender rights and critical race theory.
During her time, Blackburn painted Jackson as someone who has "attacked pro-life women" and advocated against their First Amendment right "to express their sincerely held views regarding the sanctity of each individual life."
Blackburn was referring to a brief Jackson co-signed in 2001 that described anti-abortion demonstrators as "a hostile, noisy crowd of in-your-face protesters."
That case, concerning a dispute over a Massachusetts law that required anti-abortion protesters to respect an 18-foot buffer zone around abortion clinics in a bid to protect those entering from harassment, was not about the rights of anti-abortion women, but about the behavior of protesters regardless of their gender, The New York Times reported.
"When you go to church and knowing there are pro-life, women there, do you look at them, thinking of them in that way? That they're noisy, hostile in your face?" Blackburn asked.
Jackson replied: "Senator, that was a statement and a brief made, an argument for my client, it's not the way that I think of or characterize people."
Blackburn's questions on Tuesday sparked a backlash on Twitter.
Author Don Winslow said Blackburn's questions were "given to her from the most extreme elements of the Republican party and designed to fire up their base, create soundbites and demean Judge Jackson."
Tennessee Rep. Gloria Johnson wrote that Blackburn "excels at ignorance, TN would like to apologize to the nation for this one."
Blackburn's office has been contacted for comment.