Why Martellus Bennett and Other Patriots Are Boycotting the Team's Trip to the White House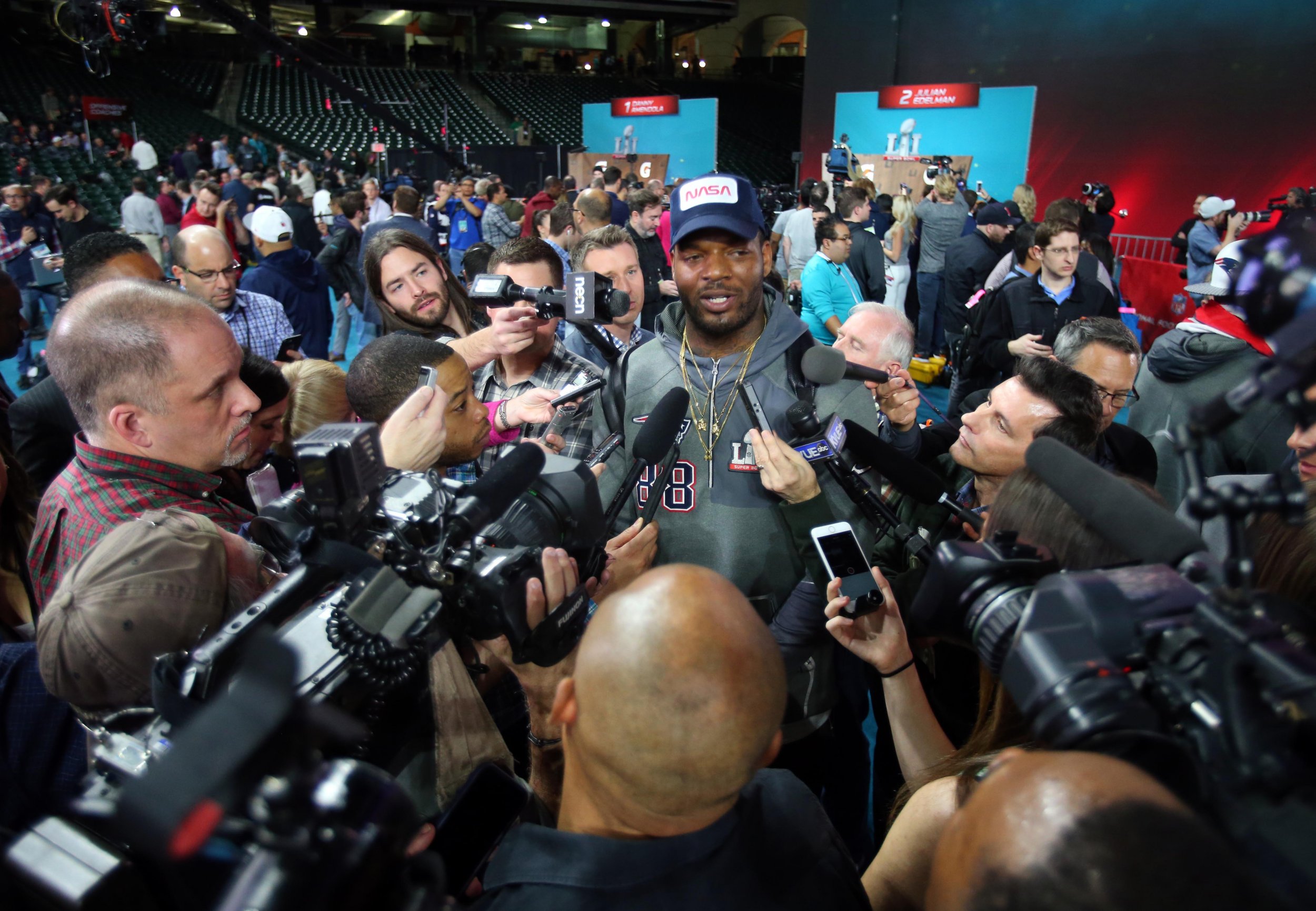 This post has been updated.
It's a tradition for the teams that win the championships of America's major sports to visit the White House to celebrate their win with the president. It's a high honor, but during Donald Trump's divisive presidency, it's one that some athletes may choose to forgo. After the New England Patriots defeated the Atlanta Falcons in Sunday night's Super Bowl, Patriots tight end Martellus Bennett said he would not be making the trip to Washington, D.C., with the rest of his team.
Patriots team owner Robert Kraft is a well-known supporter of Trump. So is their quarterback, Tom Brady, and coach, Bill Belichick. The team's top-heavy support for the president has turned the Patriots into a villainous franchise—if they weren't already—and a nation of Trump-haters cringed Sunday night as they engineered the greatest comeback in Super Bowl history. Liberals didn't want Trump to have the satisfaction of his "friends" winning the title. Even Patriots fans have been conflicted about rooting for their hometown team.
Related: Red vs. blue: The dueling politics of the NFL and NBA
For many, Bennett is a refreshing counter to the team's surplus of Trump love. His pronouncement after the game wasn't surprising. He said as much after the Patriots won the AFC Championship Game. "Most likely not," he said when asked by Sporting News if he would visit the White House should his team win the Super Bowl. "I don't support the person in it."
After Trump won in November, Bennett posted a letter to his 2-year-old daughter on Instagram:
Other athletes have also expressed reservations about visiting the White House. Cleveland Cavaliers guard Iman Shumpert has said he is "not going to the White House" if his team repeats as NBA champions. LeBron James, the league's most visible star, has said he isn't sure what he will do. In October, James wrote an open letter endorsing Hillary Clinton, and in December he refused to stay with the Cavaliers in a Trump-owned hotel on a trip to New York.
Politics altered a championship team's White House visit as recently as last month, when the Chicago Cubs moved up their visit so they could celebrate with Cubs fan Barack Obama rather than Trump. Obama invited them, and they accepted, even though some members of the Cubs' ownership have ties to Trump. The visit may have been a disappointment to some of the players, though. Cy Young Award-winning pitcher Jake Arrieta tweeted about how it was time for "Hollywood to pony up and head for the border" after Trump won the election. He did not join the Cubs in Washington, D.C.
Though Kraft, Brady and Belichick will be all smiles when the Patriots present Trump with a custom No. 45 jersey, it will be heartening for the team's liberal fans to know that at least one of their players is on their side off of the field.
Update | Patriots defensive back Devin McCourty has told Time that he will join Bennett's White House boycott. "I'm not going to the White House," he wrote in a text message from the team bus. "Basic reason for me is I don't feel accepted in the White House. With the president having so many strong opinions and prejudices I believe certain people might feel accepted there while others won't."
Update | Linebacker Dont'a Hightower also will not visit the White House with the team.
Because he also did not attend in 2014, Hightower's abstention does not appear to be an overt protest of Donald Trump. As Reiss notes, he was also not present for the team's victory parade on Tuesday.
Update | Two more Patriots announced they will not be visiting the White House. Running back LeGarrette Blount made his feelings clear on The Rich Eisen Show. "I will not be going to the White House," he said. "I don't feel welcome in that house. I'll leave it at that."
Defensive lineman Chris Long also will not be attending, although he stopped short of getting too political.
Update | Defensive tackle Alan Branch will also abstain. Branch, who has three daughters, cited Trump's comments on the leaked Access Hollywood tape as his reason for staying home. "I wouldn't spend time away from my family to shake the hand of a guy I wouldn't want to meet with or talk to," he told the Boston Globe. "I can't see myself going and then hanging out with my kids and pretending everything was all right."
Read more from Newsweek.com:
- Patriots fans throw flag on Brady, Belichick's support for Donald Trump
- The Patriots defy odds to claim their destiny
- New England Patriots and Tom Brady win Super Bowl