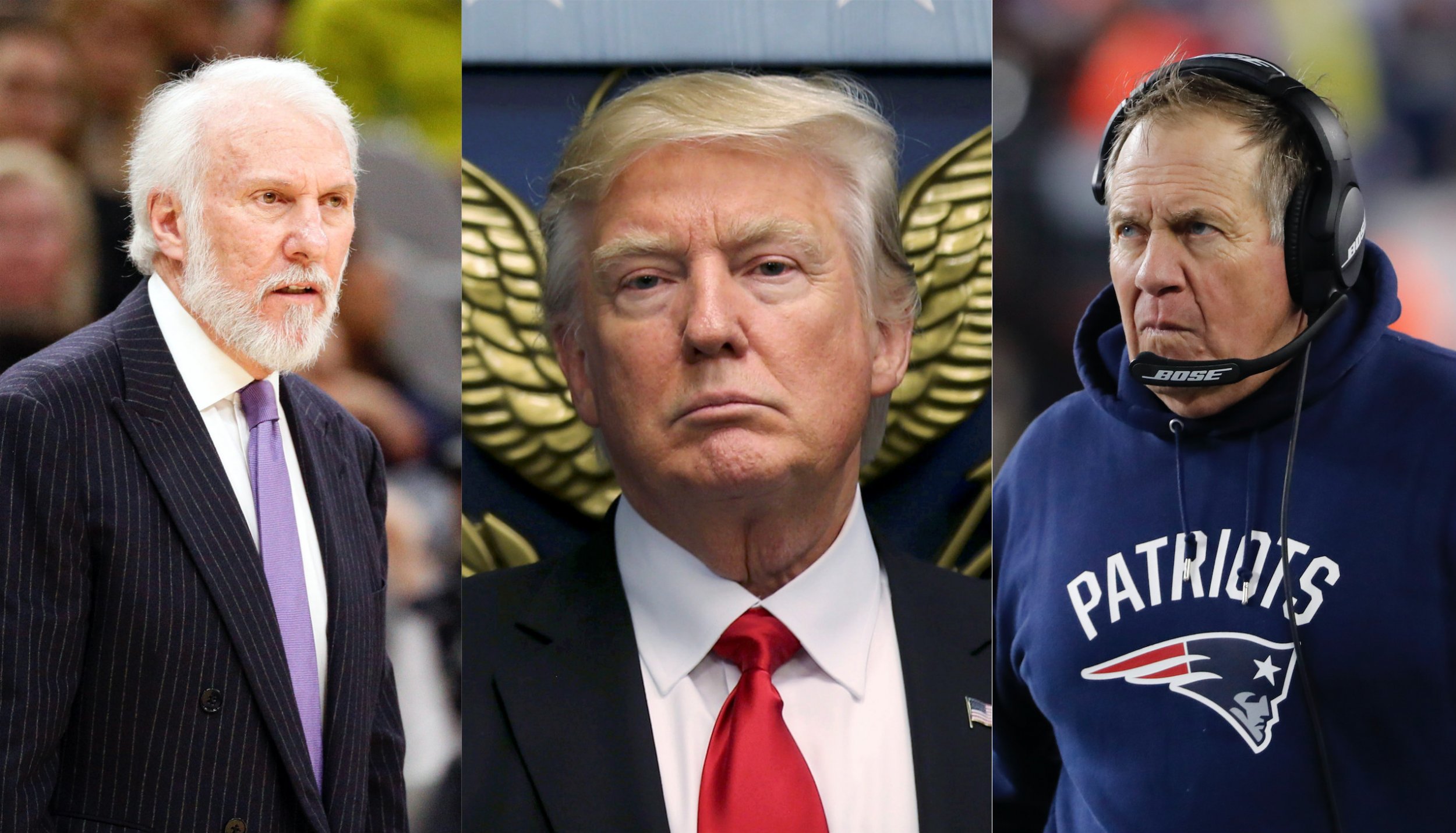 The night before he was inaugurated, Donald Trump took the stage at Washington, D.C.'s Union Station to speak at a dinner honoring his campaign donors. Trump bashed the media, praised his cabinet picks and reminisced about the "beautiful map" he saw on election night. In attendance was New England Patriots owner Robert Kraft. Over the course of his campaign, Trump took every opportunity to mention that Kraft's most famous employees, Patriots quarterback Tom Brady and coach Bill Belichick, supported him, and he wasn't going to let another chance to boast about the endorsements pass.
"In the audience we have somebody that's under no pressure whatsoever because he's got a great quarterback named Tom Brady and a great coach named Belichick," Trump said of Kraft. "So, good luck, Bob. Your friend Tom just called. He feels good. He called to congratulate us. He feels good. Good luck. You're going to do great."
The next day, Brady fielded questions at a press conference as he prepared to play the AFC Championship Game. Of course, he was asked about the call to Trump. "Did I call him?" Brady replied, visibly uncomfortable. "Let's talk about football stuff."
Related: Patriots' fans throw flag on Brady, Belichick's support for Donald Trump
It was a surprising revelation. Notoriously tight-lipped with the media, Brady and Belichick are probably the two sports figures least likely to let their political views slip, especially considering the public scrutiny that often comes with a Trump endorsement. The quarterback and coach are about to get a lot of it. The two weeks leading up to the Super Bowl are a media frenzy. It's already a recurrent question. "I just don't want to be a distraction for our team," Brady said last week of his connection to Trump on Boston's WEEI radio. "There are too many guys that are working hard in one direction to help us win games to help us get to the point where we are now."
Expressing pointed political opinions is rare in the sports world, where "distractions" are avoided at all cost. If players opine about divisive issues, they not only invite unwanted attention, they risk alienating part of their fanbase. To most Americans, sports offer a respite from the political news cycle, but the separation of sport and state has not been able to withstand the force of Donald Trump's ascendancy. Since his campaign legitimized itself, we've seen an unprecedented number of sports figures voice their feelings about the president. Led by Brady and Belichick, the NFL has emerged as something of a safe space for Trump support. The NBA, on the other hand, has emerged as the opposition league.
Leading the way has been basketball's own Man of Few Words, San Antonio Spurs head coach Gregg Popovich. The Spurs' reign of excellence in the NBA has coincided with that of the Patriots in the NFL, and Popovich is held in just as high esteem by his peers and the press as Belichick. But while the latter supports Trump in a state that's bluer than the Patriots' jerseys, Popovich bashes Trump in a state that is redder than Belichick's cheeks during a January game at Foxboro.
"With the CIA today, instead of honoring the 117 people behind him where he was speaking, he talked about the size of the crowd," Popovich said recently in response to Trump's remarks to the CIA the day after he was sworn in. "I'd just feel better if someone was in that position that showed the maturity and psychological and emotional level of someone that was his age. It's dangerous and it doesn't do us any good."
The remarks were part of a lengthy rant about how Trump "boggles" his mind, how the people around Trump lie routinely, the importance of the Women's March and more. In November, too, Popovich delivered a prolonged rant about the election results. "Right now I'm just trying to formulate thoughts," he said. "It's too early. I'm just sick to my stomach. Not basically because the Republicans won or anything, but the disgusting tenure and tone and all of the comments that have been xenophobic, homophobic, racist, misogynistic."
Popovich and Belichick aren't the only coaches to pick a side. Prominent current and former NFL coaches John Harbaugh, Mike Shanahan, Rex Ryan and Mike Ditka have given Trump their support, while Doc Rivers, Mike D'Antoni, Stan Van Gundy and Steve Kerr—perhaps the NBA coaches with the highest profiles other than Popovich—have criticized him. Kerr last week made a joke about Trump's false claims about the size of the crowd at his inauguration.
After the election, Kerr spoke at length about his feelings about Trump. "I wish him well," he said. "I hope he's a good president. I have no idea what kind of president he'll be because he hasn't said anything about what he's going to do. We don't know. But it's tough when you want there to be some respect and dignity, and there hasn't been any. And then you walk into a room with your daughter and your wife who have basically been insulted by his comments and they're distraught. Then you walk in and see the faces of your players, most of them who have been insulted directly as minorities, it's very shocking. It really is."
Kerr spoke out once again in response to Trump's travel ban.
Among owners, Jerry Jones of the Dallas Cowboys has been spotted hanging out with Chris Christie and Reince Priebus, while Woody Johnson of the New York Jets was recently named Trump's ambassador to the United Kingdom. Houston Texans owner Robert McNair donated $1.3 million to Republicans during the election cycle, including to Trump. The most prominent owner in the NBA, Mark Cuban of the Dallas Mavericks, was one of the most vocal critics of Trump throughout the election. In July, the NBA's commissioner, Adam Silver, who donated to Clinton's campaign, withdrew the 2017 All-Star Game from Charlotte, North Carolina, in response to the state's HB2 "bathroom bill." (Trump has selected John Gore, an attorney who defended HB2, to lead the Department of Justice's Civil Rights Division.)
Where the politics of each league are most evident, though, is in the views of their players. Along with Brady, Peyton Manning, the face of the league for more than a decade before he retired after last season, is a noted Republican. He even spoke last week at a Republican retreat with President Trump. Here he is with Don Jr. in July.
Several other current and former football players have endorsed Trump, but it's difficult to find many NBA players who have publicly expressed support for the president. While there are of course plenty of NFL players who have decried Trump, the prevailing cultural tone of the league is one of conservatism.
But the demographics of the league tell a more complicated story. About 74 percent of the NBA is black. The NFL isn't far behind, at close to 70 percent. Considering only 8% of African Americans voted for Trump, a simple partisan divide can't be the whole story. Is there something intrinsic to the culture of each sport that allows (or prevents) political dissent?
A good case study for the NFL is the reaction to San Francisco 49ers quarterback Colin Kaepernick's national anthem protests. After he knelt during the national anthem before a preseason game in support of the the Black Lives Matter movement, it was a divisive, controversial act. A number of players from different teams would go on to kneel in solidarity with Kaepernick, but the predominant sentiment in and around the league seemed to be that he was out of line. Fans booed him. Commentators and players criticized him. Following the protest, Bengals Pro Bowl tight end Tyler Eifert posted a picture of a fighter jet to Instagram with the caption, "Pretty cool picture! My big cuz took a bengals flag up on a mission in hostile territory. But, thanks for defending the flag that really matters, even for the people who don't appreciate it!"
NBA players have demonstrated in support of Black Lives Matter, but with less blowback. During the ESPY Awards in July, LeBron James, Carmelo Anthony, Dwyane Wade and Chris Paul, four of the the league's most popular players, took the stage in all black and spoke on behalf of the movement. They would stop short of sitting for the national anthem once the season started a few months later, but the league's tone was one of tolerance and protest. In October, James wrote an op-ed endorsing Hillary Clinton for president. "Only one person running truly understands the struggles of an Akron child born into poverty," he wrote of Clinton. "And when I think about the kinds of policies and ideas the kids in my foundation need from our government, the choice is clear." In December, during a trip to New York to play the Knicks, James refused to stay in the team hotel, the Trump SoHo.
The divide even extends to Trump and Obama. Trump is a football fan; he bought a USFL football team in the '80s, tried to buy the Buffalo Bills in 2014 and, of course, is now rooting for the Patriots. Barack Obama is a basketball devotee. He played regularly throughout his two terms in office. In Dreams From My Father, he wrote about the sport's democratic, egalitarian nature: "At least on the basketball court I could find a community of sorts, with an inner life all its own. It was there that I would make my closest white friends, on turf where blackness couldn't be a disadvantage." Perhaps the only exception is Ted Cruz.
Whichever team wins the NBA title this year won't have the pleasure of celebrating with Obama at the White House. Instead, Trump will be there to greet them, which could be contentious. Cavaliers guard Iman Shumpert has said he wouldn't make the trip, in protest of Trump, while LeBron James says he isn't sure what he would do. The Warriors and Spurs are also contenders to win the title, and both of their coaches have criticized the president at length.
If the Patriots win the Super Bowl next Sunday, however, their visit to the White House will be far more amicable. Brady and Belichick will smile and shake their friend's hand as Trump-hating New Englanders cringe. There's always the Celtics.