Mary Trump Calls All GOP Lawmakers 'Traitors'—Excludes Cheney, Kinzinger
Mary Trump, the niece of former president Donald Trump, has branded GOP lawmakers "traitors" for their attitude towards holding an investigation into the January 6 riots—although she did make two exceptions.
Six months on from the storming of the U.S. Capitol by supporters of the ex-president, Mary Trump, a fierce critic of her uncle and her extended family in general, slammed Republican reluctance for a probe into the riots.
"Every single Republican in Congress is either an insurrectionist or stands in solidarity with insurrectionists," Trump tweeted.
"They are traitors to our country and yet they're still being allowed, with impunity, to participate in its governance. We must get to the truth. #January6thCommission," she added.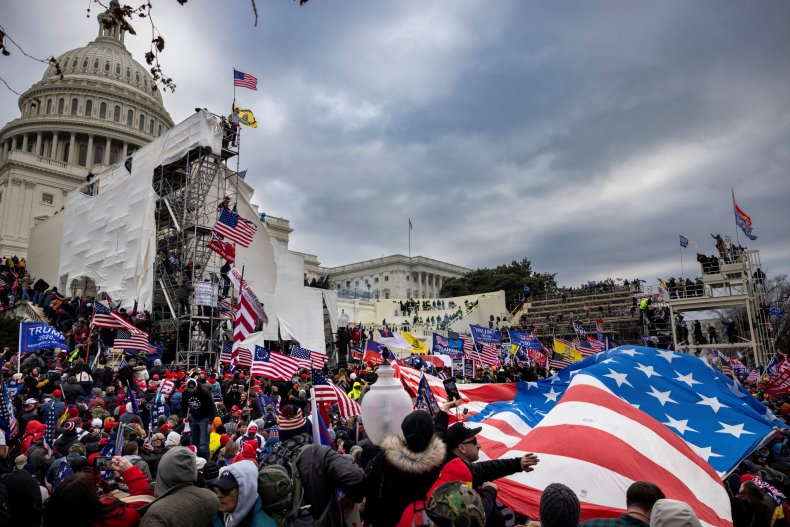 However, in a follow-up tweet, she wrote, "Apologies to @RepLizCheney and @RepKinzinger, the only exceptions."
Reps. Adam Kinzinger (R-IL) and Liz Cheney (R-WY) were the only House Republicans who voted for Democratic Speaker Nancy Pelosi's plan for a House select committee to investigate the January 6 attack carried out by Trump supporters.
Cheney lost her role as House Republican Conference chair in May after her repeated criticism of ex-president Trump and GOP colleagues' who backed his claims of election fraud.
Kinzinger has repeatedly criticized Republicans who have stayed silent about Trump's claims of election fraud which spurred the violence.
Mary Trump's criticism comes after a deal on the more formal bipartisan commission failed in the Senate. The House then backed the 13-strong committee which will include five members made in consultation with House Minority Leader Kevin McCarthy.
Cheney is the only Republican named by Pelosi to sit on the House select committee investigating the riot.
Some Republicans say the Democrats want to use the investigation for political reasons, such as Rep. John Katko (R-NY), who called the select committee a "turbo-charged partisan exercise."
Meanwhile, on Tuesday, President Joe Biden marked the half-year that has passed since the riots by tweeting that the attack on the U.S. Capitol, "was a test of whether our democracy could survive."
"Half a year later we can declare unequivocally that democracy did prevail," Biden said, "now, it falls on all of us to protect and preserve it."
On Tuesday, the Department of Justice said over 535 defendants had been arrested in "nearly all 50 states", which works out at around three people arrested per day since January 6.
The statement by the U.S. Attorney's Office for the District of Columbia said at least 165 defendants were charged with assaulting, resisting or impeding officers or employees.
This number included over 50 people charged with using a deadly or dangerous weapon or causing serious bodily injury to an officer.
Newsweek has contacted the Republican National Committee and the offices of Kinzinger and Cheney for comment.