Maryland Governor Larry Hogan Says Americans 'Can't Wait That Long' for COVID Booster Shots
Maryland Governor Larry Hogan said Sunday that he's pushing for the federal government to allow Americans to receive a third dose of COVID-19 vaccine before the current timeframe, stating that citizens "can't wait that long."
The current recommendation calls for people to receive a third shot eight months after receiving their second dose of the Pfizer or Moderna vaccine.
Speaking on CBS's Face the Nation, Hogan said he's urging the federal government to approve of booster shots more quickly as the Delta variant rages across the country.
"We're pushing to speed up that timeframe, because we want to start, and are already preparing in our state, to start doing boosters for our nursing home residents and more people that are in vulnerable populations. We want to get that final OK from the federal government," the Republican governor said.
Hogan added that he's also pushing for the Food and Drug Administration (FDA) to give full approval of COVID-19 vaccines. He said that many people who have refused to get vaccinated have cited the fact that vaccines do not yet have full approval by the federal government, but have instead been administered under an emergency use authorization.
Hogan, a former cancer survivor, said Sunday that he has received his third vaccine dose. So far, the FDA has granted authorization for "certain immunocompromised individuals" to receive an additional dose of either the Pfizer or Moderna vaccine, as an extra layer of protection as infections surge.
On Wednesday, federal officials announced a plan to start administering booster shots to the general public beginning the week of September 20.
"The available data make very clear that protection against SARS-CoV-2 infection begins to decrease over time following the initial doses of vaccination, and in association with the dominance of the Delta variant, we are starting to see evidence of reduced protection against mild and moderate disease," the officials said in a press release.
They said the eight-month timeframe reflects current knowledge on when vaccine protection against severe illness might fade. Some experts have said that a booster shot administered earlier than that won't be as effective.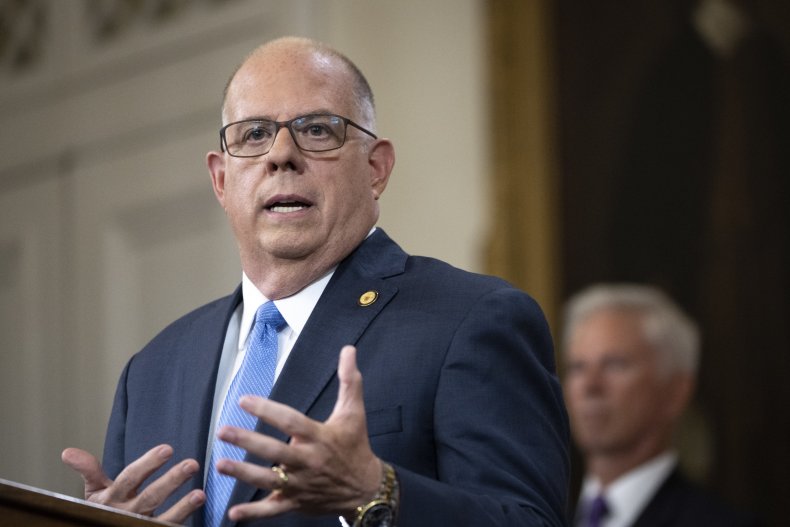 Under current guidelines, those with compromised immune systems can receive a third dose without waiting eight months. That recommendation, however, applies only to about 3 percent of U.S. adults who, like Hogan, are vulnerable to disease due to organ transplants, certain cancers or other disorders.
Hogan was diagnosed in 2015 with stage 3 non-Hodgkin's lymphoma, and underwent an aggressive chemotherapy treatment, according to the Associated Press. He has been cancer free for five years.
Even prior to the FDA authorization, a Centers for Disease Control and Prevention (CDC) database found that more than 1 million Americans have already received a third dose of either Moderna or Pfizer.
Newsweek contacted Hogan's office for additional comment, but did not hear back in time for publication.