A number of states announced this week that they will end mask mandates in schools and indoor settings as U.S. COVID-19 cases continue to decline, raising questions as to whether or not proof of vaccination will also start to ease across the country.
Officials in New Jersey, Connecticut, Delaware, California and Oregon all announced a plan to phase out masks mandates in the coming months, leaving behind just a handful of states that still require most people to wear protective coverings in indoors.
Now, some local governments are also moving to end requirements that individuals be vaccinated against COVID-19 in indoor settings. In Contra Costa, California, the health department announced on Friday that restaurants and bars will no longer be required to ask for vaccination status since more than 80 percent of residents are already inoculated.
"We believe now is the right time to loosen a requirement that made a lot of sense last summer, when a different variant of COVID-19 was dominant and there was less community immunity," Dr. Ori Tzvieli, acting Contra Costa County health officer, said in a statement.
A spokesperson for the county also told Newsweek on Tuesday that it is now in the process of evaluating its indoor masking policy.
"In Contra Costa County, we are in the process of evaluating our county masking requirements in light of the upcoming changes to state masking guidance and will announce any changes to local orders as soon as they are finalized," the spokesperson said.
California Governor Gavin Newsom announced on Friday that he will drop a statewide requirement for indoor masking starting on February 15, leaving individual counties to determine what their COVID-19 measures will look like. While some local governments have determined that they've met a threshold for easing restrictions, others, including Los Angeles County, have opted to keep protocols in place until virus cases decline even more.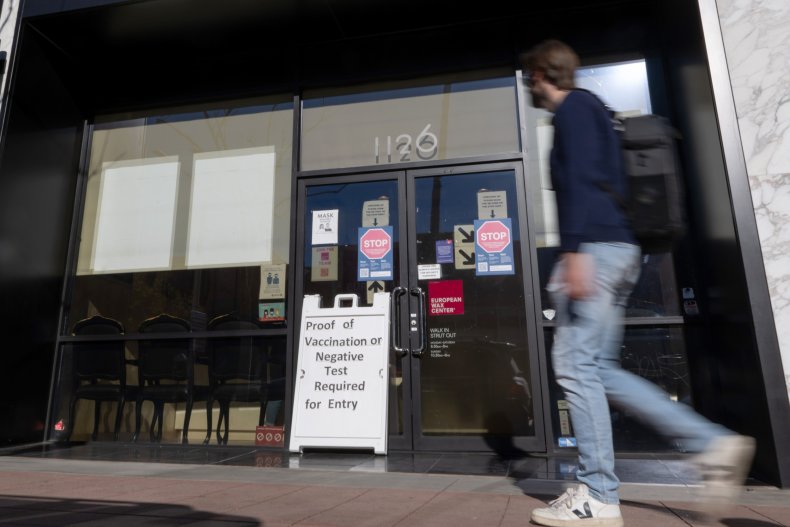 Elsewhere, in Chicago, Mayor Lori Lightfoot told reporters during a news conference last week that the city's vaccine requirement for indoor settings could be lifted "within weeks" as long as coronavirus cases continue on a downward trend.
According to recent data from the Chicago Department of Public Health, coronavirus cases have dropped by 47 percent from the last week, while hospitalizations are down 41 percent.
Similarly, Boston Mayor Michelle Wu said during a news conference last week that mask and vaccination requirements in indoor settings were never meant to be "permanent" measures.
"Even after we are through this surge, we know it is likely that next fall, next winter, there will likely be another surge. But in the meantime, as we're tracking these numbers, these protections are not permanent. They are to make sure that we are safe in the most urgent moments, and we will continue to balance that guarantee of safety through public health policies that are responsive and clear," she said, according to the Boston Globe.
In nearby Rhode Island, local business groups are putting pressure on Governor Dan McKee to end vaccination and masking restrictions as COVID-19 cases have fallen significantly from last month, the Globe added.
Meanwhile, in Maui County, Hawaii, officials recently dropped a vaccination requirement that all patrons must be boosted against COVID-19 in order to attend bars, restaurants and gyms.
"We are relaxing the pandemic rules to a degree due to the number of cases dropping through county and state, and hospitals lessened with the burden of high numbers," Maui Mayor Mike Victorino said Monday, according to Hawaii News Now.
However, as some governments move to ease all COVID-19 related restrictions, others remains relatively steadfast at keeping protections in place. New York Governor Kathy Hochul said during a press conference last week that while the state is hoping to ease restrictions in indoor settings soon—particularly in schools—more people will first have to be vaccinated.
"We're just not there yet," she said.
The overall easing of restrictions comes as over half of U.S. states are now reporting a 60 percent drop or more in new reported COVID-19 cases after infections peaked last month, according to Newsweek review of nationwide data.
Newsweek contacted the mayors of Boston and Chicago for additional comment, but did not hear back in time for publication.