Several states announced on Monday that their indoor mask mandates would be lifted in the coming weeks as COVID-19 cases in the U.S. continue to decrease.
Officials in New Jersey, Connecticut, Delaware, California and Oregon all said they were planning to phase out masks. They are part of a group of less than ten that currently require most people to wear masks in indoor public places regardless of vaccination status.
This list comprises California, Delaware, Hawaii, Illinois, Nevada, New Mexico, New York, Oregon, and Washington according to the American retiree group AARP. Others may require masks in other situations.
It comes as new COVID-19 cases across the U.S. are continuing to fall, suggesting that in terms of cases the country is past the Omicron peak.
At the same time, however, new deaths remain high amid strains on the U.S. healthcare system.
Data from the U.S. Centers for Disease Control and Prevention (CDC) shows that although new cases are still as high or higher than they have been in previous peaks, the seven-day moving average of new cases has been consistently falling for a while.
The seven-day average of cases was around 290,000 on February 6, the data shows, down from around 500,000 just a week prior.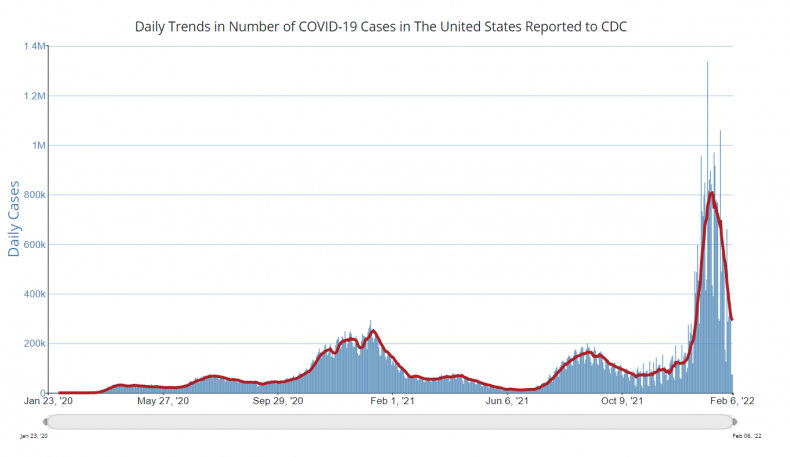 It's led some experts to voice cautious optimism about the U.S. position.
In an interview with NPR radio's All Things Considered program last month, Dr. Ashish Jha, the dean of the Brown School of Public Health, said: "I do think that we have peaked and have started the downturn. That's obviously good news and something that we've all been looking for and waiting for."
New hospital admissions, too, appear to have leveled off, with the current seven-day average of 13,088 down from the prior seven-day average of 17,771.
However, data shows that new COVID-related deaths remain high despite infections having fallen for weeks—a pattern that has been seen consistently throughout the pandemic.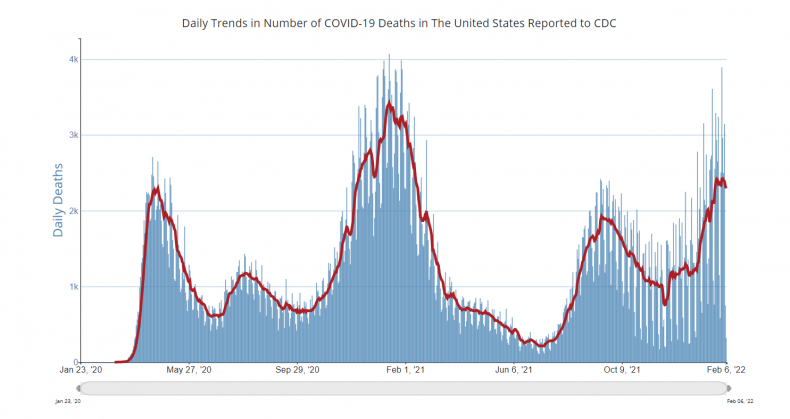 CDC data shows that the seven-day moving average of new deaths was 2,294 on February 6, down from 2,340 a week prior. This is a downward move, though the moving average of deaths still remains higher than at any point during the summer.
In an email to Newsweek, Christina Ramirez, professor of biostatistics at the UCLA Fielding School of Public Health, said: "The trend of a 2-to-4 week lag in mortality versus cases is typical in most countries. It is looking like the US is past the peak and yes it is significant."
Looking ahead, Ramirez encourages vaccination but said that this alone is not enough to stop the spread of COVID-19.
"We need to have a real pivot towards cheap, accessible, at-home treatments for COVID-19," she said. "I worry about long COVID and would like to see a strategy towards hitting the virus early so that it cannot wreak havoc within the person. I believe that we need early treatment and it is key to keeping COVID-19 manageable for the future."
As patients continue to die, the stress on U.S. hospitals has become apparent. Hospitals in many states are under high or extreme stress according to an NPR data tool that tracks the percentage of hospital beds occupied by COVID-19 patients.
Speaking to The Guardian last week, Dr Brian Resler, an emergency physician in the San Francisco Bay Area, said he had recently polled a group of doctors working overnight shifts and found that: "Every one of us said if we could go back, we would choose a different career."