'The Masked Singer': All the Clues About the Russian Dolls' Identity and Who Fans Think They Are
The Masked Singer Season 5 contestants have now performed three times each, meaning fans have been given plenty of clues about the Russian Dolls, a close-harmony singing group with a strong bond.
Here are all the clues we have had so far, and who viewers of the Fox show are convinced is behind the suits.
The clues about Russian Dolls identity on The Masked Singer
First clue package
The first clue package has a toys theme, with dogs, bears, Transformers, trains, Jack-in-the-boxes, and other toys all appearing, as well as a sign for the "Mizfitz Toyz Store" in a snowy landscape
They say: "Oh, oh hey there! Sorry, I wasn't expecting you. You see, I've been doing my own thing for quite some time. Not like in the beginning, when I was the world's hottest toy. Mmm, those were the days. But I knew I was something more than someone to be toyed with, a puppet. And as much as they tried to put me in a box, I just didn't fit. Newer, shinier, manufactured toys filled the shelves. So I was cast to the side... and it was the best thing ever! Turns out I can still sell out without being a total sellout. And I'm ready to show there's even more beneath the surface."
Other objects in the package: Milk, blue puppet strings, breadsticks, recycling bin with "Office" written on them, a Garden State Highway sign, a boat wheel sticking out of the snow, a bench that reads "coming to a country near you" and features a picture of Russian Doll in a cowboy hat.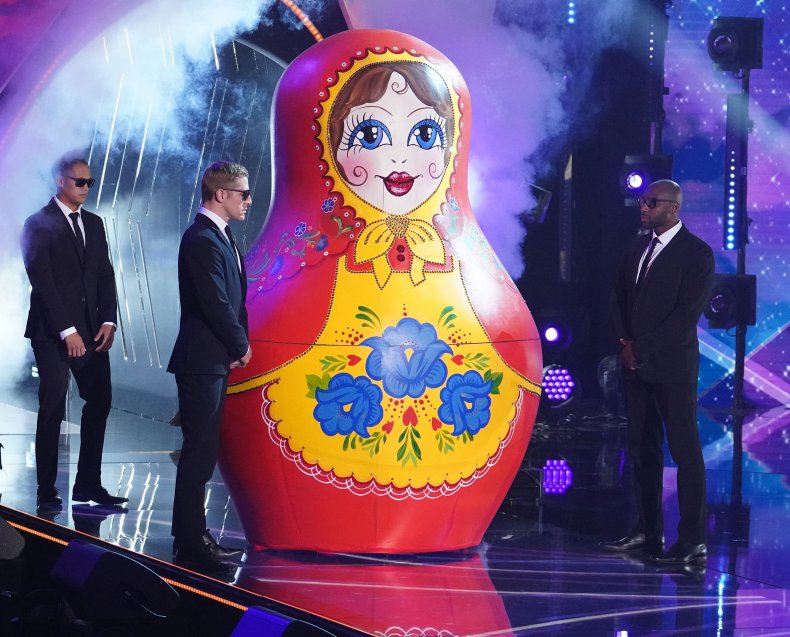 Second clue package
Two Russian Dolls have a conversation in the second package.
They say that they "haven't always been in unison." One of them "cracked hard" and had an accident where "I was rushed to the hospital. And there was no guarantee I'd ever be the same. If it weren't for the glue that binds us, I may not have survived." Now, "we don't take anything we do for granted."
Objects featured in the clues package: banjo, rocking horse, a photo with one big Russian Doll and three little ones, a fire truck, a jacket with an "M" on it, letter blocks spelling "HELP" with an emphasized "E," and three planets.
Third clue package
The Russian Dolls (who became a trio in their last performance) are outside the Lincoln Memorial and say their last performance was "a game-changer for real."
They say The Masked Singer is a "far cry" from where they started. Speaking of their early life on the road, they say they "performed everywhere, from parking lots, to softball fields, even pizza restaurants."
Eventually, they played for the president, where they "raised the roof of the White House."
Another section is on the streets of New York City, where signs reading "Est. 1905 New York City," "288 8th Avenue", and "$1 Pizza" can be seen.
Other objects: A white tour bus, a megaphone, a snow globe featuring previous Masked Singer contestants the Snow Owls, a fruit and a red Statue of Liberty.
Other clues
Cluedle-Doo's clue: A Russian Doll can sometimes have 15 replicas of itself
Self portrait clue: A pop art portrait of them in a car. "These colors just really pop like we do," they say about it.
They teased a potential fourth member during the Second Cluedle-Doo's clue
Nick Cannon's "Nick's Cannon" clue: A t-shirt reading: "what goes around, comes around." They say of this, "we have been together for some time, but as fate would have it, it was time for us to come back together again to the stage."
Songs performed
First performance: "Man in the Mirror" by Michael Jackson.
Second performance: "Wonder" by Shawn Mendes.
Third performance: "Want to Want Me" by Jason Derulo.
Clips for the show also saw two of the Dolls performing Lady Gaga's "Shallow."
Who fans think the Russian Dolls are
The Masked Singer fans are fairly convinced that the Russian Dolls are Isaac, Taylor and Zac Hanson, the siblings that make up the band Hanson.
Hidden among the typically cryptic clues, there are a few that strongly point to the "MMMBop" singers. Cluedle-Doo's reference to "15 replicas" seems to be a reference to the 15 kids the three brothers have between them: Isaac has three, Zac five, while Taylor has seven children.
Then there are the references to "MMMBop" in the first clue package: "Oh, oh hey there!" is the first thing they say as well as a lyric from the smash hit – as, of course, is the "mmm" that they say in that same package.
Per Mental Floss' oral history of "MMMBop," the brothers performed the song at the White House during the Bill Clinton presidency.
Other clues that seem to refer to Hanson:
The milk in the first clues package seems to be a reference to them taking part in the classic '90s "Got Milk" advertising campaign.
The accident discussed in the second package could be Zac's motorcycle accident in 2019 which left him with three broken ribs and a broken collarbone.
The spelling of the "Mizfitz Toyz Store" has been seen as a reference to their early appearance on the show Yo! Kidz.
The "Nick's Cannon" clue "what goes around, comes around" could refer to Boomerang, the first album released by the band.
The Masked Singer airs Wednesdays at 8 p.m. ET / 7 p.m. CT on Fox.