Who Is Queen Cobra on 'The Masked Singer'? Fans Have Worked It Out
The Masked Singer's latest episode may have hit headlines due to the reveal of Rudy Giuliani, but fans were equally interested in who is behind the Queen Cobra costume—or should that be costumes?
Queen Cobra took to the stage on the Fox show to sing Lizzo's "Good as Hell"—but was joined by four other performers also dressed up as snakes inside giant baskets.
This lead the judges to be split over exactly how many performers were taking part—Robin Thicke and Jenny McCarthy thought there was a duo (they guessed Brandy and Monica and Willow and Jada Pinkett Smith respectively), while Ken Jeong thinks Queen Cobra might be a single performer, Anne Hathaway (the most Ken answer he could give).
The Fox show's fans, however, think that Queen Cobra is a trio of R&B legends. Not only did they recognize the voices, but the clues The Masked Singer Season 7 has given so far also seem to indicate a certain 1990s threesome could be in the slinky snake costumes.
Here's Who 'Masked Singer' Viewers Think Queen Cobra Is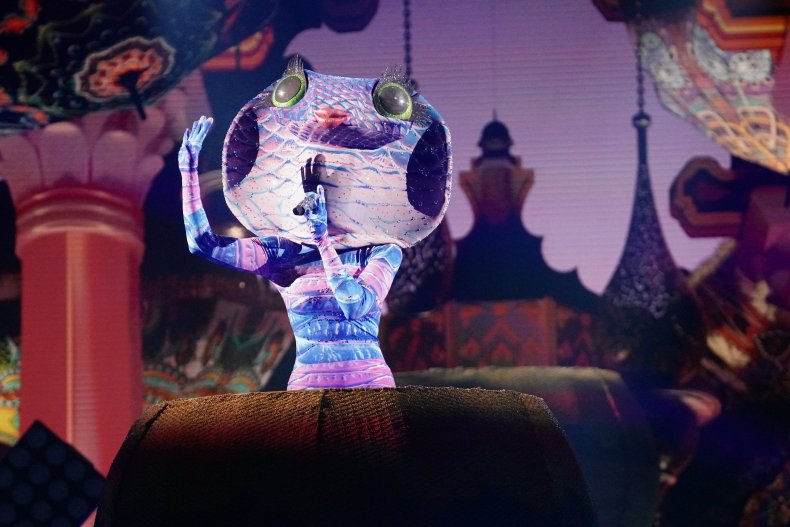 On Twitter, two guesses are the most common—Zoë Kravitz and the band En Vogue.
Kravitz mostly seems to be a guess thanks to a pretty literal reading of the Batman clue in the first hints package—the same clue that led Jeong to guess Hathaway. However, The Masked Singer is rarely so straightforward with its clues—and, frankly, Kravitz is far too famous to appear on this show right now, especially after starring in the highest-grossing movie of the year.
En Vogue, however, is a very good guess, and a lot of the clues in the first package point to them. That package, for example, featured a rocket ship, a possible reference to the band's 2017 hit "Rocket." It also featured the Queen Cobra saying, "turning goodies bad since 1990." 1990 was the year that En Vogue released their first single, "Hold On."
When Queen Cobra was teased in February, the show also gave another clue: A cartoon of a superhero with a question mark on his chest. There are two ways to interpret this clue, both of which could refer to En Vogue. In the world of superheroes, the question mark is associated with The Riddler, and the band released a single called "Riddle" in 2000. The group's classic single "Whatta Man" would also be a great name for a superhero whose insignia is a question mark.
"Whatta Man" is also hinted at in the clues package. There are references to multiple things with "man" in their title, including Batman and an image of Bradley Cooper, who played The Elephant Man on stage. If that feels a little tenuous to you, then Cooper also plays Rocket in Guardians of the Galaxy, and the band also made a cameo appearance in the 1995 movie Batman Forever.
Other clues point to other songs from the En Vogue catalog. At one point, for example, we see a bank robber. This could be read as a reference to the band masterpiece "Don't Let Go (Love)," which first appeared on the soundtrack to bank heist drama Set It Off. A man dressed as Captain Hook could also be read as a reference to their cover of the Aretha Franklin song "Hooked on Your Love," as featured on their second album Funky Divas.
Though these clues point fairly conclusively to the band, the question of exactly how many people comprise Queen Cobra is still unanswered. Are all three members of the group (which currently comprises Terry Ellis, Cindy Herron and Rhona Bennett) taking part or do we have one solo snake? Viewers will have to keep tuning in to find out.
The Masked Singer Season 7 airs Wednesdays at 8 p.m. ET on Fox.