Florida Representative Matt Gaetz has stepped up his feud with Kevin McCarthy, branding the House speaker "McFailure" and warned he will table votes to remove him from position "over and over again until it works" unless concessions are made.
It came after McCarthy announced a formal impeachment inquiry into President Joe Biden on Tuesday, which will examine whether he was improperly influenced by the business dealings of his son, Hunter Biden, as has long been demanded by the Republican right. However, Gaetz is demanding more concessions from McCarthy including getting subpoenas issued for Hunter, the full release of footage recorded during the United States Capitol riot, ensuring a balanced budget, and term limits for members of Congress.
McCarthy was only elected as speaker by Republican representatives following 15 rounds of voting in January, during which he made a string of pledges to appease hardliners such as Gaetz. This included vowing to change House rules so any GOP representative could file a "motion to vacate," which would force McCarthy out of the speaker's office if passed.
In May, McCarthy angered some conservatives by negotiating a deal with President Biden that raised the debt ceiling, avoiding a possible U.S. default on its debts.
Gaetz stepped up his attack on McCarthy on Thursday, posting on X, formerly Twitter: "Speaker McCarthy believes in NOTHING except money and power. In football, when the team isn't winning the games it's supposed to, they fire the coach. In business, when a company does not match its projected earnings, then the board gets rid of the CEO. I've had enough McFailure. Have you?"
Newsweek reached out to Gaetz and McCarthy's offices for comment via email and phone call, respectively.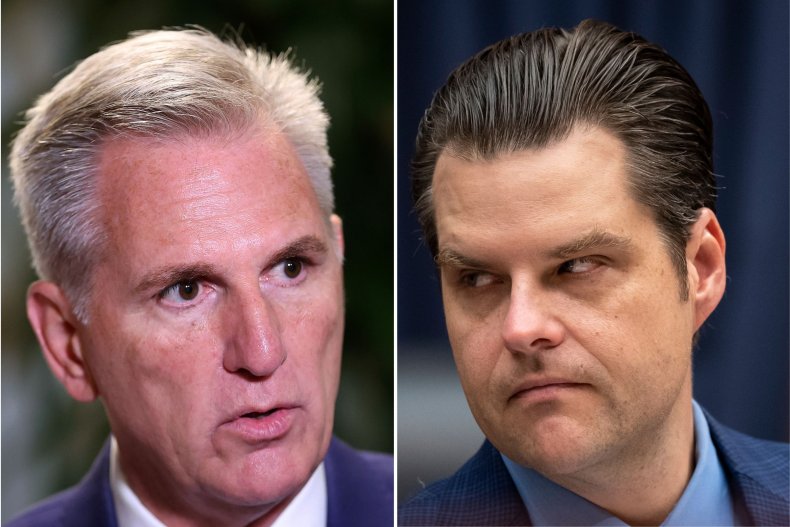 Also on Thursday, Gaetz posted footage of an address he gave at a vigil held to show solidarity with "mistreated J6 (January 6) prisoners," with 1,146 people having been charged over the Capitol Hill riot which attempted to block the certification of Joe Biden's 2020 election win.
Speaking at the vigil Gaetz commented: "I believe it's critically important that we get a full release of the January 6 tapes as Speaker McCarthy promised. I do not believe he has fulfilled that promise.
"I think that is dishonest, particularly to people that bore the brunt of this two-tier justice system, and I just wanted to come down here to say from my heart how much I appreciate those who are holding vigil and that I'm committing to you directly that I'm going to work to get these J6 tapes released if Kevin McCarthy wants to keep his job."
CNN congressional correspondent Manu Raju reported on Thursday that McCarthy hit out at his Republican critics during a closed meeting of GOP lawmakers, daring them to "move the f****** motion" to remove him from office.
Gaetz responded to Raju's post on X, writing: "Sounds like he's getting my message. This could be a good sign!"
Speaking from the House floor on Tuesday, after McCarthy announced the impeachment investigation, Gaetz threatened daily votes to remove the speaker unless he went further in meeting his demands.
"I rise today to serve notice: Mr. Speaker, you are out of compliance with the agreement that allowed you to assume this role. The path forward for the House of Representatives is to either bring you into immediate, total compliance or remove you pursuant to a motion to vacate the chair," Gaetz said.
"So we're either going to get compliance, or we're going to start having votes on motions to vacate, and we're gonna have them regularly. I don't anticipate them passing immediately. But I think that, you know, if we have to begin every single day in Congress with the prayer, the pledge and the motion to vacate, so be it."