Maya Rudolph's Kamala Harris Hosts SNL Passover, With Martin Short As Doug Emhoff
With Maya Rudolph as host, there was no doubt that last night's episode of Saturday Night Live would see her reprising her role as Vice President Kamala Harris.
And indeed, an entire sketch was devoted to Rudolph's Harris hosting a Passover meal.
"This has been a difficult year for all of us," Rudolph's Harris said. "But I really do feel that we are about to see some light. And what better night to celebrate a new beginning than Passover... or as my adopted people call it, Pesach."
Revealing that she was hosting "A Kamala Harris Unity Seder," she went on to list the four questions that would be asked at the Seder. "How's school? Did you eat? When are you giving me grandchildren? And what's with the haircut?" she said.
Then, she introduced her husband and second gentleman Doug Emhoff, played by Martin Short.
"To help me host this, I'd like to introduce my rock, my everything, my Semitic smokeshow, my stepbaby-daddy Doug Emhoff... get on out here, sexy!" she said.
Short's Emhoff appears nervous, explaining that he is just "a shy entertainment lawyer." The couple then share an intimate moment, before the doorbell rings to announce the arrival of their first guest—Sen. Ted Cruz, played by Aidy Bryant.
"In the spirit of Pesach, I've reached across the aisle," Rudolph's Harris explained. "Joe Biden gave me a list of Republicans to reach out to and I'm starting at the bottom."
Bryant's Cruz explains that she's never been to a Jewish dinner, and brought along Israeli flag cupcakes and pigs in a blanket. "Well, we can't have pork or bread, so thank you," Rudolph's Harris replied.
Chloe Fineman then appears as second daughter Ella Emhoff. "Am I breaking your eyes?" she asks Bryant's Cruz.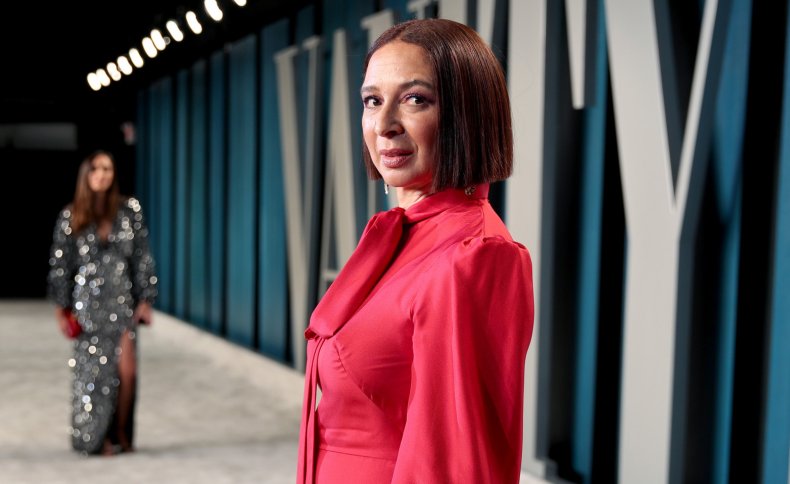 "Good. You may think I look insane, but I assure you, I'm the most normal looking girl in Bushwick. Momala's serving matzoh while I'm serving looks."
Kenan Thompson is the next guest to arrive, playing Georgia Sen. Raphael Warnock.
Asked by Rudolph's Harris about ensuring Georgia stays a blue state, Thompson's Warnock tells her: "That won't be easy. They'll do everything they can to keep Black people from voting.
We wouldn't vote on anything if they had their way. Not even American Idol. Jennifer Hudson would have been knocked out in the first round. Jennifer damn Hudson, yo."
Alex Moffat's Biden shows up, reprising a role he's played once before following Jim Carrey's departure.
"It was so easy," Moffat said of Biden's first press conference earlier this week.
"A lot of critics thought I wasn't mentally prepared enough but I think I...proved them all wrong," he added, after pausing to glance at a note card.
Moffat's Biden then told Rudolph's Harris that he was putting her in charge of solving "the little immigration problem" at the U.S.-Mexico border.
A less than enthused Rudolph thanks Moffat, adding it is "such a fun, solvable problem."
"And what are you in charge of?" She asks Moffat's Biden. "Giving out checks," he replies. "Who wants stimmys? Whoo!"
Last to arrive is Cecily Strong as Rep. Marjorie Taylor Greene.
"Ever since January 6, I've only been entering dwellings insurrection-style," she says, after climbing through a window. "I don't trust doors... doors its what's destroying this country!"