Jeopardy! host Mayim Bialik has vowed never to use the term "Single Jeopardy!" again, after facing backlash from some of the show's dedicated fans.
Bialik recently ignited quite the online debate when she referred to the opening round as "Single Jeopardy!"—as opposed to "Jeopardy!"—during a February episode of spin-off tournament the National College Championship.
After meeting the wrath of passionate Jeopardy! fans, the Call Me Kat actress is defending her reasons for using the term, while also conceding that she found herself up against a tougher crowd than she had anticipated.
"People care a lot. I get it," The Big Bang Theory star Bialik said in an interview with Yahoo Entertainment. "And I'm sorry; I'm doing my best!"
However, Bialik has pointed out that she didn't go off-script with her use of the term "Single Jeopardy!" as it was even used by beloved late host Alex Trebek.
"If it wasn't right, they would've had me redo it," she said. "I barely act alone... there's so many things that we re-tape. If it was literally not kosher there's a million producers, writers and researchers and they're all listening to me."
"I say things all the time where they'll be like, 'What? Do it again.'" Bialik continued: "So it's not like Mayim's going rogue! Everything is very carefully monitored. There's a thing in my ear, I promise."
Referring to Trebek's use of the term, she went on: "I know it may not be the norm, but... it was not not out of the norm. I will never do it again! Even if it's in this script, I will not say it."
Despite the storm over the comment, Bialik said in her interview that she is thoroughly enjoying her time on the show. Last year, it was announced that she and Ken Jennings would be splitting hosting duties for Season 38.
"I love meeting all the contestants," she said in answer to the question of what her favorite part of the job is.
"I love to hear their stories. Some of them are academics, some of them are housewives and some of them are teachers. It's all different kinds of people who can hold information in a way that most of us cannot."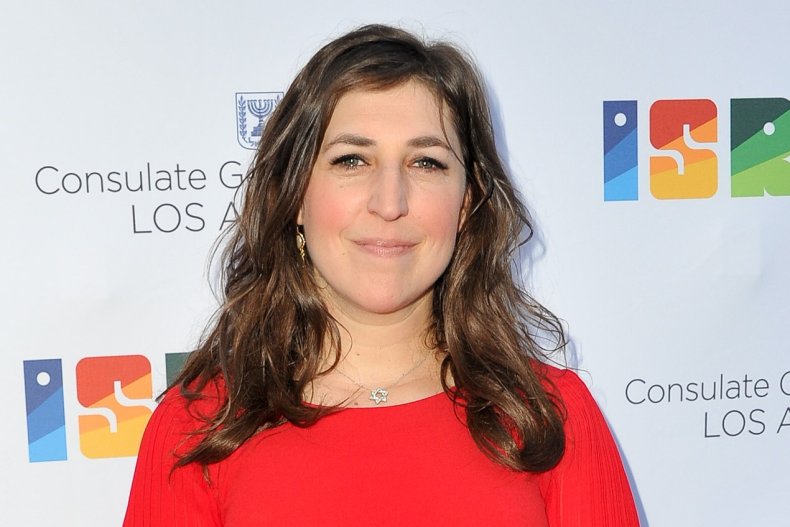 "I like hearing factoids about them," she added, "so I usually ask them about all the things that are on their cards. I'm interested in people, and it's just so fun to get to meet people from all over the country.
"I know it sounds weird, but especially with COVID-19, I don't meet a lot of people! I have the people that I work with and I have my kids, but I don't do a lot of things, so Jeopardy! is where I get to be social."
One contestant she missed out on personally getting to know behind the scenes was Amy Schneider, whose record-breaking run aired between November and January.
Schneider's 40-win streak saw her seal the second-most consecutive victories, behind only Jennings, whose total stands at a staggering 73. She is also the first openly transgender women to have qualified for the Tournament of Champions.
"Representation does matter—it matters," Bialik said of Schneider's impact. "This was a historic moment and Amy is also just such a fun personality for everyone to get to experience. So we're very, very proud."
"It's funny," she added, "I have a 13-year-old and a 16-year-old and we were talking about it, and I said, 'Isn't this amazing?' And because they're so woke and moms know nothing, it was like I was the stupidest person on the planet!
"I think it was my younger one who said, 'We shouldn't even be talking about it—that's how normal it should be.' So that's where their generation is, and for us old folks, it's like 'Wow!'"