Customer Opens Fire at McDonald's Window, Near Site of Taco Bell Shooting
Two fast-food restaurants located just yards away from each other in a city just outside Atlanta were the scene of separate shooting incidents on Tuesday night.
According to reports, a customer at a McDonald's in South Fulton, Georgia, reportedly fired shots through the restaurant's window overnight on May 17, sending shards of broken glass flying.
That same night, two 16-year-olds were shot at a Taco Bell, which is located just one-tenth of a mile away from the McDonald's where the other shooting incident occurred.
Police told Atlanta's WSB-TV that they do not believe the two shootings are connected.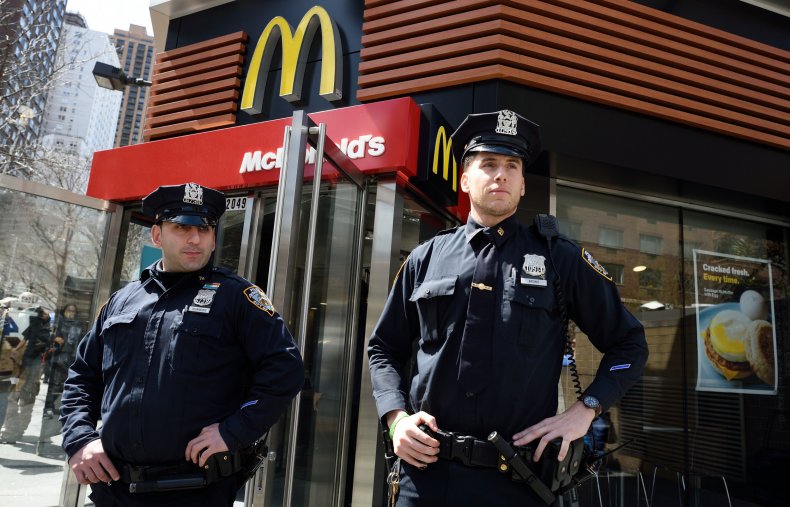 A customer was the one who reportedly fired the shots at the McDonald's, investigators told WSB-TV. Footage filmed at the scene showed the restaurant's glass door had shattered, while at least three bullet holes could be seen in one of the windows. Inside, workers could be seen sweeping up the broken glass.
Nobody was injured during the incident. But the attack was not the only shooting on the block that night.
Just around the corner, two teenagers were "seriously injured" when they were shot at a Taco Bell, WSB-TV reported. Police arrived at the scene to find two 16-year-olds suffering from gunshot wounds. The pair were rushed to the hospital. Detectives said the teenagers had been involved in a dispute with a restaurant employee before they were attacked.
The number of teens killed or injured by gun violence so far in the U.S. in 2022 stands at 1,711, according to a national database compiled by the Gun Violence Archive.
Investigators have not yet released details about suspects in either shooting.
Newsweek has reached out to South Fulton Police Department for further information.
The May 17 shootings come less than a month after a man was critically injured when he was shot at another McDonald's location in Georgia. The victim in DeKalb County was shot on April 22 after reportedly arguing with another customer; the dispute had begun inside the restaurant on Wesley Chapel Road but the victim was allegedly shot when the pair moved outside.
Another notable shooting in Georgia this month took place on May 1, when a driver — who reportedly had her three young children in the car — was charged with allegedly shooting a 17-year-old in the face during a road rage incident. Brittney Griffith, 30, had allegedly pulled up alongside the car the victim was traveling in as a passenger when she allegedly opened fire. The boy who was shot was hospitalized, but was said to be in a stable condition.