Prepare To Feel Old as Seth Rogen Wishes McLovin a Happy 40th Birthday
Prepare to feel old as Seth Rogen has just wished iconic character McLovin a happy 40th birthday.
Cast your mind back to 2007, before smartphones and social media, and you'll remember one of the popular movies that year was Superbad.
It starred Jonah Hill, Michael Cera and Christopher Mintz-Plasse as a trio of hapless high schoolers—called Seth, Evan and Fogell—preparing to graduate in the coming-of-age comedy.
Hill and Cera play inseparable best friends who strive for one last hurrah before college, and the plot follows their attempt to score some liquor for a party as they attempt to lose their virginity.
But being underage, they need to get creative, and they turn to the age-old deception of acquiring a fake I.D.
This is where sidekick Fogell, aka Mintz-Plasse, steps in, as he gets his hands on a driver's license from Hawaii.
But hilarity and disbelief ensue when the teenagers take a good look at the I.D., with Fogell choosing the bizarre alias of McLovin—and nothing else.
And rather than 21, McLovin is actually 25, with his birthday listed as June 3, 1981.
In the movie, Seth, played by Hill, rages: "Gimme that. All right, you look like a future pedophile in this picture, number 1. Number 2: it doesn't even have a first name, it just says "McLovin"! Fogell, this ID says that you're 25 years old. Why wouldn't you just put 21, man? No you're not. No one's McLovin. McLovin's never existed because that's a made up dumb F****** FAIRY TALE NAME, YOU F***!"
The name became so iconic that Mintz-Plasse is better-known as McLovin rather than Fogell.
Despite the movie being released 14 years ago, it's still a hit today, as Rogen, who played Officer Michaels, wished McLovin a happy birthday on his big 4-0.
He tweeted: "Happy 40th birthday McLovin. (We wrote this joke when we were 14 years old)." As well as starring as a cop, he also co-wrote the script alongside Evan Goldberg.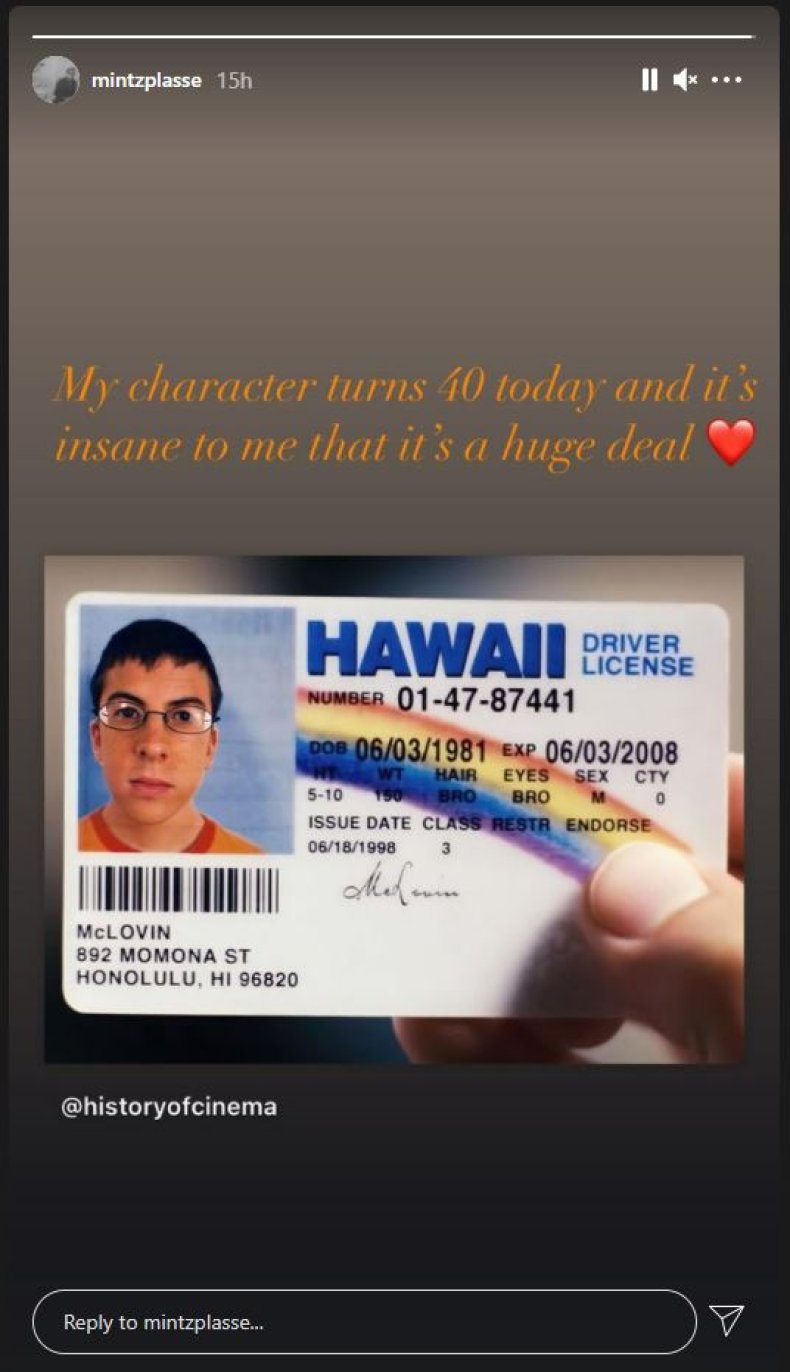 Mintz-Plasse also marked the anniversary, sharing a story on his Instagram of the driver's license, as he said: "My character turns 40 today and it's insane to me that it's a huge deal."
Numerous people also wished McLovin a happy birthday online, including actor Joseph Gordon-Levitt, who tweeted: "Happy 40th birthday, McLOVIN."
Fans shared fond memories of the film, with Aaron Wiener writing: "I like to think McLovin's living that sweet dad life in Southern California's beautiful San Fernando Valley."
Derek Lewis revealed: "My favorite moment during my short time working at Publix was completing the Wine Certification training and seeing this ID pop up as an example of what NOT to accept. McLovin's legacy lives on."
"We're old," Molly Jong-Fast admitted.
While Habarnac said: ""McLovin" truly sounds like something a 14-year-old made up. And yet, somehow, it still makes us all laugh. And that is your magic."