Meghan Described as 'Meanest Person I've Ever Met' Over Difficult Ad Shoot
Meghan Markle was accused of being a "princess" before she had any connection to Prince Harry and the royals over her demands during filming for a series of fashion advertisements, according to a new biography.
The Duchess of Sussex "bulldozed her way through" during a campaign for Canadian women's clothing store Reitmans, according to an account in Tom Bower's new book Revenge: Meghan, Harry and the War Between the Windsors.
The saga predates Meghan's royal life but is particularly apt as the duchess would later be accused of bullying two PAs out of Kensington Palace in October 2018.
Meghan has always denied the allegations, with a friend suggesting at least one of those employees had to leave due to "gross misconduct."
The latest allegations will, however, provide more ammunition to those who seek to present her as a demanding boss.
Bower is notorious in Britain for biographies that are relentlessly critical of his subjects and extracts serialized in U.K. broadsheet The Times have been equally scathing.
Meghan Markle Accused of Being 'Meanest Person' Over Reitmans' Campaign
A succession of demands both during filming for the ad campaign and post-production left one director so exasperated he denounced her in a Facebook post.
According to the book, Jean Malek, one of the directors, posted on Facebook "She is definitely the meanest person I've ever met. Just saying."
There were arguments over one commercial, filmed in Montreal, in March, 2016, after Meghan asked for changes to the script though a different director then acknowledged the duchess was right.
Revenge quotes Meghan saying: "Seriously, this doesn't make sense! "I'm a brash American and if my name is going to be on something, I'm going to have my say."
"On March 14, the arguments reached their climax," Bower wrote. "After ferocious exchanges a few script changes were made, only to be rejected by Meghan again.
"'She bulldozed her way through,' complained one of the team. No one stood up to her," the book said. "That evening, [film director John] Grammatico emailed [ad agency] Tank's creative director. Meghan, Grammatico suggested, was not completely wrong. The agency was focusing the commercial on Reitmans' label and the dress.
"Like all stars, Meghan wanted the focus to be on herself. 'She needs to be flattered,' he wrote, 'and she's right. Celebrities want to be the hero.'
"The solution was to "put Meghan in charge because she's beautiful and famous and she's in control". The script was rewritten by Grammatico."
The book suggested Meghan complained about the size of her hotel room at the 4-star Place d'Armes, which cost around $1,200 and that she be registered under an alias to avoid being photographed.
Bower wrote: "'Her identity must be kept secret,' said her agent, Lori Sale. 'Meghan doesn't want to be hassled by the hotel staff, other guests or photographers'," Bower wrote. "The production team were flummoxed. No one in French-speaking Montreal really knew Meghan. In the event, the hotel refused the request. No paparazzi gathered outside the hotel."
Meghan's relationship with Prince Harry was imminent at the time, but it would not be known to the world until months later in October 2018.
Meghan Nicknamed 'The Princess' on Set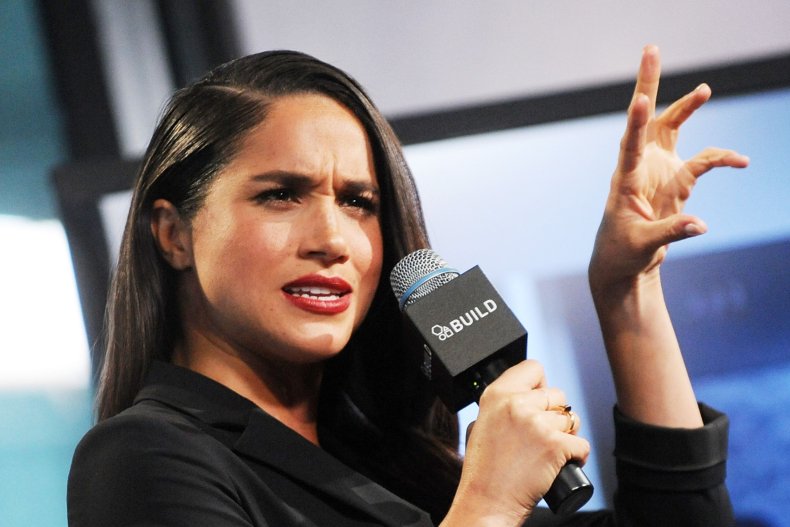 However, according to Bower, she was nicknamed "the Princess" by one assistant due to the demands.
The book reads: "'The Princess is coming,' sniggered one assistant as, hard-faced, Meghan arrived on set, avoiding eye contact with the crew."
"'She was always fed up,' one crew member noted, 'sighing, huffing and rolling her eyes at things. It was heavy-going working with her'," Bower wrote. "Another claimed that she would be 'super sweet' with [her hairdresser] Felix and [make-up artist] Marco and then within seconds turn to the crew and be 'super-disagreeable.'
"No one dared to contradict Meghan. Keeping their jobs depended on satisfying her demands. The only consolation was Meghan's.. In front of the lens, she transformed herself into a warm, glamorous icon."
The book added: "During the filming, Meghan was asked: 'What Canadian woman inspires you?' She laughed and asked for examples. 'None of them inspires me,' she replied. 'You can't make me say something I don't want to or don't believe in.'
"'It's a wrap,' shouted the assistant at exactly 7pm. Meghan's agent had already called to warn that her client would not film one extra minute.
"There was none of the customary 'Thank you' or 'See you again'. Meghan departed. To the surprise of the wardrobe staff, she forgot to leave behind the Aquazzura shoes."
How Meghan Reitmans Campaign Allegations Compare to Bullying Accusations
The bullying allegations against Meghan emerged in March 2021 days before Meghan and Harry's Oprah Winfrey interview was due to air.
An email, leaked to The Times, showed Kensington Palace communications secretary Jason Knauf emailed Prince William's then private secretary to say: "I am very concerned that the duchess was able to bully two PAs out of the household in the past year. The treatment of X [name removed] was totally unacceptable."
"The Duchess seems intent on always having someone in her sights," Knauf added. "She is bullying Y [name removed] and seeking to undermine her confidence. We have had report after report from people who have witnessed unacceptable behavior towards Y [name removed]."
One royal staffer quoted by historian Robert Lacey in his book Battle of Brothers said: "Meghan governed by fear. So many people said it. Nothing was ever good enough for her.
"[She] humiliated staff in meetings, [would] shout at them, [would] cut them off email chains — and then demand to know why they hadn't done anything."
After the bullying allegations were made public, a spokesperson for the duchess said: "The duchess is saddened by this latest attack on her character, particularly as someone who has been the target of bullying herself and is deeply committed to supporting those who have experienced pain and trauma.
"She is determined to continue her work building compassion around the world and will keep striving to set an example for doing what is right and doing what is good."
For more royal news and commentary check out Newsweek's The Royal Report podcast: