Meghan Markle's Lawyer Accuses Senior Palace Figure of Working Against Her
Meghan Markle's lawyer has accused a "senior figure" in the palace of giving information to a U.K. tabloid "in order to help defeat" the duchess's privacy lawsuit.
Meghan is suing The Mail on Sunday for printing a letter she sent her father begging him to stop talking to the media on the grounds it violated her privacy and copyright.
The Duchess of Sussex was subsequently forced into an embarrassing apology, admitting she mislead the court, after her former communications secretary handed over her private messages.
However, Jason Knauf is not the only palace insider to have provided material to the tabloid, after outgoing editor Ted Verity spoke of a separate mystery "high-grade" source.
Now Meghan's lawyer, Jenny Afia, has accused that anonymous palace figure of trying to undermine the case against the newspaper's publisher, Associated Newspapers Ltd.
The attorney, of Schillings, told the new BBC documentary The Princes and the Press: "Ted Verity, the editor of The Mail on Sunday, said in his signed witness statement that he had been given information that helped support Associated's [The Mail on Sunday's] case.
"He said this information came from a senior palace source and he said in his witness statement this was not 'gossip or tittle tattle.'
"What it means is that a senior figure in the Royal Household according to The Mail on Sunday was passing him information in order to help defeat the duchess's case."
The existence of an additional royal source has been known about for months, however, Afia's statement shows for the first time that Meghan's camp believes someone senior within the household wants her to lose.
More significantly, the witness statement Afia refers to dates back to before Meghan and Prince Harry's interview with Oprah Winfrey.
That means that as far as Meghan's team are concerned, at least one senior palace figure was fighting a secret war against them dating back to 2020.
A source tipped off the newspaper that Knauf had information relevant to the case as early as September 2020, court filings show.
Verity's witness statement in January 2021 read: "This was not gossip or tittle-tattle: it was what I considered to be high-grade information from a serious individual in a position of authority and responsibility who knew the implications of what they were telling me."
Knauf initially said he wanted to remain neutral and Meghan then won a resounding victory without the need for a messy trial in February, 2021.
However, shortly afterwards Harry and Meghan made bombshell allegations against the palace and the royals in an interview with Oprah Winfrey in March.
The Mail on Sunday launched an appeal in April and a secret anonymous source then informed the tabloid Knauf regretted not giving a witness statement to the case.
A court filing by the newspaper's lawyers read: "At the end of July 2021, [The Mail on Sunday] received information from a confidential source that Mr Knauf regretted not providing a witness statement in these proceedings.
"As a result of that information [The Mail on Sunday] sought again to make contact with Mr Knauf and subsequently with Mr Knauf's new solicitor."
Knauf was approached and ultimately handed over a trove of private messages and emails showing Meghan had written the private letter to her father knowing it might leak.
A text message she sent him in August 2018 read: "Obviously everything I've drafted is with the understanding that it could be leaked so I have been meticulous in my word choice but please do let me know if anything stands out to you as a liability."
She added: "Honestly Jason, I feel fantastic, cathartic and real and honest and factual.
"If he leaks it then that's on his conscience but at least the world will know the truth, words I could never voice publicly."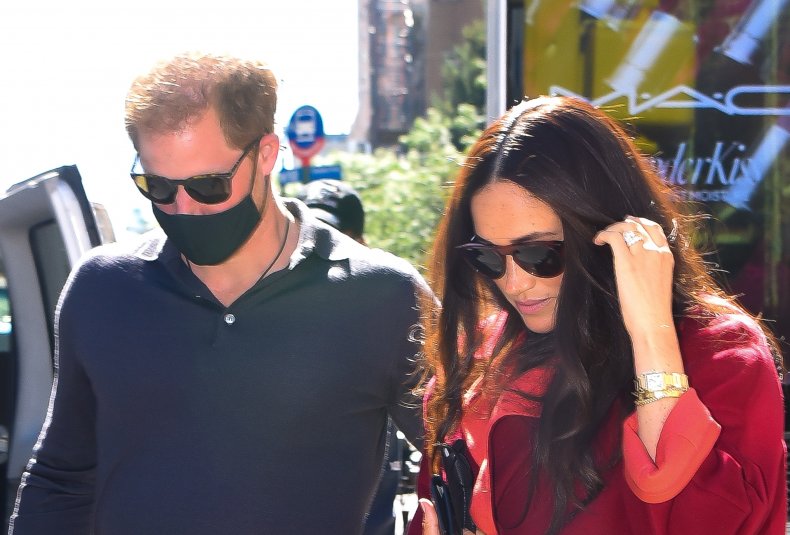 Other messages showed she authorized Knauf to give a detailed briefing to the authors of bombshell biography Finding Freedom after previous court filings said she didn't co-operate with them.
The result was that Meghan was forced to apologize in a 20-page witness statement, which read: "I did not have the benefit of seeing these emails and I apologize to the Court for the fact that I had not remembered these exchanges at the time.
"I had absolutely no wish or intention to mislead [The Mail on Sunday] or the Court."
The Court of Appeal will pass judgement on Thursday, December 2, on whether to re-enforce Meghan's original victory or to order a new trial in which she would likely have to give evidence.
Bullying Allegations
Knauf is the same aide who accused Meghan of bullying two PAs out of Kensington Palace in an October 2018 email to a superior.
Extracts from that message were printed in U.K. broadsheet The Times just days before the Oprah interview.
Afia told last night's BBC documentary there were "massive, massive inaccuracies in that story."
She said: "The overall allegation was that the Duchess of Sussex was guilty of bullying. Absolutely not. I think the first thing is to be really clear about what bullying is.
"What bullying actually means is improperly using power, repeatedly and deliberately to hurt someone physically or emotionally.
"The Duchess of Sussex has absolutely denied doing that. That said, she wouldn't want to negate anyone's personal experiences."
Afia added: "It's really hard to prove a negative. If you haven't bullied someone how do you show that you haven't.
"Just denying an allegation, 'I didn't beat my wife,' doesn't address the underlying problem that the allegation has been made."