Meghan Markle and Prince Harry's Daughter Due to Be Born a Lady Despite Feud Over Titles
Meghan Markle and Prince Harry's daughter is in line to get a title automatically—meaning she would be born a lady, Newsweek has been told.
The Duke and Duchess of Sussex told Oprah Winfrey about private discussions within the royal family to change the rules on titles so their son Archie would not be made a prince when his grandfather Prince Charles becomes king.
The couple suggested the move might have implications for whether Archie was given security and Meghan linked the discussion to royal racism.
However, the couple turned down an aristocratic title, Earl of Dumbarton, for Archie, choosing instead to style him "Master Archie Mountbatten-Windsor," the College of Arms said.
Their decision will not affect the name of their second child, a daughter due this summer, however.
Thomas Woodcock, Garter King of Arms, told Newsweek: "The eldest son of any duke can take his father's second title as a courtesy title, which in his case is Earl of Dumbarton.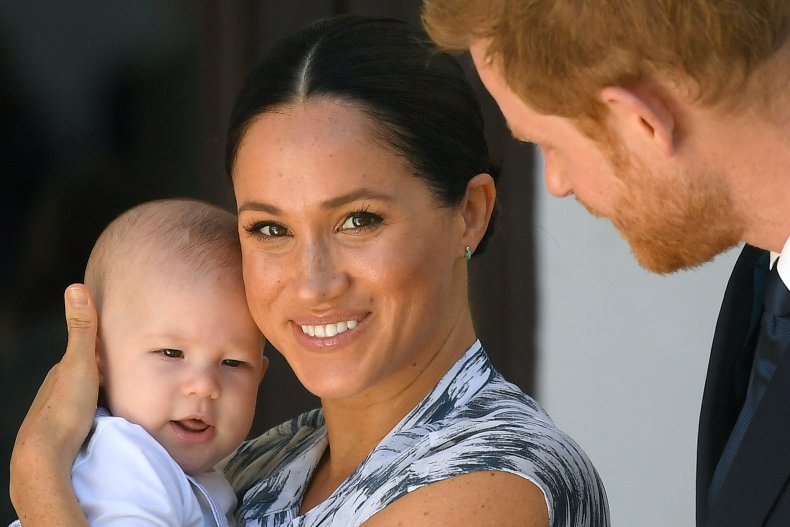 "Any daughter would automatically, as the daughter of a duke, be Lady and then her Christian name…and then Mountbatten-Windsor."
On the title that Archie was not given, he added: "That would be their [Meghan and Harry's] decision entirely."
He said Archie was not recorded as a lord because the title he was entitled to was turned down by the couple, but any further children of the couple would be either lord or lady.
Their daughter would have the same aristocratic title as Harry's mother Diana before she married Charles, when she was Lady Diana Spencer.
Meghan told Winfrey of her heartbreak at the "idea of the first member of color in this family not being titled in the same way that other grandchildren would be."
She added: "It's not their right to take it away."
Her comments related to discussions within the royal family about changing the rules so Archie would not become a prince.
However, after the interview, a source told Newsweek no change had yet taken place.
Unless new rules are put in place, the toddler, who turns 2 in May, will automatically become Prince Archie when Harry's father becomes King Charles.
Winfrey asked: "Do you think it's because of his race? I know that's a loaded question."
Meghan said: "In those months when I was pregnant, all around this same time, so we had the conversation of he won't be given security, he's not going to be given a title and also concerns and conversations about how dark his skin might be when he's born."
The comment left Winfrey visibly shocked.
Two days later, Buckingham Palace released a statement on behalf of Queen Elizabeth II: "The whole family is saddened to learn the full extent of how challenging the last few years have been for Harry and Meghan.
"The issues raised, particularly that of race, are concerning. While some recollections may vary, they are taken very seriously and will be addressed by the family privately.
"Harry, Meghan and Archie will always be much loved family members."