Meghan, Harry Snap Back to Royal Tradition After Kids Absent From Jubilee
Prince Harry and Meghan Markle released a classic royal portrait of their daughter Lilibet to mark her first birthday—the most traditional photo of either of the couple's children.
The Duke and Duchess of Sussex have carved their own path on pictures of Archie Mountbatten-Windsor and his younger sister in the two years since Meghan and Harry quit royal duties.
That had meant an end to the usual solo portrait royal fans previously anticipated from working royal parents.
However, after a Platinum Jubilee weekend in which Archie and Lilibet Mountbatten-Windsor were not seen despite traveling to Britain, the couple snapped back to a more traditional format.
Harry and Meghan's Changing Attitude to Pictures of Their Children
Prince Harry has spoken frequently about his desire to create a different future for his children after his own traumatic relationship with the media in Britain.
The couple's firstborn had his first meeting with professional photographers in broadly the same way as many royal children before him—just two days after the birth.
There was confusion and wrangling between the Sussexes and journalists over an announcement that Meghan had gone into labor, which was released after she had already given birth.
There was also a media backlash after they did not reveal the identity of Archie's godparents.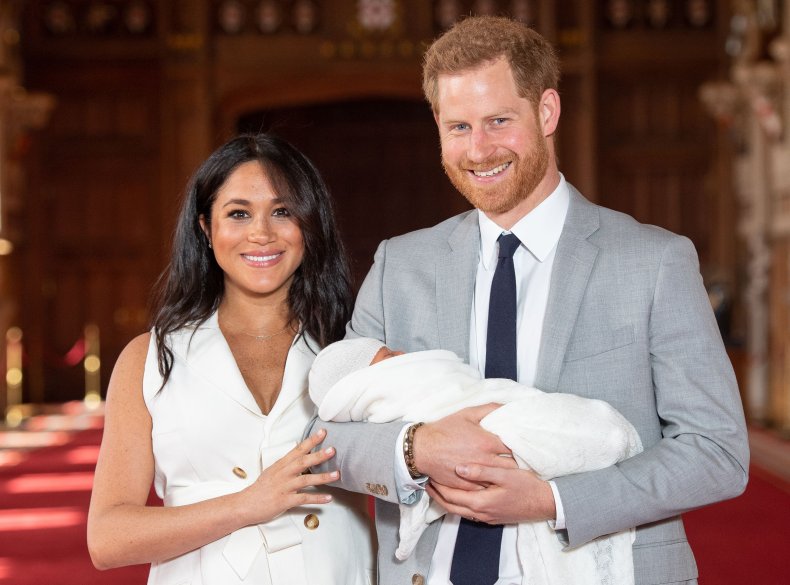 But despite the disputes, the media were still given the opportunity to photograph their son at Windsor on May 8, 2019, shortly after his birth on May 6.
There were more pictures of Archie after Meghan took him to see Harry at the polo in July 2019, and again during their royal tour of southern Africa in September 2019.
He was then included in their 2019 Christmas card, which was emailed out to friends and charities they work with.
Harry and Meghan's Post-Royal Stance on Their Children
But after the couple quit royal duties in 2020, they began to change the mold for pictures of their children.
For Archie's first birthday, they did not release a picture to the media but guided news outlets toward the social media accounts of charity campaigns Save With Stories and Save the Children.
Meghan had recorded a video of herself reading Archie his favorite book, and the couple ensured that outlets seeking to use the footage would have to credit it to the charity at the same time.
However, the release did include footage that clearly showed Archie's face that media organizations could use.
After that point, pictures of their firstborn became rarer as their 2020 Christmas card was an illustration of the family rather than a photograph.
Instead, the couple saved new footage of Archie walking on a California beach to release to CBS as part of their Oprah Winfrey interview.
They did release a 2021 birthday photo, but it showed Archie with his back to the camera holding a bunch of balloons.
Lilibet was born on June 4, 2021, and the couple released no picture to accompany her birth—meaning it was months before their fans had any idea what she looked like.
While this is not necessarily uncommon in the celebrity world, the children of senior royals would ordinarily be photographed at the point of their birth.
Lili appeared for the first time in their 2021 Christmas card that showed the family of four—yet even then both children had their faces turned side on partially obscuring their features.
Lilibet's First Birthday Photo
Lilibet's first birthday portrait, however, returns to the more classic royal format as it shows the couple's daughter by herself with her face clearly visible.
It was taken by professional photographer Misan Harriman, a friend of Meghan and Harry, who also took the portrait they used to announce the pregnancy.
It is not clear what brought about the change in approach, but it followed a Platinum Jubilee weekend when Archie and Lilibet did not appear in public.
Harry and Meghan's return to the U.K. was highly anticipated with royal watchers on tenterhooks for any sign of either a royal olive branch or an indication that tensions remained high.
The duchess had not appeared in public in Britain since March 2020 when they performed their final royal jobs, a year before they leveled damaging allegations at the royals during their Oprah Winfrey interview.
It was Lilibet's first visit to Britain and first opportunity to meet her great-grandmother Queen Elizabeth II, 96, who has been experiencing health issues.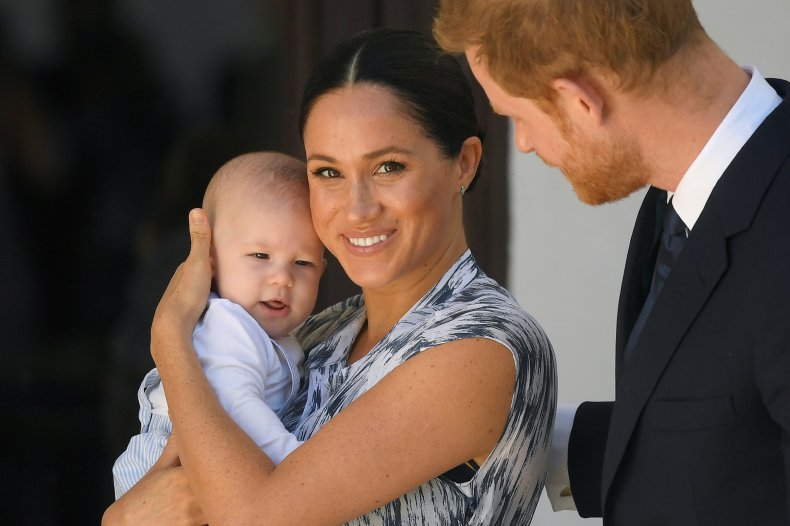 Harry and Meghan were briefly visible out of the window of a side office during Trooping the Colour on Thursday, and at a church service at St Paul's Cathedral on Friday.
However, those were their only Platinum Jubilee appearances and neither featured their children.
There were also no pictures released of Lili's first meeting with the queen, meaning Archie and Lili appeared to be absent from the public celebrations.
The birthday image of Lilibet was released not on the day she turned one but two days later on Monday, the day after the jubilee celebrations were wrapped up.
The couple have often been accused of upstaging other royals with their announcements and appearances. ITV News reported ahead of the jubilee that they would keep it simple to avoid overshadowing the queen.
Lilibet's first royal portrait may have been released late, after her birthday, but it gave the media precisely what they want from royal birthday pictures—a clear, personal photograph that showed her face.
Whatever the reason behind the change in stance, the couple certainly made their mark on the post-Jubilee royal debate with the image used prolifically.
For more royal news and commentary check out Newsweek's The Royal Report podcast: