Meghan and Harry Are 'Venturing Into the Lion's Den' With U.K. Visit
Prince Harry and Meghan Markle will be "venturing into the lion's den" when they make a brief visit to Britain next month amid increased hostility with the tabloid press and their low popularity levels with the public, a leading royal expert has told Newsweek.
Royal commentator Richard Fitzwilliams cited Harry and Meghan's privacy and libel lawsuits against the press as well as the couple's interviews with Oprah Winfrey and the imminent publication of Harry's memoir as factors that could make the Sussexes first visit to the U.K since the Platinum Jubilee in June "fairly difficult."
The comments come as it was announced on Monday that Harry and Meghan would travel to Europe in the first week of September to participate in a number of charity events for organizations with which they have long-standing relationships.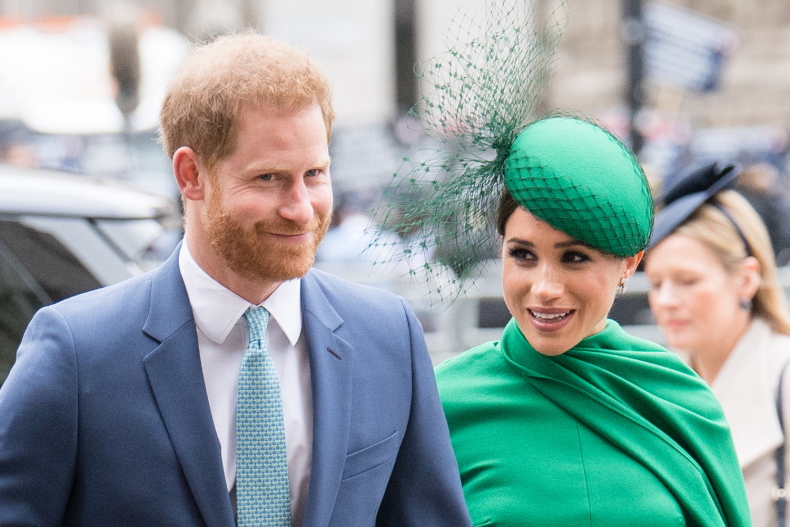 A spokesperson for the couple said in a statement that: "Prince Harry and Meghan, The Duke and Duchess of Sussex are delighted to visit with several charities close to their hearts in early September."
The couple's return to Europe to undertake what would traditionally be seen as "royal work," is in line with their stated wish in 2020 to "step back, not step down" as working members of the royal family, Fitzwilliams told Newsweek.
"Originally they wanted to step back, not step down," he said. "Obviously they're not performing royal duties but they are members of the royal family even though they no longer use their HRH (His/Her Royal Highness) titles."
The visit will see Harry and Meghan undertake their first joint charity events in Britain since moving to the United States, but Fitzwilliams believes the couple's public standing in the country has been significantly tarnished by their activities since then.
"We've had Oprah—we know how damaging that was," he said, "and there have been a large number of interviews that they have given about the royal family, to say nothing of Harry's upcoming memoir."
"What has happened during this period is that their ratings have dropped phenomenally."
In May, just days before the Sussexes traveled to Britain with their two children, Archie, 3, and Lilibet, 1, to celebrate Queen Elizabeth II's Platinum Jubilee, a YouGov poll showed that the couple's popularity had dropped to an all-time low with the public.
The results showed that Meghan was viewed negatively by 63 percent of adults surveyed, with a -42 net approval rating.
Harry too saw his ratings drop to a -26 net approval rating, with 58 percent of survey respondents saying they viewed him negatively.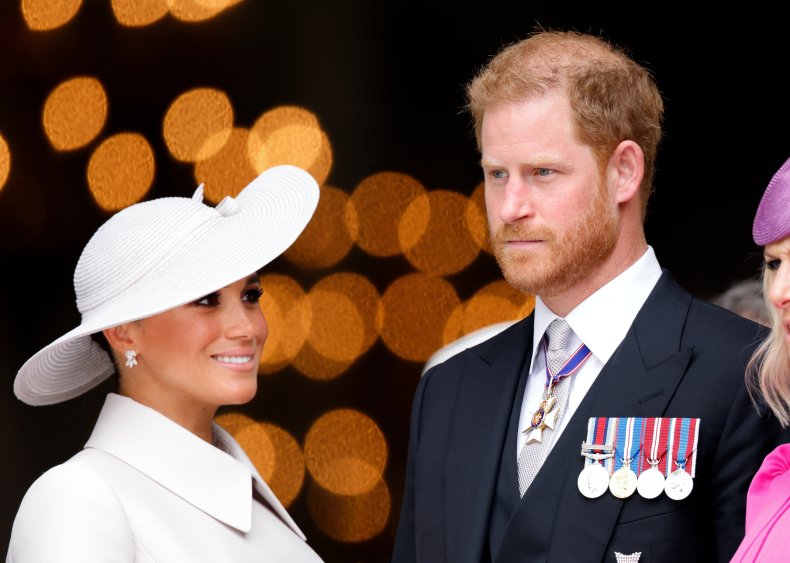 "Their popularity has plunged in Britain," Fitzwilliams continued. "They know when they appear that they are at war with the press here, it's rather like venturing into the lion's den now because you've got the public who are not supportive and you've got the press who are ferociously against them—and then you've also got the royal family where there's a rift."
Harry is currently involved in a libel lawsuit against The Mail on Sunday over an article that claimed the prince attempted to "mislead and confuse the public" in regard to an earlier lawsuit filed against the U.K. government over security. A judge ruled in July that the article had a defamatory meaning that the newspaper will have to defend at the next stage in the case.
The ongoing suit follows Meghan's triumph in a legal case against the same title over the publication of a private letter she sent to her father in 2018. A judge ruled in the duchess's favor in December 2021.
Harry and Meghan have spoken of their fractious relationship with the U.K. press, with the prince citing his desire to remove his family from its influence as a factor in his decision to move to the U.S.
On the prospects of a family reunion amid reports of the Sussexes' continued "rift" with Prince William and Kate Middleton, Fitzwilliams said that it would be "unlikely, but one can never second guess Harry and Meghan."
The queen is currently in Scotland and at the time of the couple's visit she will be busy with the resignation of Prime Minister Boris Johnson and the appointment of his successor, which as monarch, the queen oversees.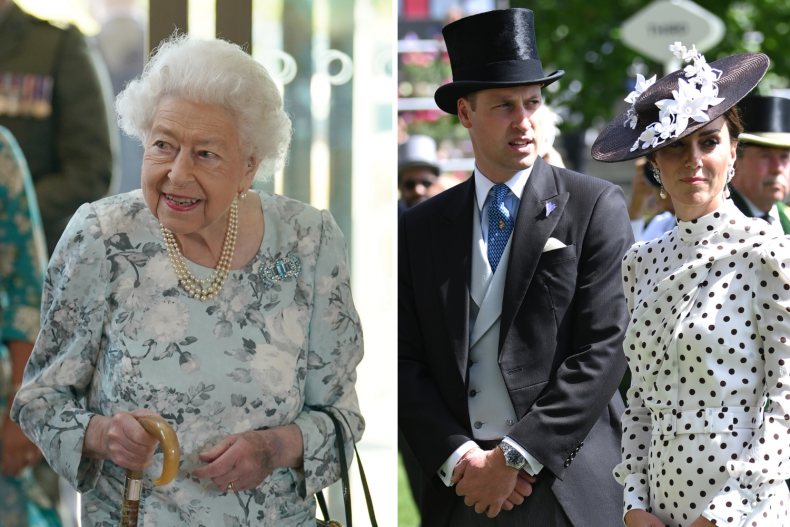 While Fitzwilliams believes a Scottish visit during Harry and Meghan's time in the U.K. is unlikely, royal author Phil Dampier expressed the opinion that if they do meet with the queen, she would most likely prefer it to be in the relaxed atmosphere of Balmoral.
"Whether [Harry] meets the Queen will probably depend on her. If she tells them she wants to see them I'm sure they will pop in for a chat,' he explained per the MailOnline.
"I'm sure she would hope the relaxed atmosphere there would be more conducive to talking things through and trying to solve the problems they all face.
"Meghan won't like the hunting, shooting and fishing environment of the Highlands but the Queen would feel much more comfortable meeting them there rather than a rushed meeting in London."
Newsweek approached Buckingham Palace and representatives of Prince Harry and Meghan Markle for comment.