Meghan Markle Faces Race Against Time in Samantha Markle Lawsuit
Meghan Markle lost a key battle in her libel lawsuit with her half sister but a judge offered the duchess a glimmer of hope.
Samantha Markle is suing Meghan over comments made during her Oprah Winfrey interview and passages from the biography Finding Freedom, by Omid Scobie and Carolyn Durand.
Meghan has applied to have the case thrown out of the U.S. District Court, in Tampa, Florida, and wanted to delay discovery, the process through which evidence is collected and shared by both sides.
U.S. District Judge Charlene Edwards Honeywell is yet to decide whether a trial will go ahead but said discovery must continue in the meantime.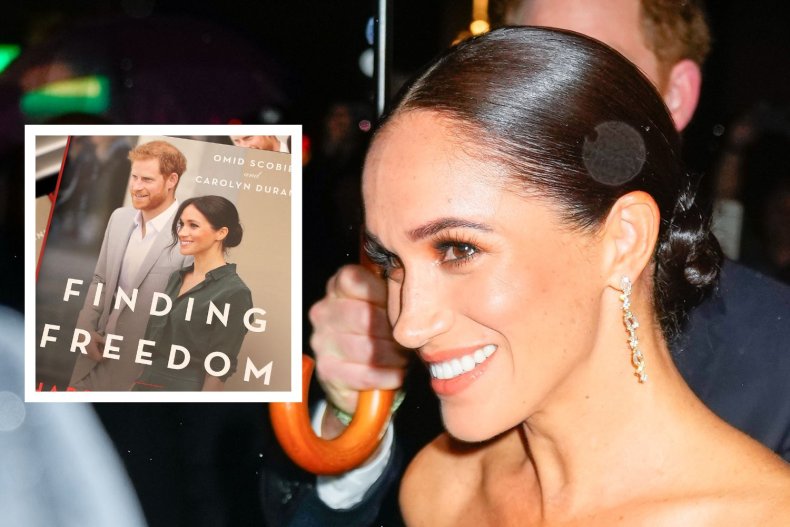 The ruling is a blow to Meghan because Prince Harry, her father Thomas Markle and the former palace aide who accused her of bullying are among those who may be deposed.
However, Honeywell also hinted that at least some of Samantha's case is likely destined for the cutting room floor in comments that will boost Meghan's hopes of bringing the entire saga to an end.
The judge's order, seen by Newsweek, read: "Although a preliminary peek at the Motion to Dismiss suggests that some of the claims against her may be ripe for dismissal, the review does not reveal, at this time, a clear indication that the Court will dismiss the action in its entirety.
"Thus, Defendant Markle does not satisfy the high standard required to stay discovery pending the resolution of a dispositive motion."
Samantha's team have accused Meghan of stonewalling after she refused, through her lawyers, to produce evidence based on a series of requests.
The list gives startling insight into how awkward the case could be if it were to reach trial, with one requesting: "Any and all written communications between you and Oprah Winfrey and/or her representatives, agents, or employees which mentions, or names [Samantha]."
Another requests: "Any and all written communications between you and the Royal Family's Public Relations team which mentions or references [Samantha]."
All have been rejected by Meghan's team, often on grounds of relevance, for example the somewhat bizarre request for: "Any and all documents to evidence that you had a Ford Explorer with non-functioning doors."
However, if Samantha's team manage to identify even one area where they can force her to release reputationally damaging information it would create pressure for the duchess to settle.
Meghan's team also previously expressed a desire to avoid Thomas Markle's deposition and have now been asked to organize depositions of Prince Harry and Jason Knauf, the former Kensington Palace communications secretary whose evidence to the Court of Appeal in London bounced Meghan into a public apology.
He also accused her of bullying two PAs out of the palace in an internal October 2018 email—and Samantha's lawyers want Meghan to release information about that saga too.
A hearing on Meghan's application to dismiss the case has been scheduled for February 15 at 1.30pm ET and could be a crunch moment for the duchess.
Whether or not any part of Samantha's complaint is strong enough to win in the end, any trial could prove to be an assault on Meghan's reputation.
She will also be eager for a judgment to come in as soon as possible so that if she does win then discovery can stop before her private information enters the public domain.
The judge pushed back the discovery deadline until July 3, buying Meghan more time should she want to take the process at a slow pace.
Samantha's team will be seeking to arrange dates to depose everyone from Prince Harry and Thomas Markle to her own estranged daughter Ashleigh Hale, who is friends with Meghan.
Meghan's lawyer Michael Kump previously said they would give the case "the minimum attention necessary, which is all it deserves," but if the depositions go ahead and material from them enters the public domain then the attention required may still be considerably more than Meghan wants to give.
A previous filing by Meghan's team, seen by Newsweek, read: "A deposition of Mr. Markle at this juncture, along with other discovery, would be an unnecessary spectacle and waste of the parties' time, money, and resources.
"Plaintiff should not be permitted to force Meghan and, potentially, numerous non-parties to devote substantial resources to extraneous discovery while a meritorious motion that could dispose of the entire case is pending."
It added: "To state the obvious, because Meghan did not write Finding Freedom, she cannot be liable for statements in the book. It really could not be simpler than that.
"As to the three statements that Meghan supposedly did make in a 2021 Oprah
Winfrey interview, they are textbook examples of non-actionable opinion that are
also substantially true."