Meghan Markle's plea to fans after critical comparisons with Kate, the Princess of Wales, from 2021 has become the focus of a new viral video after resurfacing on social media site TikTok.
Since joining the royal family in 2018, Meghan has rarely spoken about her relationship with sister-in-law Kate, with an exception being made for her sit-down tell-all interview with Oprah Winfrey, a year after stepping down from the monarchy with Prince Harry.
Meghan and Kate's relationship has been the subject of intense media focus, with reports that the pair were on less than friendly terms surfacing just six months after the Sussex royal wedding.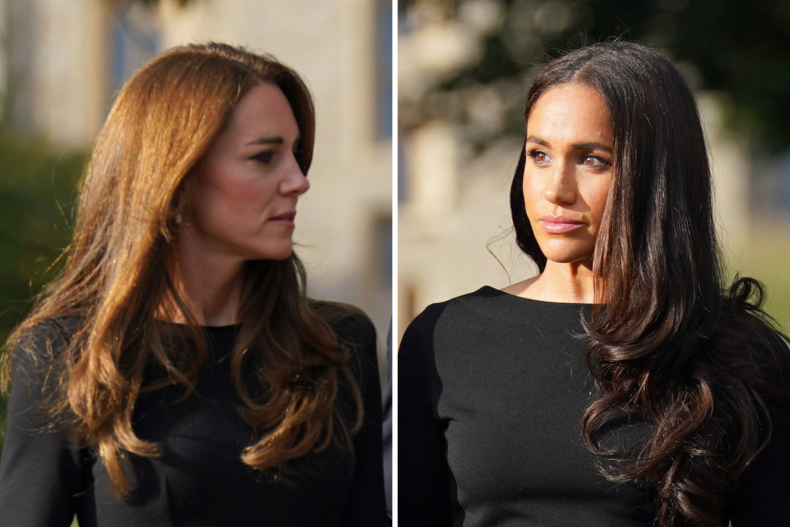 In November 2018, British newspapers published accounts that Meghan had made Kate cry in an argument over bridesmaids dresses ahead of her wedding, with Meghan presenting her side of the story to Winfrey in March 2021.
The duchess claimed it was in fact Kate who made Meghan cry, and revealed that an apology had been offered and accepted at the time.
Winfrey asked Meghan if the relationship with Kate had been as positive behind palace walls as it had seemed in front of cameras.
Uploaded to TikTok by user dianamyqueenx, on September 12, an edited extract of Meghan's response to this question has gone viral, showing images and clips of both her and Kate in the royal spotlight and gaining over 180,000 views so far.
"She's a good person," Meghan told Winfrey in her extended interview answer. "And I think so much of what I have seen play out is this idea of polarity, where if you love me, you don't have to hate her. And if you love her, you don't need to hate me."
This "if you love me, you don't have to hate her. And if you love her, you don't need to hate me," soundbite used in the TikTok clip has been captioned by the creator: "Imagine pitting two icons against each other..."
The clip has received 31,000 likes and 150 comments, many of which have expressed admiration for both royals.
"They are both stunning and I miss their friendship sm [so much]," wrote one user.
"People be acting like 2 Queens can't co-exist. Love edits like this that celebrate both of them," posted another, with a further comment reading: "I honestly don't get people who hate one of them like there's nothing wrong with liking them both."
Kate has not spoken publicly about her relationship with Meghan, nor did she comment on the content of Meghan's interview with Winfrey.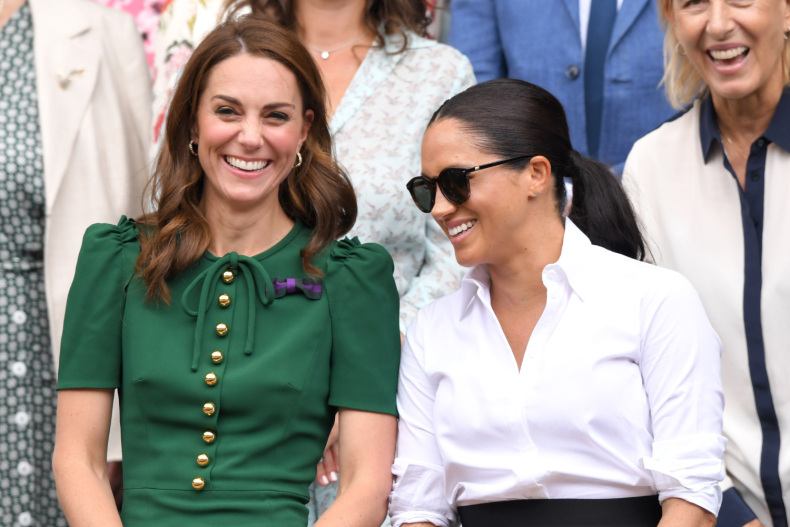 The public got the biggest insight into the sisters-in-law's relationship so far in Prince Harry's January 2023 memoir, Spare.
In the 410-page book, the prince revealed his disappointment that his wife and Kate never formed a close friendship, and detailed a number of incidents where the two butted heads, including giving his side of the bridesmaids' dress drama from 2018.
Meghan and Kate have not been photographed together since September 2022 where the royals came together with their husbands to mourn the death of Queen Elizabeth II.
Meghan has not returned to the U.K. since that time and did not attend the coronation of King Charles III in May.
James Crawford-Smith is Newsweek's royal reporter, based in London. You can find him on Twitter at @jrcrawfordsmith and read his stories on Newsweek's The Royals Facebook page.
Do you have a question about King Charles III, William and Kate, Meghan and Harry, or their family that you would like our experienced royal correspondents to answer? Email royals@newsweek.com. We'd love to hear from you.