Meghan Markle was photographed out in London during years when she told Oprah Winfrey she barely left the house, according to a biography.
The Duchess of Sussex described how she had been told not to see friends because she was "oversaturated" in the media and should lie low.
However, biographer Andrew Morton wrote that she had been seen getting lunch or dinner in London's trendy Notting Hill or going for beauty treatments, while paparazzi images were turned down by British newspapers.
In new chapters for Meghan: A Hollywood Princess, he wrote: "She also claimed that over one four-month period, she had only twice left the house, again indicating that she was a lonely prisoner hidden away by the men in grey.
"Yet she was seen out on numerous occasions: dinner and lunch appointments in Notting Hill, beauty treatments in Kensington and various shopping trips.
"Though she was snapped by the paparazzi, British newspapers declined to buy photographs of these excursions."
Morton did not go into detail about why the press turned down the images, though U.K. regulation bars the use of material obtained through "intimidation, harassment or persistent pursuit," which would include photographers following celebrities.
Meghan told Oprah: "I remember so often people within The Firm would say, 'Well, you can't do this because it'll look like that. You can't'. So, even, 'Can I go and have lunch with my friends?' 'No, no, no, you're oversaturated, you're everywhere, it would be best for you to not go out to lunch with your friends'. I go, 'Well, I haven't left the house in months'.
"I mean, there was a day that one of the members of the family, she came over, and she said, 'Why don't you just lay low for a little while, because you are everywhere right now'.
"And I said, 'I've left the house twice in four months. I'm everywhere, but I am nowhere'. And from that standpoint, I continued to say to people, 'I know there's an obsession with how things look, but has anyone talked about how it feels? Because right now, I could not feel lonelier'."
Morton wrote: "She also felt silenced and trapped by the system; her passport, driver's license and keys were taken away from her as though she were entering an open prison.
"That didn't stop her, though, from making numerous speeches on female empowerment, equality and other issues while traveling around the world on private and commercial aircraft.
"It was a curious kind of muzzling."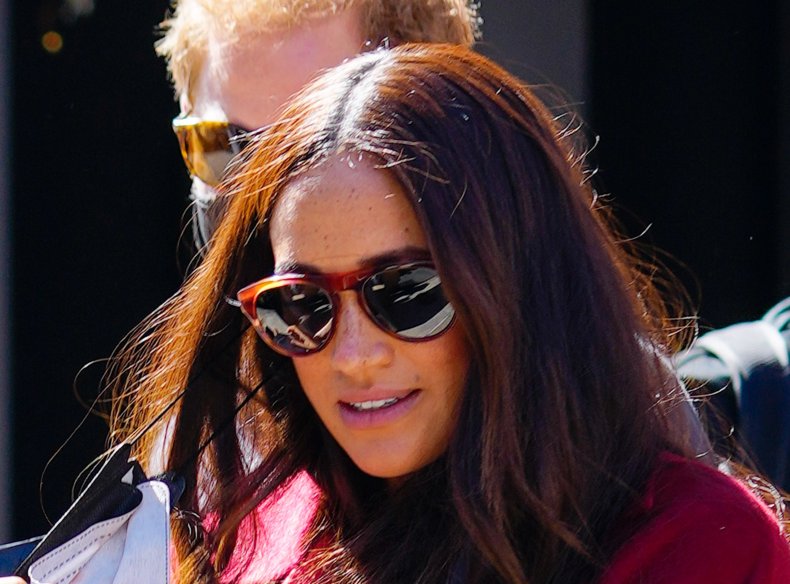 Morton wrote the definitive biography of Princess Diana with her help, in 1992, Diana: Her True Story.
The book exposed Prince Charles' affair with Camilla Parker-Bowles, now the Duchess of Cornwall, for the first time.
Meghan: A Hollywood Princess was first published in 2018 but has been re-released with new chapters, seen by Newsweek.
They describe how following bleak years of division, jealousy and mistrust within the royal family, Meghan and Harry now have a brighter future outside the palace, living in California.
The book states: "The locals affected disinterest. As the small town of Montecito
itself is awash with old money and celebrities, it is seriously uncool to point and stare at the latest headline arrivals.
"'I've seen Brad Pitt in Whole Foods and it is no big deal,' recounted one property agent.
"From time to time, a group of 'ladies who walk' would pass by their home and drop a cheery curtsy in front of the security cameras.
"It was all very friendly and laid-back, the Sussexes quietly and quickly absorbed into the local community."
He added: "With the beach close by and hills surrounding them, their home was ideally placed for hiking, cycling and surfing.
"Inside the compound there were eggs from 'Archie's Chick Inn', and herbs and vegetables from the extensive gardens. This was indeed the good life."