Queen Elizabeth II gave Meghan Markle permission to "continue your acting career," Princess Diana's most famous biographer has claimed.
Andrew Morton addressed an aspect of Meghan and Prince Harry's bombshell Oprah Winfrey interview during an appearance on the Royally Obsessed podcast.
Harry described how in the early days of their relationship his family discussed her continuing her acting career because there was not enough money to pay for her.
However, Morton had a very different take on the same claim—suggesting it was a positive offer from Elizabeth to help her maintain her freedom.
Morton said: "They were given a degree of latitude.
"They were told 'here are your first-class tickets, pick a country you want to go to, we're going to make you youth ambassadors for the Commonwealth.'"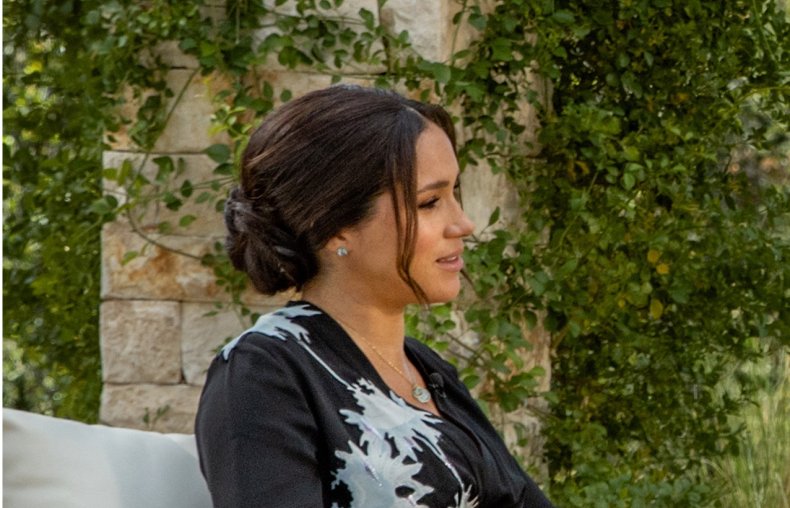 He added: "In fairness to the royal family, in fairness to the Queen, she did give them that opportunity to go wherever they pleased around the world.
"And also, they did say to Meghan if you don't want to embrace royal duties full time please be our guest and continue your acting career.
"So all those opportunities were open to her and I think that if you want my view about what happened neither of them gave it the thought they should have done."
Meghan and Harry told Oprah an unnamed member of the royal family expressed concern baby Archie's skin might be "too dark" before he was born.
While the duchess discussed the comment as taking place during her pregnancy, Harry suggested it was made at the beginning alongside conversations about whether Meghan should remain an actress.
He said: "That conversation, I'm never going to share. But at the time, it was awkward. I was a bit shocked.
"That was right at the beginning when she wasn't going to get security, when members of my family were suggesting that she carries on acting because there's not enough money to pay for her, and all this sort of stuff."
After the interview, an insider told Newsweek the context of the conversations was plans to slim down the monarchy, which have been pushed by Prince Charles since the mid-90s.
However, Morton's claim suggests the Queen was involved in at least some conversations about whether Meghan should give up acting or not.
Harry and Meghan did not name the royal who made the racist remark, but ruled out Elizabeth and Prince Philip in an off-air conversation with Oprah.
Meghan said during the interview: "In those months when I was pregnant, we have in tandem the conversation of 'you won't be given security,' 'not going to be given a title', and also concerns and conversations about how dark his skin might be when he's born."
She also said she felt suicidal amid the pressure of negative publicity in January 2019.
Morton told the podcast: "I found it obviously compelling television. A very brave, courageous admission of mental failings by Meghan.
"But I came to the conclusion that an awful lot of it is what you call 'mist reading.'
"That is to say, you're trying to understand what point they're trying to make because it doesn't make sense."
He suggested Meghan presented herself as a prisoner whose keys and passport had been taken away but he pointed to her overseas holidays and said his friends had seen her out and about in Kensington.