Meghan Markle's Skin Color Accusation Roasted by Chris Rock
Meghan Markle was mocked by Chris Rock on his Netflix stand-up comedy special as he said: "Didn't she hit the light-skinned lottery?"
Rock became the latest name on a growing list of U.S. comedians to take aim at Prince Harry and Meghan in his Baltimore show, which was broadcast live on the streaming platform on March 4.
Netflix has a multi-year deal with the couple and was the home of their docu-series Harry & Meghan, which was broadcast in December 2022.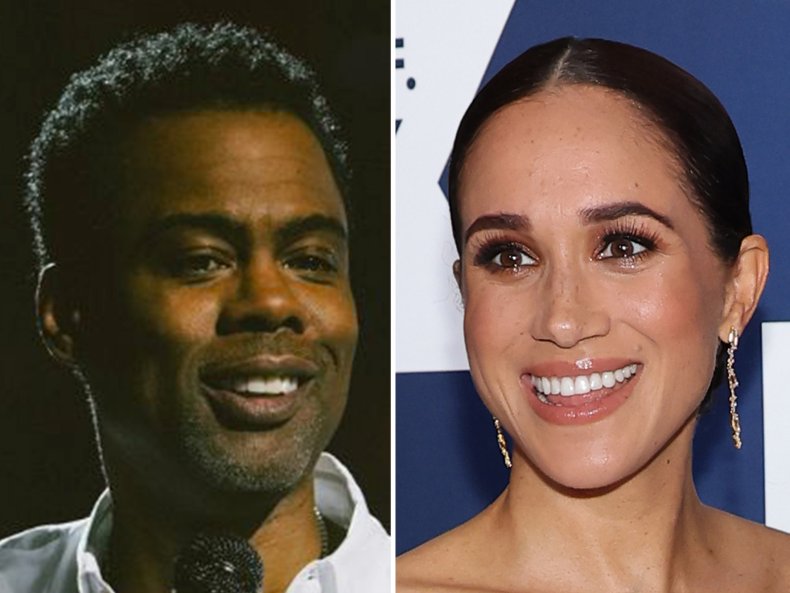 Harry and Meghan were also mocked by South Park, Jimmy Fallon, Jimmy Kimmel and Saturday Night Live.
During Chris Rock LIVE: Selective Outrage, the comedian said: "Everybody trying to be a victim. Like, who is this girl Meghan Markle? Seemed like a nice lady, just complaining.
"I was like, didn't she hit the light-skinned lottery? Hit the f***ing light skinned lottery and still going off complaining. Acting all dumb like she didn't know nothing. Going on Oprah like 'I didn't know, I had no idea how racist they were.'
"It's the royal family, you didn't Google these mother f******. What the f*** is she talking about she didn't know. It's the royal family. They're the original racists. They invented colonialism. They're the OGs of racism. They're the Sugar Hill Gang of racism."
"That's like marrying into the Budweiser family and saying, 'they drink a lot'," he added.
Meghan's comments were widely interpreted as an allegation of racism at the time she made them in March 2021, but Prince Harry later stated that "neither of us believe" it was racism.
The duchess told Oprah: "So we have in tandem the conversation of 'he won't be given security, he's not going to be given a title' and also concerns and conversations about how dark his skin might be when he's born."
Oprah clarified whether that meant "too brown" and whether "that would be a problem" and Meghan replied: "If that's the assumption you're making, I think that feels like a pretty safe one."
Prince Harry told 60 Minutes: "The way the British press reacted to that was fairly typical. There was like a hunt for the royal racist. Neither of us believe that that comment or that experience or that opinion was based in racism.
"Unconscious bias, yes. But I think that you speak to the majority—maybe not all—but the majority of mixed race couples around the world that the white side of the family would wonder, whether talking openly about it or amongst themselves, what the kids are gonna look like."
"Sometimes it's just some in-law s---," Rock said. "Because she's complaining, I'm like, 'What the f--- is she talking about?' 'Oprah, they're so racist, they wanted to know how brown the baby was going to be.'
"I'm like, 'That's not racist,' cause' even Black people want to know how brown the baby gonna be. S---. We check behind them ears."
"I know her dilemma," he continued. "Black girl trying to be accepted by her white in-laws. Oh, it's hard. It's so hard, it's very hard—but it ain't as hard as a white girl trying to be accepted by her Black in-laws. Now that s**t is really hard."
Rock's reference to "victims" came hours after Prince Harry told a Q&A to promote his book Spare that he has never asked for sympathy.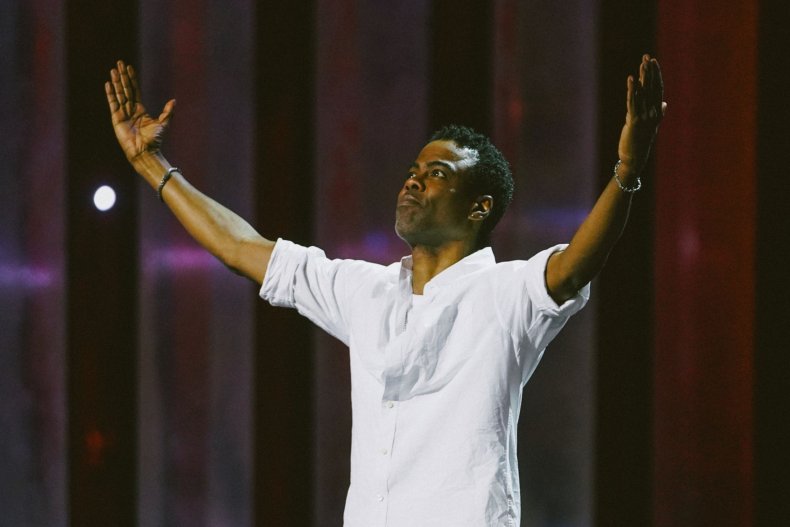 "Well, I certainly don't see myself as a victim," he said. "But no, I do not and I have never looked for sympathy in this," he added.
The victim narrative has echoes of the South Park episode that also ripped into Harry and Meghan and included a parody version of the prince's book, with the name changed to: "Waaagh."
The show also featured a brand management expert who described Meghan as: "Sorority girl, actress, influencer, victim."
In the days after Harry's publicity blitz around the book he was mocked multiple times on comedy shows.
Fallon joked during The Tonight Show that he typed "how to return" into Google and got the autofill suggestion: "How to return Prince Harry to England."
Jimmy Kimmel Live ran at least three parodies of the book in January, including a satirical reconstruction of Prince Harry being recommended Elizabeth Arden cream for his frostbitten penis by Princess Diana from beyond the grave.
Saturday Night Live, however, got in there earlier than most with a playful dig at the couple in December 2022, shortly before their Netflix show was released.
Steve Martin and Martin Short were guest hosting when Short said: "You know Steve, we are like Harry and Meghan. No one's rooting for us but you'll tune in to watch anyway."