Mehdi Hasan, Dan Crenshaw Clash on 'Open Border' As Democrats Condemn Deportations
President Joe Biden's border problem has drawn condemnation from both sides of the political spectrum, with Republicans condemning what they claim is a "crisis" created by the White House's "open border" policies, while Democrats speak out against the ongoing deportations of new arrivals.
The situation, which the White House is refusing to term a "crisis," has become a dark cloud looming over the beginning of Biden's term. The issue is drawing attention away from Biden's efforts to refocus America's response to the coronavirus pandemic, offering Republicans a potent attack line and opportunity to vindicate former President Donald Trump's controversially tough border stance.
A heated debate between MSNBC's Mehdi Hasan and Rep. Dan Crenshaw (R-TX) on Sunday summed up the divisive nature of the border in America's political divide, now being magnified by a surge in new arrivals at the southern frontier. The rising number of unaccompanied minors is of particular concern, with some 15,500 now in Customs and Border Protection custody.
The Statista infographic below shows the rising number of detentions of unaccompanied minors and family units at the southern border since Biden took office in January.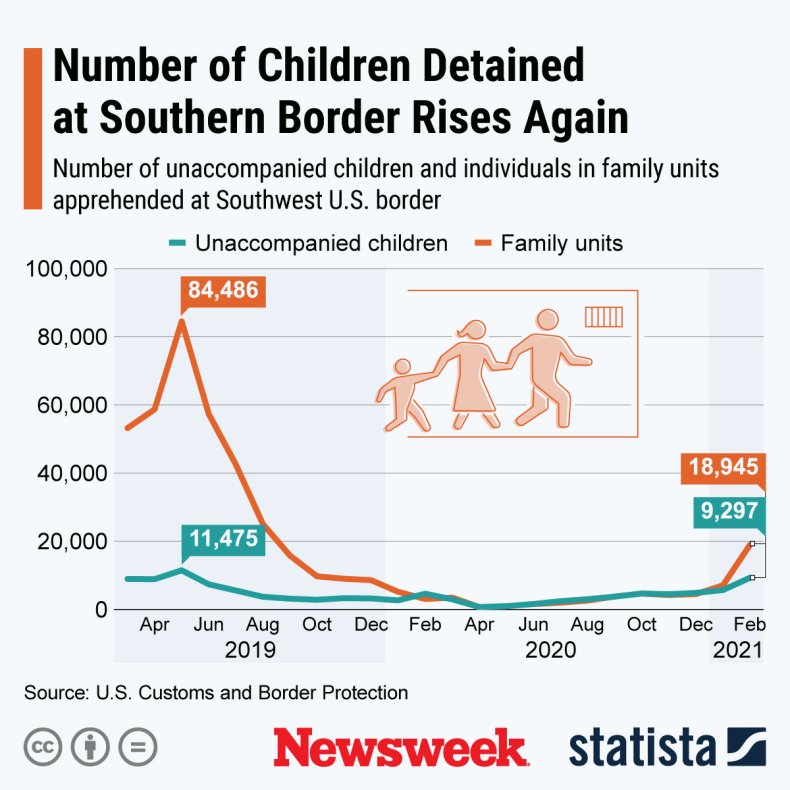 Hasan and Crenshaw clashed on Biden's deportations and on whether the White House has made the frontier an "open border," a common Republican attack angle against Democrats who have pushed for more lenient immigration policies.
Crenshaw told Fox News last week that Biden was encouraging the new arrivals by suggesting his administration would not deport them. Hasan interpreted these remarks as Crenshaw saying Biden is not deporting any migrants, which is untrue. Crenshaw disputed the interpretation, repeatedly telling Hasan he did not say Biden was not deporting migrants.
"Thank you for proving me right in saying I didn't say he's not deporting anybody," Crenshaw said. "Let's unpack this. Our system is still intact, still works okay. Single adults illegally crossing the border generally do get deported. Family units are much more difficult to deal with."
Though Immigration and Customs Enforcement does not publish daily deportation figures, multiple reports suggest such flights have continued under Biden. Rep. Ilham Omar (D-MN), is among those condemning such removals, tweeting Sunday: "I wish this wasn't true, but Biden is definitely deporting people and it needs to stop."
Crenshaw also defended his assertion of an "open" frontier during his interview with Hasan, despite the ongoing detentions and deportations. "It cannot be an open border if 72 percent of people are removed," Hasan charged. "That's nonsensical to claim that. You know that. I know that."
"I would say there's an effective open border," Crenshaw replied. "That's what I would say. If you want to accuse somebody else of saying things—you haven't been able to fact check me on it, because I haven't said it."
Hasan responded: "I'm fact-checking you now. It's not an open border if the vast number of people get expelled."
The "open border" assertion is central to Republican attacks on Biden's strategy. GOP leaders have accused Biden of encouraging the surge in new arrivals, which they say present public health and national security threats.
Sen. Ted Cruz (R-TX), for example, said last week it is time for Biden to "prioritize health and safety of Americans over open borders agenda."
Sen. Tom Cotton (R-AR) said this weekend: "The border right now is wide open because the Biden administration dismantled the very effective policies of the Trump administration and the agreements we had with Mexico and other Latin American countries."
Biden officials have blamed their predecessors for the chaos at the border. Homeland Security Secretary Alejandro Mayorkas told CNN Sunday: "The entire system was dismantled by the prior administration...There was a system in place that was torn down by the Trump administration."
Biden himself now plans to travel to the frontier as pressure builds to address the situation. Asked by reporters Sunday if he would visit the border, the president replied: "At some point I will, yes."
The president urged migrants not to travel north in an ABC News interview last week, telling them: "I can say quite clearly don't come over...Don't leave your town or city or community."
But Republicans say his intervention is too little too late. Biden told reporters Sunday his administration could do "a lot more" to address the situation. "We're in the process of doing it now, including making sure that we reestablish what existed before, which was they can stay in place and make their case from their home country," he said.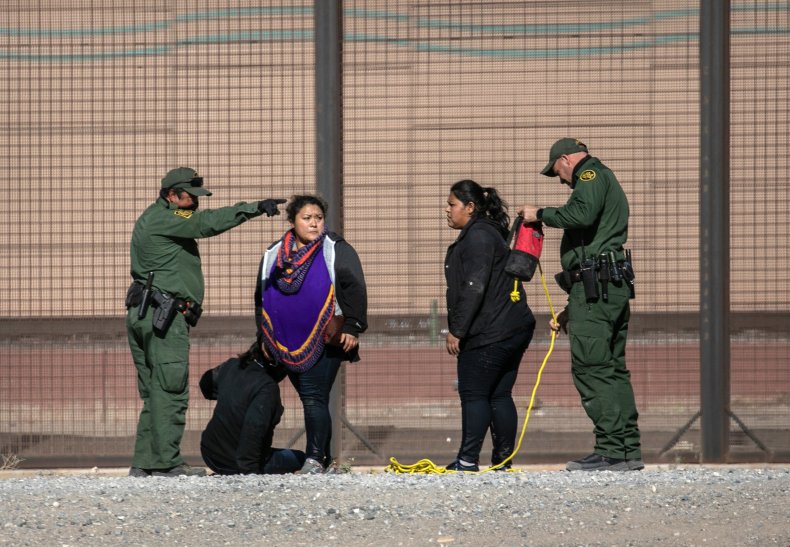 Update 3/22/21, 7:20 a.m. ET: This article was updated to include and infographic.