Melania Trump's Visit to Asia Is a Show of Motherly, Fashionable Love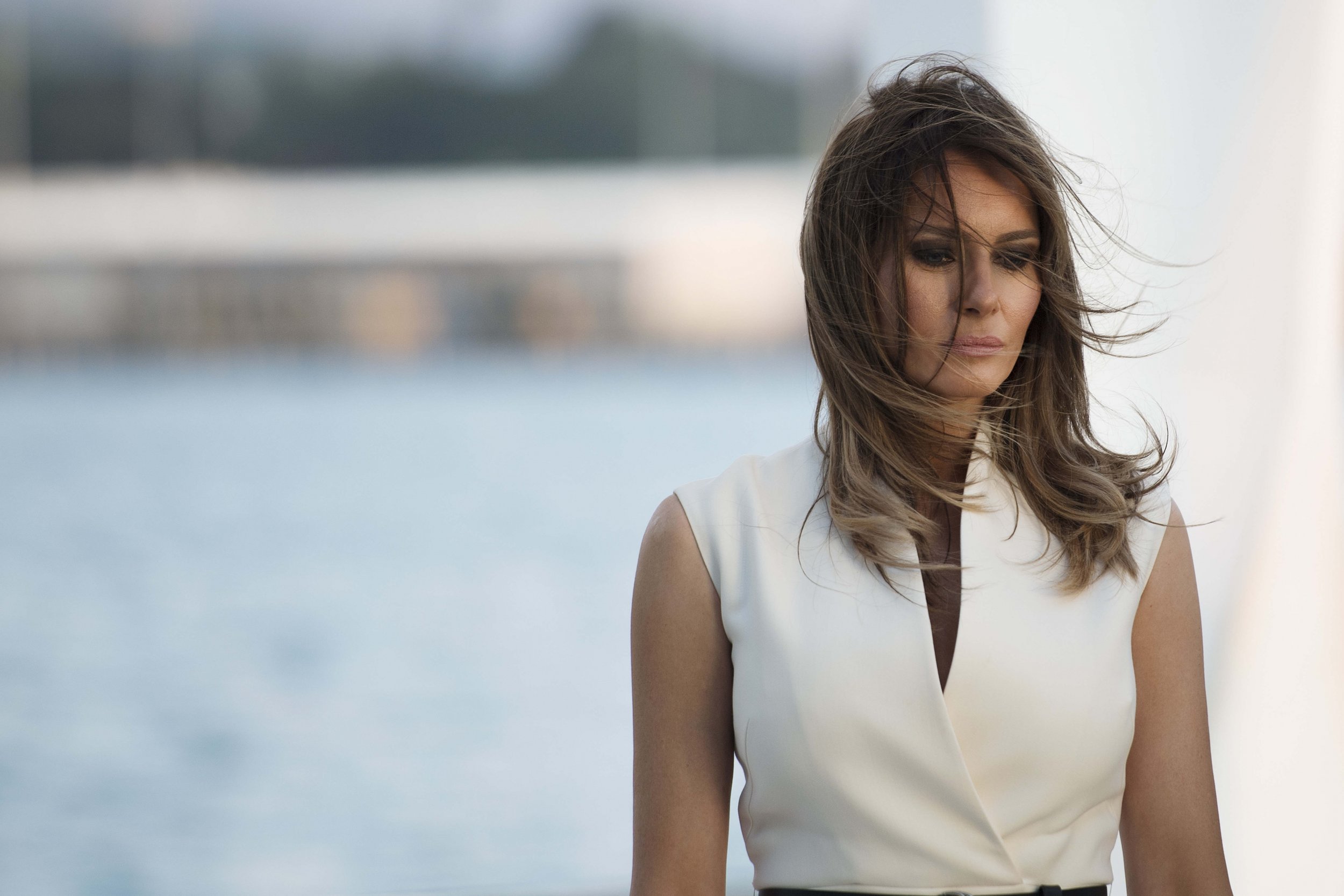 Melania Trump's visit to Japan continued her clear departure from her predecessor's customs and fashion choices as first lady.
Decked out in Fendi, thick sunglasses and Manolo Blahnik heels, Trump deplaned Air Force One on Sunday on a mission to bring her office back to the traditional, minimal role it took on under the wives of Republican presidents before her. Her bold fashion statements, as well a Monday visit to a school in Tokyo—where she drew calligraphy and embraced students alongside Japanese First Lady Akie Abe—represented patterns which experts on the first lady have noticed throughout her tenure.
Related: Did Melania Trump Smack Donald's Hand at an Israeli Airport?
"She's trying to stay in her comfort zone and not be a lightning rod ... She's doing the bare minimum that she can without causing problems for her husband as president," Dr. Jean Wahl Harris, a professor at the University of Scranton and first lady historian, told Newsweek, "while taking on the safest of pet projects, mostly focusing on children."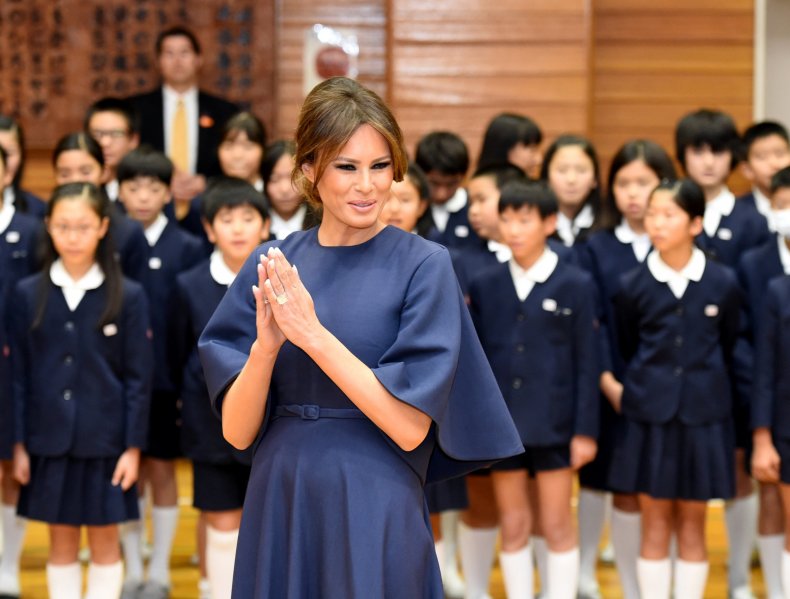 Harris, who spoke to Newsweek as Trump was preparing to jet set to Honolulu on Friday before flying over eight hours to Asia, predicted the first lady's trip would include much of the expensive fashion and motherly love her other travels have included.
"She's certainly not worried about spending money," Harris said of the first lady's wardrobe during international trips.
Meanwhile, Trump continues to enjoy straying from political affairs and meeting with children during her visits, the historian said. "Melania has been the prominent parent to her son, Barron, and seems most comfortable talking with children...meeting with kids at hospitals and schools has certainly become a staple of her trips. She is content having a minimal role and being by the president's side when necessary."
The first lady began her day fulfilling the most basic of her duties as the president's wife, standing with her husband during a meet-up of both nation's dignitaries during a red carpet ceremony. Trump was reportedly "walking through the motions" before she had the opportunity to split from the president and embark on a trip to the children's school in Tokyo.
During her visit to the children's school, Trump drew the symbol "hei," which means smooth and calm, as the Japanese first lady drew "wa," standing for harmony. "When combined, these two letters literally mean 'peace,'" President Shinzo Abe said in a statement Monday. "I think their wonderful joint work represents our alliance very nicely."
Apart from her focus on children—a staple of the first lady's international trips to places such as Rome, Paris, Brussels and Israel—Trump's trip has been a display of her unlimited access to high-end fashion. She brought along customized gear from Hervé Pierre, an independent fashion designer Trump has hired to produce a number of extravagant gowns as first lady, including one she wore on Inauguration Day.
She swapped her nude stilettos for another pair of Manolo Blahnik pumps on Monday, this time featuring ice blue snakeskin to match her navy blue Christian Dior dress.
The international wardrobe selection followed other expensive fashion choices during Trump's foreign visits, including a $51,000 Dolce & Gabbana black lace dress she wore to meet the Pope, plus wearing fancy shoes when she and the president departed the White House to visit Hurricane Harvey-flooded Texas. By the time she arrived in Houston, however, she was sporting white tennis shoes.
Trump's style is a departure from her predecessor Michelle Obama's penchant for affordable clothing and relatability to ordinary Americans. First ladies are not provided a wardrobe budget, though they are reportedly given high-end items as gifts or at discounted prices as their prominence leads to sales boosts time and time again. When Trump wore Ralph Lauren to her husband's inauguration, for example, the fashion company's stock rose from $88.19 to $90.13 per share.
"Michelle Obama used her personal style to amplify her policy agenda and connect with average Americans," Elizabeth Holmes, a style reporter who covered fashion for The Wall Street Journal, told CNN. "Mrs. Trump dresses beautifully and, for the most part, appropriately for the occasion—save for a few questionable stiletto moments."
Harris said she doesn't believe Trump will evolve into becoming more politically engaged like Obama or Clinton did during their tenures, instead being one of the "least vocal first ladies in modern history," while using her fashion to instead make a statement.
"There are a lot of pieces of Melania's life that could explain why she's moving the office back to a more traditional role," Harris continued. "She hasn't had a significant role in her husband's career, and is more interested in focusing on family, while Ivanka Trump has instead taken on some of the normal duties of the first lady. And Melania seems to be okay with that."
The office of the first lady did not respond to requests for comment, but the office's director of communications, Stephanie Grisham, told CNN that Trump "knows she is representing the United States, and wants to be sure she is appropriate in all that she does" during her foreign trips.
"Mrs. Trump always wants to be thoughtful and respect the traditions and protocols of the countries she visits," she continued.