Melania Trump Calls for 'Complete Transparency' in Vote Counting, Says Americans 'Deserve Fair Elections'
Melania Trump called for "complete transparency" in the vote counting of the 2020 presidential election, claiming that Americans "deserve a fair election" in a tweet on Sunday.
"The American people deserve fair elections," said the first lady. "Every legal - not illegal - vote should be counted. We must protect our democracy with complete transparency."
This is the first public remark from the first lady since Joe Biden was projected the winner of the 2020 presidential election.
Her statement comes after CNN reported that she had advised the president to accept his loss. The Trump campaign, however, has since disputed CNN's report.
Newsweek reached out to the White House for additional comment about the first lady's tweet.
Approximately seven minutes after Melania Trump's tweet, President Donald Trump tweeted: "Since when does the Lamestream Media call who our next president will be? We have all learned a lot in the last two weeks!"
The president's tweet echoed similar comments from Republican Texas Senator Ted Cruz.
"The media is desperately trying to get everyone to coronate Joe Biden as the next president," Cruz said during a Fox News appearance on Sunday. "But that's not how it works, the media does not get to select our president the American people get to elect our president."
Although vote totals are not yet official and Trump has not conceded, the Associated Press and the major TV networks called the election for Joe Biden on Saturday as he narrowly won Pennsylvania. With the state's 20 electoral votes, Biden surpassed the 270 needed to secure the White House.
Trump indicated on Saturday that he will not concede the election to Biden and has threatened "unspecified legal challenges," according to the AP.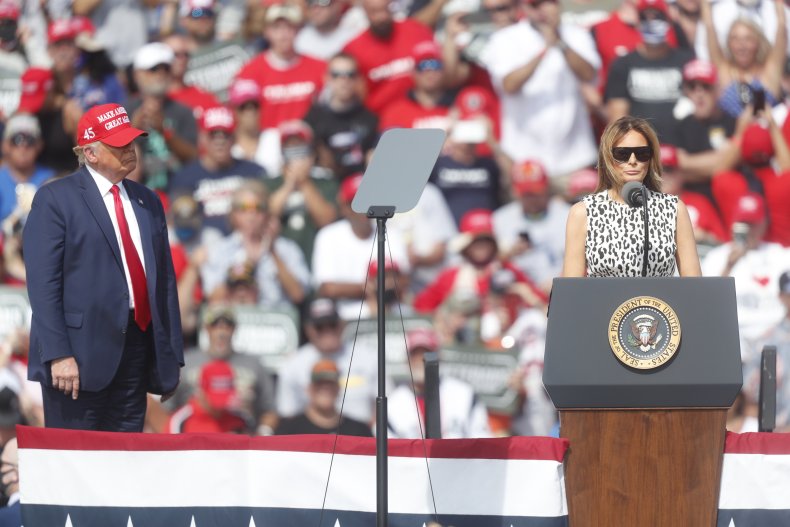 Cruz and Republican South Carolina Senator Lindsey Graham also said on Sunday that it's too early for President Donald Trump to concede the election.
The Trump campaign has multiple lawsuits already filed, since Election Day, many of which surround claims of potential voter fraud.
A Federal Election Commission (FEC) official told CNN on Saturday that there is "no evidence" of voter fraud in the country.
"Very few substantiated complaints, let me put it that way," said Ellen Weintraub, an FEC commissioner. "There is no evidence of any kind of voter fraud. There is no evidence of illegal votes being cast."
The Republican National Committee announced on Friday that it has deployed "legal challenge teams" in Arizona, Georgia, Michigan and Pennsylvania, according to The New York Times.
Both the Trump campaign and the Republican Party also filed lawsuits in an attempt to stop the counting of ballots. However, the suits didn't gain traction in courts—with many of the claims appearing to lack substantial evidence of the wrongdoing.
Correction 7:53 PM ET: An earlier version of this story misspelled Ted Cruz's last name. We apologize for the error.